"Poetic Worlds": Eve Egoyan's Earwitness Tour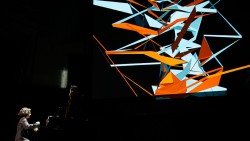 British composer Michael Finnissy has said of pianist Eve Egoyan that "she illuminates the music she plays." Certainly, Egoyan has long been one of Toronto's leading interpreters of contemporary keyboard music, especially when it comes to inventive musical projects—and the idea of a very literal 'illuminated music' has been put to the test by her this year, in a big way.
Egoyan has just returned to Canada from the American leg of her latest project—what she's called her Earwitness Tour. The tour is a collaboration between Egoyan and fellow Canadians Nicole Lizée, Michael Snow, John Oswald and David Rokeby, and is an experiment in the blending of musical and visual worlds. Most of the works on the program were written for Egoyan's Yamaha disklavier, an acoustic piano with a digital interface that will transform her performance into projected visual imagery. At first thought, the instrument seems like an extension of the synesthetic 'colour organ' experiments from the 18th century—proposals for keyboards where each key triggered a particular light or coloured panel. But with the technology available today, Egoyan's disklavier can achieve much more dynamic results.
https://www.youtube.com/watch?v=hMnUOKknyOY&feature=youtu.be
The Canadian portion of the tour begins this Friday in Montreal at McGill University and continues in Toronto on Thursday, April 21 at the Aga Khan Museum, where it will be presented in collaboration with Toronto's Images Festival. Tickets for the Toronto show are available for purchase on the Aga Khan Museum's website, where you can also find details about the museum's collection, current photo exhibition, and busy calendar of other performing arts events.
In an interview with The WholeNote last fall, Egoyan spoke with publisher David Perlman about her hopes for what the tour would represent. "It's a project that's just growing and growing, but it is a very delicate project, because the music and the image have to blend," she said. "It's not just music accompanying a visual narrative; it's not just patterns you are seeing visually to mimic the music...So the mandate is to see if there can truly be a new—I don't want to call it a new art form – but yeah, how much success can one have in bringing the two art forms into a closer relationship?"
When asked about the benefits of contemporary music—her home base, musically—for experimenting with this relationship, Egoyan pointed to the scene's intimacy.
"I think contemporary music is, for most, a small business...It's a poetic world," she explained. "A world of poetry, and I don't belittle it. It's very important, and how it resonates with other art forms. My dialogue with other artists and art forms through what I produce is very important to me. It's a ground from which a lot springs forth."
To read more about Eve Egoyan and her current collaborative efforts, check out the full interview, at http://ow.ly/10BFfE.
Continuing Cultural Dialogues: Canadian Immigrants, Then and Now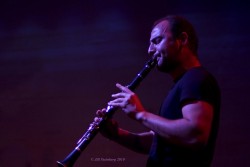 In the midst of a time when more people than ever are immigrating and seeking refuge in Canada, a number of Toronto music presenters have been trying to steer the conversation towards cultural dialogue, emphasizing the experiences that we can offer recent immigrants, and the richness that they bring to the country.
In December, the Toronto Symphony and Toronto Musicians' Association joined forces to invite Syrian clarinetist/composer Kinan Azmeh to record with the orchestra, as part of the orchestra's welcome for Syrian refugees who have just moved to Canada. Azmeh was flown in last-minute from Paris to record his "November 22nd" Suite for Improvisor and Orchestra, for which he and the orchestra members volunteered their time. You can listen to the piece, and read about his visit, here: http://www.thestar.com/entertainment/music/2015/12/18/tso-flies-in-syrian-composer-for-refugee-welcome-video.html.
Nothing has been confirmed yet, but Azmeh's website notes a tentative performance with the TSO on June 28 of this year so it's safe to say this won't be his last appearance in Toronto. Mark the date in your calendars (in pencil) and keep an ear out.
More recently, at the end of March the Canadian Opera Company announced its participation in the Institute for Canadian Citizenship's Cultural Access Pass (CAP) program, an initiative to provide recent immigrants to Canada with opportunities to explore the country. Starting this month, the COC will be setting aside 40 free tickets to every dress rehearsal for CAP holders. Participants will also be able to attend pre-performance 'Opera Chats' and informal tours of the Four Seasons Centre.
In addition to this new opera initiative, the CAP program includes free entry to events, parks and attractions across the country. If you (or someone you know) have received your Canadian citizenship within the past year, visit www.icc-icc.ca or phone 1-888-359-6998 for more information on the CAP and how to register.
Finally, in terms of recognizing the value and potential of these types of dialogue, one need look no further than two events in the listings this month. This Sunday, April 17, Vesnivka Choir, Canada's leading Ukrainian women's choir, is celebrating its 50th anniversary with a concert featuring works that Vesnivka has commissioned over the last five decades. Singing alongside the Elmer Iseler Singers, the Toronto Ukrainian Male Chamber Choir and Roman Borys (cello) and Halyna Dziuryn (violin), Vesnivka will celebrate its 50-year history as a leading voice of Ukrainian music in Toronto. In the April issue of The WholeNote, Leslie Ferenc—one of the girls who sang in the choir when it was founded in 1965—writes about what to expect and what this concert means to her (read the article here). And exactly one week later on April 24, the Shevchenko Musical Ensemble will present a concert in celebration of the 125th anniversary of Ukrainian immigration to Canada, featuring songs, music and dance traditions brought to the country by Ukrainian immigrants over the last century. These two concerts alone are living and singing proof of what a welcoming home can support, and what musical collaboration can do.
Details on both these shows are available in the listings at www.thewholenote.com.
Sara Constant is social media editor at The WholeNote and studies musicology at the University of Amsterdam. She can be contacted at editorial@thewholenote.com.
PRIZES, PRIZES!
Exclusive contests from The WholeNote
IN THIS ISSUE: Win tickets to the COC's productions of Carmen and Maometto II; Tafelmusik's concert of works by Zelenka and Bach; and the Talisker Players' season closer "Cross'd By The Stars". Read on to enter!
*24 HOURS TO ENTER* Canadian Opera Company: Carmen, Wednesday April 20
Tafelmusik: Zelenka and Bach, Friday April 29
Talisker Players: Cross'd By The Stars, Tuesday May 3
Canadian Opera Company: Maometto II, Wednesday May 11
JUST IN: CORRECTED AND NEW LISTINGS
FEATURED LISTING: TD Jazz Festival News Corp - Call for Applications
The TD Toronto Jazz Festival runs this year from June 24 to July 3, and is seeking applications for its TDJ News Corps—an initiative for post-secondary students interested in writing about jazz. Successful applicants will be given full media accreditation for the festival, and apprentice as music journalists under John Terauds (musicaltoronto.org, former Toronto Star) and Mark Wigmore (JAZZ.FM91). The deadline for applications is Friday, April 22; details available at http://torontojazz.com/tdj-news-corps.
Other new/corrected April concert listings added online since our last print issue are as follows:
Friday April 15
8:00: Theatre Ancaster. What Happens in Vegas. A Musical revue to salute iconic artists who captured audiences in Las Vegas. Selections by Sinatra and the Rat Pack; Donny and Marie; Elton John; Shania Twain; Tom Jones; and others. Ancaster High School, Theatre Auditorium, 374 Jerseyville Rd. W., Ancaster. 905-304-7469. $32; $27(sr); $17(st). Also April 16, 22 and 23(8pm), April 17(2pm).
8:30: Hugh's Room. Martyn Joseph. 2261 Dundas St. W. 416-531-6604. $22.50(adv); $25(door).
9:00: Jazz Bistro. CD Release: Moons (Alma Records). Myriad3. 251 Victoria St. 416-363-5299. $15. Also April 16.
Saturday April 16
3:30: Mississauga Big Band Jazz Ensemble. Back At The Rex. Arrangements of popular jazz songs featuring 12 vocalists. Rex Jazz and Blues Bar, 194 Queen St. W. 416-598-2475.
8:00: Aga Khan Museum. Great Poets Series: Reflections on Rumi at the Aga Khan Museum. Traditional Persian music. Mahsa Vahdat and Marjan Vahdat, vocals; Shervin Mohajer, kamancheh; Tord Gustavsen, piano; Naghmeh Farahmand, percussion. 77 Wynford Dr. 416-646-4677. $55; $44(sr/st) embers receive 10% off. Members receive 10% off.
Sunday April 17
2:00: Estonian House Art Committee. Afternoon of Jazz with Armas Maiste. Jazz from the 1960s that inspired the abstract expressionist painter Peeter Sepp. Armas Maiste, piano. Estonian House, 958 Broadview Ave. 416-461-7964. By donation. This "happening" is produced in conjunction with the art exhibit, Peeter Sepp Colour My World.
5:00: St. George's Cathedral. Choral Evensong. A special service of Choral Evensong in honour of St. George. Works by Thomas Tomkins, Charles Stanford and John Reading. St. George's Cathedral Evensong Choir. St. George's Cathedral (Kingston), 270 King St. E., Kingston. 613-548-4617.
7:30: Lula Lounge. CD Release: The Horses Are Loose. Bill Heffernan. 1585 Dundas St. W. 416-588-0307. $10. Doors open at 6:30pm.
Wednesday April 20
8:30: Hugh's Room. Emm Gryner & Sarah Smith Double Bill. 2261 Dundas St. W. 416-531-6604. $25(adv); $30(door).
Friday April 22
8:00: Gallery 345. Mitch Yolevsky, Clarinet and Cecilia Lee, Piano. Works by Poulenc, Saint-Saëns, Debussy and others. 345 Sorauren Ave. 416-822-9781. $20/PWYC.
8:30: Hugh's Room. Patrick Brealey's Tribute to Roy Orbison. 2261 Dundas St. W. 416-531-6604. $22.50(adv); $25(door).
Saturday April 23
5:30: Derek Bon Entertainment and TJ Ferris Enterprises. An Evening with The King of Instruments. Works by Bach, Brahms, Handel, Mozart and Widor. Ian Sadler, organ. Sydenham Street United Church, 82 Sydenham St., Kingston. 1-800-265-0710. $40. Gourmet dinner with cash bar and concert. Proceeds to help the ministries of Sydenham Street United Church.
6:00: Chalkers Pub. Amirault/Young Duo. Steve Amirault, piano/vocals; Dave Young, bass. 247 Marlee Ave. 416-789-2531. $15.
7:30: John Laing. St. George and the Dragon. Musical by John Laing for St. George's Day. Lara Housez (Dragon); Adam Smith (St. George); Annette Ashley (princess); Brian DeBoer (King); and others. The Church of the Ascension (Hamilton), 64 Forest Ave., Hamilton. $15; free(children under 12).
Sunday April 24
3:00: Amici Chamber Ensemble. Illumination. Chamber music inspired by moonlight and stars. Cho-Liang Lin, violin; Teng Li, viola; Joaquin Valdepeñas, clarinet; David Hetherington, cello; Serouj Kradjian, piano. Mazzoleni Concert Hall, Royal Conservatory, 273 Bloor St. W. 416-871-4275. $10-$45.
Saturday May 7
POSTPONED TO JUNE 10: 7:30: Opera by Request. Catalani's La Wally. In concert with piano accompaniment. Sarah Hood (Wally); Paul Williamson (Giuseppe Hagenbach); Michael Robert-Broder (Vincenzo Gellner); Brigitte Bogar (Walter); and others; William Shookhoff, piano and music director. College Street United Church, 452 College St. 416-455-2365. $20.
THANKS FOR SUBSCRIBING
The next issue of HalfTones, Vol 3 No 9, will be out on Monday, May 16, 2016. The next print issue of our 2015/16 season, covering May 1-June 7, will be on the stands at the end of April.
Please contact halftones@thewholenote.com with any HalfTones inquiries.