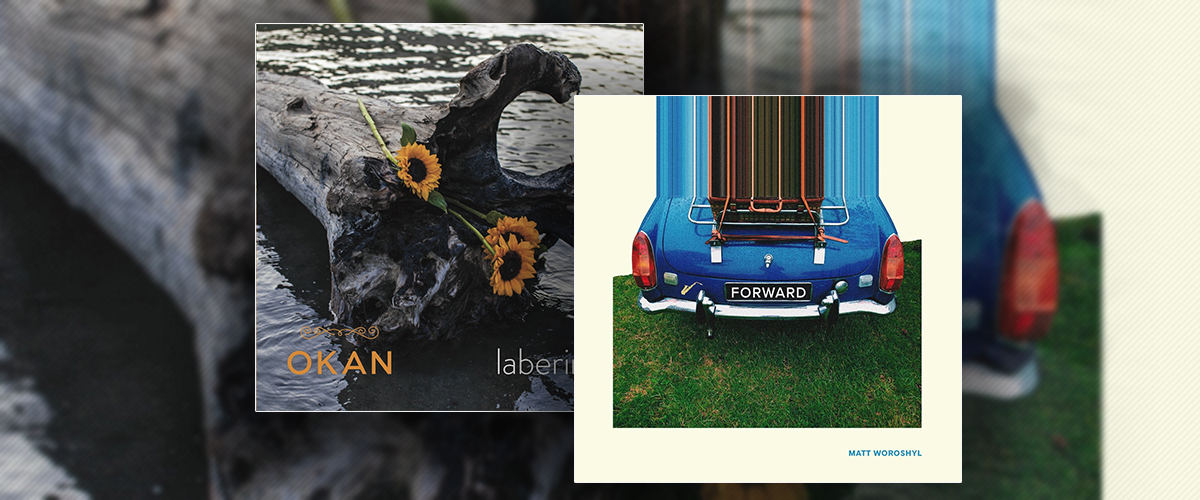 Volume 3 of The WholeNote EP Review covers OKAN's Laberinto, and saxophonist Matt Woroshyl's Forward.
(For details on what this series covers, and how to submit an EP for consideration for review, read an introduction to this project here.)
Released in October 2018, Laberinto is OKAN's debut recording on Lulaworld Records. OKAN is a duo, co-led by violinist/vocalist Elizabeth Rodriguez and percussionist/vocalist Magdelys Savigne. While both musicians are originally from Cuba – Rodriguez is from Havana and Savigne is from Santiago de Cuba – they have been based in Toronto for the past few years, and have played in a variety of groups, including The Battle of Santiago and saxophonist/flutist Jane Bunnett's Maqueque. Rodriguez and Savigne are joined on this release by bassist Roberto Riveron, pianists Danae Olano, Bill King, and Jeremy Ledbetter, drummer Anthony Szczachor, quinto player Reimundo Sosa, trumpeter Alexis Baro, and tres guitarist Pablosky Rosales.
OKAN's EP begins with the title track, "Laberinto." Starting with a patient, classical-infused piano introduction, the track settles into a comfortable tempo as the vocals begin. Quickly, however, the groove shifts dramatically, becoming more urgent, more percussive, and more rhythmically complex; when the original melody does come back in, near the end of the song, it is in a minor key, rather than the original major key. "Desnudando El Alma," the second track, is the closest the EP comes to a ballad, with a piano/voice intro that gives way to a relaxed, bass- and percussion-driven time feel, with solos from King and Riveron; "Last Day," the only song to be sung entirely in English, features some of Laberinto's most powerful vocals, with a strong piano performance from Ledbetter and an energetic breakdown at the end of the tune. "Quick Stop," an exciting, 5/8 instrumental duet between Rodriguez and Savigne, is one of the EP's highlights.
The willingness to commit to risk – and a resistance to predictable, formulaic arrangements – is a major component of Laberinto, and is an important part of what makes OKAN's overall sound distinctive. Laberinto has ample elements of pop, jazz, and Afro-Cuban music, but at no point does it feel like a typical fusion or "world music" outing. Instead, Rodriguez and Savigne sound as though they are in the process of crafting a unique musical model in their own image – one that draws on multiple influences in order to create something new.
Laberinto was released on October 19, 2018, and can be purchased at www.okanmusica.bandcamp.com/releases. To learn more about OKAN, visit www.okanmusica.com.
Although still in his twenties, saxophonist Matt Woroshyl has been a significant presence on the Toronto jazz scene for the past ten years, playing live regularly and appearing on a number of different recording projects (including Mark Godfrey's Prologue EP, recently reviewed in the September edition of the EP Review). An alumnus of the University of Toronto's Jazz Studies Program, Woroshyl received the William and Phyllis Waters Graduating Award – the largest scholarship awarded by U of T's Faculty of Music – upon completion of his BMus, and moved to New York to attend the MMus program at Manhattan School of Music. Now back in Toronto, Forward is Woroshyl's debut album. Recorded at The Canterbury Music Company, it features guitarist Alexei Orechin, pianist Billy Test, bassist Julian Anderson-Bowes, and drummer Ian Wright.
Forward's first track, the medium, odd-metre "Sunshine, Silence, And a Hope Beyond Vanity," begins simply but builds quickly, with large textural shifts and communicative, melodic solos from Test and Woroshyl. "Forward," the album's title track, starts with a brief duet between Woroshyl and Anderson-Bowes before moving into the head and blowing sections, with more excellent soloing from Test and Woroshyl and a climactic ending; "Forward, Pt. 2" begins at the opposite end of the intensity spectrum, as beautiful, ethereal guitar chords played by Orechin give way to a recapitulation of the bass line from "Forward" and atmospheric improvising from the rhythm section. "Proletariat" is one of Forward's most hard-driving tracks, with a distinct rock influence in the rhythm section, and an explosive solo from Woroshyl before a dramatic transition into a spacious swing feel for Orechin's inventive solo. The final song on Forward is "I.C.," a burning, high-energy song with some of the most compelling playing on the whole album, including solos from Woroshyl, Test, and a brief drum solo from Wright that closes out the tune.
Forward is a remarkably accomplished debut album, with interesting, thoughtful playing from all involved. Woroshyl is a technically skilled improviser, but his great gift is his ability to imbue his playing with a sense of purposeful calm, even during a solo's wildest moments. With the help of Test, Orechin, Anderson-Bowes, and Wright, he has succeeded in translating that ethos into a fully-fledged band sound with a high degree of musical integrity and wide artistic appeal.
Forward was released on November 5, 2018, and can be purchased on iTunes, Apple Music, or Spotify. To learn more about Matt Woroshyl, visit https://www.instagram.com/matworo or https://www.facebook.com/mattworoshylmusic.
Colin Story is a jazz guitarist, writer, and teacher based in Toronto. He can be reached through his website, on Instagram and on Twitter. For EP-related pitches, email him at epreview@thewholenote.com.