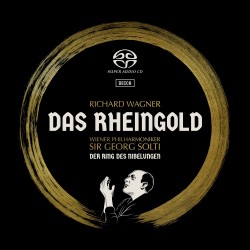 Many of you will be familiar with the epic series of operas, Der Ring des Nibelungen by Richard Wagner. Also known simply as The Ring Cycle, it's a spellbinding 15 hours that took Wagner over 25 years to compose. With inspiration derived from Norse legend and German mythology it is full of gods and goddesses, giants, dwarves, magic mermaids, a dragon, heroes and heroines. With these operas, we are gifted with some of the most beautiful music ever written.
Four operas comprise the complete Ring cycle and while these operas are inextricably connected, they more than admirably stand alone as autonomous works. The first two of the newly remastered Solti Ring Cycle from Decca have now been released in Canada, Das Rheingold and Die Walküre and with Siegfried and Götterdämmerung to follow this summer.
The Solti Ring was recorded in Vienna between 1958 and 1965 and in commemoration of the 25th anniversary of Sir Georg Solti's death Decca has spared no expense and remastered the original recordings for this outstanding reissue. According to Gramophone Magazine in 1999 and BBC Music Magazine in 2011, the Solti Ring is "The Greatest Classical Recording of All Time." The original recording was an immense undertaking; it was the very first studio recording of the complete set and represented the first stereo recording of the Ring Cycle. Solti and the Vienna Philharmonic Orchestra completed the final recording in November of 1965.
The cast was assembled by John Culshaw, a producer for Decca, and with the release of the first opera in 1958, it appeared that the Ring Cycle would be a commercial success. Each opera was well received and fueled the production of the next one until all four had been recorded. This amounted to a whopping 19 LPs meticulously produced by a team of sound engineers led by Gordon Parry.
Contributing to the overwhelming success of Decca's recordings was the stellar cast of singers. For Das Rheingold, Kirsten Flagstad was cast as Fricka, and Canada's own George London as Wotan. They are joined by a cast of singers considered the very best Wagnerian voices of 1958. Each new opera that was recorded was newly cast with the most outstanding singers available at the time. Perhaps that is what is so appealing about these recordings. We are stepping back in time to hear extraordinary performances the likes of which are simply no longer feasible or possible. For Die Walküre, we have Birgit Nilsson as Brünnhilde and Christa Ludwig as Fricka among a stellar cast. This certainly contributed to the overwhelming success at that time and explains why this recording endures today.
The sound staging is a feat unto itself. I was fortunate enough to listen to a couple of the CDs through the Avantgarde Horn Speakers and tube pre- and power-amplifiers. I wanted to experience the music with the kind of gear that was considered the norm in the 50s and 60s. For my ears, this setup brought the singers right into the room and brought home what Decca was trying to achieve with these remastered recordings. Is the sound perfect? One cannot expect it to be, but it is as close as technologically possible based on the original recordings.
It has been a wonderful week of listening and immersing myself in the incredible world Wagner created. We have love and loss, passion, betrayal, revenge, ambition and a little incest. From the lovely and mischievous magical Rhinemaidens to Wotan's singing Brünnhilde to sleep in an enchanted ring of fire, the first two operas are spellbinding.
Many years ago I travelled to Bayreuth, Germany to hear the Ring cycle at the Festspielhaus, the opera house that was commissioned specifically for this work. Completed in 1876, to this day the Bayreuth Festspielhaus is used solely for annual performances of Wagner operas. But I digress. Wagnerians will have much to celebrate and look forward to there again this summer.
Editor's Note: I'm delighted to see that Bruce was so enthralled by the performances and pristine sound on these historic recordings that this was the focus of his review. However, I think it worthy to note the packaging of these Hybrid SACD reissues, which will also be available in limited edition 3-LP Deluxe vinyl pressings. Each edition includes lavishly illustrated booklets featuring technical information on the new HD remastering and the original recording techniques, an introduction to each opera by producer John Culshaw, synopses and libretti in English & German, plus many original session photographs and rare facsimiles. You can find full details at store.deccaclassics.com.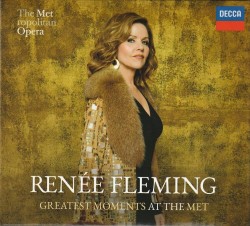 Decca Classics has also recently released Renée Fleming – Greatest Moments at the Met (store.deccaclassics.com). These are all live performances, some of her greatest moments packed into a 2-CD set. The incomparable Fleming formally retired from the Met in 2017 at 58 years old, and this CD includes many of the incredible highlights from her illustrious career.
I'm not sure I understand how retirement works, as Fleming will sing Tosca at the Santa Fe Opera later this year and will return to the Met this spring in La Traviata. Her voice now at 64 sounds better than many sopranos half her age. But I digress again…
The chosen arias highlight her distinctive lyric soprano voice and spotlight some of her greatest vocal roles. It's very exciting that some of these performances have never been previously released. The duets include Cecilia Bartoli, Samuel Ramey, Massimo Giordano, Susan Graham and Dmitri Hvorostovsky among others. Some 16 composers are featured including some of her best known and most beloved roles, Violetta in Act II of Verdi's La Traviata from March, 2004 and Manon in Act III of Massenet's opera of the same name recorded in 2006 and in 2008 accompanied by Massimo Giordano.
I'm very partial to Franz Lehár's Merry Widow recorded in January of 2016. Happily, I saw it in February of the same year through the Live from The Metropolitan Opera HD transmissions.
I'd like to mention the outstanding performance as Marguerite in Gounod's Faust. This recording from a performance at the Met in 1997 is one of the last times she performed this part despite it being one of her much-admired roles. In her own words, "I stopped singing Marguerite… it disturbed me that she was a victim from the first note – she never had a chance. It's so much more interesting to me to portray women who have agency, some say in their own fate."
The results of the Met's outstanding orchestra and chorus, the terrific acoustics and great conductors are definitely some of The Greatest Moments at the Met. Admittedly two CDs are not enough to capture the sheer number of Fleming's outstanding performances, but this set is an excellent addition to her discography.