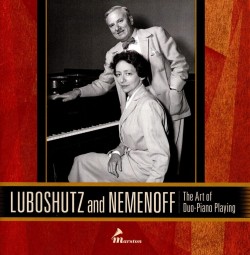 The Art of Duo-Piano Playing is the title of a box of four CDs from Marston Records devoted to the recordings of one of the most esteemed duos of their era, that is the late 1930s and beyond, Luboshutz and Nemenoff (marstonrecords.com/products/luboshutz-nemenoff). They were, of course, not pioneers of the art but they were a little different from their immediate predecessors: the public would have been familiar with Bartlett and Robertson, also Vronsky and Babin and others. With Luboshutz and Nemenoff we have a superb classical pianist with an enviable background in chamber music and an experienced accompanist. Pierre Luboshutz was born in Odessa in 1891 to a Russian-violinist father who taught him to play. Although his first instrument was the violin, he eventually focused on the piano, becoming a pupil at the Moscow Conservatory where he studied with Konstantin Igumnov. His debut performance at the Conservatory was Brahms' Piano Concerto No.1 conducted by Serge Koussevitzky. As a pianist he toured 50 cities in Russia, also touring notably with the American dancer Isadora Duncan. He toured the United States with violinist Efrem Zimbalist, cellist Gregor Piatigorsky and double bass virtuoso Koussevitzky (one and the same as the conductor). While teaching in Paris at the Conservatory he met his future wife who was among the participants attending a piano masterclass he was giving. He married Genia Nemenoff and they settled in New York City. Nemenoff, born in Paris, spent her years before Luboshutz primarily as an accompanist to singers. On January 18, 1937 they began their duo concert debut tour under the name of Luboshutz-Nemenoff. The duo began recording in 1939 for RCA Victor, and it's easy to hear why they enjoyed such popularity and praise from both critics and colleagues. Included in The Art of Duo-Piano Playing are 37 complete works by a miscellany of composers from Bach to Khachaturian.
We can't possibly go through each performance, as much as I'd love to. The essence of their playing is that they clearly enjoy playing together; they are seamless. You never get the sense that they are waiting for their turn, or even taking turns, it's simply beautiful music. Their playing reflects how wonderfully in sync they are with each other, and that through the music, they are adhering to the simple yet profound beauty of musical dialogue between instruments. The box set includes most of their commercial recordings but also some recently discovered live performances.
In no particular order, here are some highlights from this box set. On September 8, 1939 they recorded a transcription by Luboshutz of the Danse Russe from Petrushka. It's dynamic and exciting and well worth listening to. The Bat, a fantasy from Strauss' Die Fledermaus is really captivating.
We hear absolutely gorgeous playing from this duo throughout, including the Sonata for Two Pianos in D Major K448 by Mozart and Robert Schumann's Andante and Variations in B-flat Op.46. There's also a performance of the Ritual Fire Dance from de Falla's El amor brujo, once again in a Luboshutz arrangement in which they capture all the excitement and romanticism of the work.
What would a progra of this kind be if it didn't include the Tambourin Chinois by Fritz Kreisler? It is joyous and playful. We are also treated to a mighty impressive transcription of the Coronation Scene from Mussorgsky's Boris Godunov. An important contribution to the third disc is Brahms' Variations on a Theme of Haydn; and the Liebeslieder Waltzes are perhaps the most beautiful I've ever heard.
While trying not to mention everything, I can't leave out Saint-Saëns' Variations on a theme of Beethoven Op.35. The alternating chords and the playing and waiting nature of the piece make it a very exciting performance. Three Pieces for Two Pianos by Khachaturian offer something different from the other repertoire in this set and they are certainly worth hearing. The Scaramouche Suite of Milhaud is played with a jaunty rhythm and is very convincing. The duo plays it like they believe it and are moved themselves by the piece. The 4CD set culminates with Harl McDonald's Concerto for Two Pianos and Orchestra. This is especially good, played with the Philadelphia Orchestra and conducted by the composer (1944).
Included in this little box from Marston, is a 46-page booklet and appreciation of the duo. There are lots of photographs of the artists at various stages of their career. Marston, well known for issuing such valuable performances, does us a service and deserves our thanks for undertaking this venture. Marston is very highly regarded in the business of reissues and has certainly excelled in this one. I cannot overstate the satisfaction and pleasure of hearing these performances so famous and popular in their day. Truly, this is the art of duo piano playing.
If you search YouTube, you can find Ward Marston's channel, called Past Forward, where he introduces the release of this new box set and plays Luboshutz's marvellous transcription of Mozart's overture from Le Nozze di Figaro. While listening we are treated to photos from the booklet, and even a few that appear not to have been included.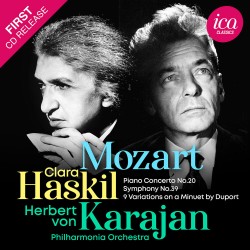 Romanian pianist Clara Haskil (1895-1960) was a close friend and admirer of Herbert Von Karajan; sadly they never formally recorded together despite their deep mutual admiration. However, there is a recording of live performances from Salzburg made during a 1956 tour in celebration of Mozart's bicentenary, Mozart: Piano Concerto No. 20, Symphony No. 39 & Nine Variations on a Minuet by Duport (ICA Classics arkivmusic.com/products/mozart-piano-concerto-no-20-symphony-no-39-9-variations-on-a-minuet-by-duport). The collaboration of the two in this live concert is quite a unique experience. Karajan conducts the Philharmonia Orchestra and lucky for us, one of the compositions on which they collaborated was the Mozart Piano Concerto No.20 in D Minor K466. What do we hear in this recording? Do we hear Karajan or do we hear Haskil? The fact is, we hear both of them and they are, together, far greater than the sum. The Philharmonia Orchestra under Karajan's direction play with incomparable precision as was his style at the time. The orchestra was very familiar with his conducting and were certainly up to the mark. As a bonus, there is solo recording of the Nine Variations on a Minuet by Duport K573, also a live performance, taken from a recital in Besançon in September of that same year. For many, this little gem will be worth the price of the whole album, mono only, but in rather good sound.
Anyone looking for an incredible biography might want to pick up Jerome Spycket's Clara Haskil (Lausanne, 1975). Haskil's story begins in Bucharest in 1895 and ends in Brussels in 1960. In between there is every element imaginable of a compelling and powerful life story.
As for Mozart's Symphony No.39 which provides the heart of this CD, we have a great example of Karajan's obsession with precision, highlighting the excellence of the orchestra.