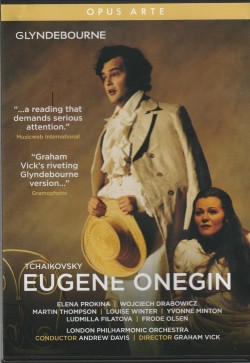 Tchaikovsky – Eugene Onegin (Glyndebourne)
Soloists; London Philharmonic Orchestra; Andrew Davis
Opus Arte OA1374D (naxos.com/Search/KeywordSearchResults/?q=OA1374D)
Glyndebourne, England's private opera house is close to 90 years old, supported entirely by private donations. It was established in 1934 by John Christie on the principle "Not just the best we can do, but the best that can be done anywhere!" and ever since it has been a great honour for any artist to be invited as a guest of the Christie family. In 1994, they built a state-of-the-art opera theatre, and this archive production is from the very first season in 1994.
Tchaikovsky's masterpiece, this most beautiful of Russian operas, is based on Pushkin's epic poem which is a morality tale. Tatjana's innocent love is rejected by a bored, high-handed Onegin but later he regrets it bitterly. Now desperately in love himself he is rejected by Tatjana who in the meantime has become rich and married into high society. During the opera Onegin because of a foolish, jealous quarrel even kills his best friend in a duel that he regrets all his life. Tatjana's rejection is the ultimate tragedy for him. Sad story.
The director, the late Sir Graham Vick rightly concentrates on two key scenes, the two rejections and emphasizes the alienation between Onegin and Tatjana. The stage is empty except for two chairs diagonally opposite at either end, as if they don't even want to listen to each other and hear the pronounced rejection.
Woytech Drabowitz, a mellifluous baritone is an elegant Onegin; his friend Lensky is Martin Thompson, a passionate tenor, whose famous aria before the duel is movingly sung. The crucial Letter Scene is sung passionately by Elena Prokina (Tatjana) and basso profundo Frode Olson as Prince Gremlin, who sings proudly to Onegin about how much he loves Tatjana in another highlight. All these are interspersed with the dances Tchaikovsky is so famous for, the lovely Waltz and the Mazurka in the second act and the gorgeous Polonaise in the finale.
The London Philharmonic in the orchestra pit is conducted sensitively by Toronto's beloved Sir Andrew Davis.