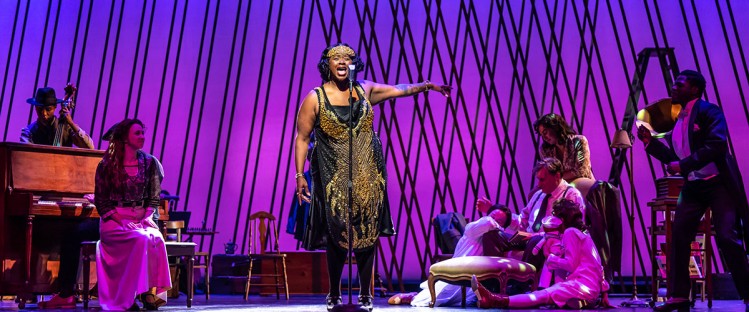 New Canadian plays, musicals and music theatre works are popping up everywhere across the country this season. Three shows coming up this spring caught my eye in particular for how they are using music to explore and highlight various facets of our multicultural Canadian identity.
Fall On Your Knees
In Toronto the world premiere of the theatrical adaptation of Fall on Your Knees, the internationally acclaimed 1996 novel by Canadian author and playwright Ann-Marie MacDonald, which I previewed in my previous column, has just opened to standing ovations at the Bluma Appel Theatre and will travel after an all-too-short Toronto run to Neptune Theatre in Halifax, the National Arts Centre in Ottawa and the Grand Theatre in London.
One of the most exciting things about this new adaptation is how it uses music not just as an element of the production, nor even just as a character in the story, but as the essential material weaving together the many disparate elements of a multigenerational tale, compared by some watchers to the House of Atreus plays in classic Greek drama.
Beginning in the early 20th century and ending in the 1960s, FoYK traces the emotional saga of the Piper family in Cape Breton Island, a location famously characterized by its Celtic heritage and lilting folk music. This is just the first note, as it were, in a kaleidoscope of musical styles. One of the first characters we meet, the eventual patriarch of the Piper clan, James Piper, is a young piano tuner whom we know from the novel has been taught piano by his mother as part of a strategy to keep him out of the coal mine. As he tunes the piano in the home of the Mahmoud family in Sydney, he meets and soon falls in love with their 13-year-old daughter, Materia. His musical theme will be early piano exercise phrases marked by the single plangent note of tuning, while hers will develop from traditional Lebanese vocals and dance music to the rollicking sound of the music hall where she will work later to help support the family.
When their first daughter, Kathleen, shows an early aptitude for singing and is encouraged to study seriously, opera is introduced as a significant leitmotif that will grow in importance as the play progresses. Interwoven is a minor theme of religious music, the leitmotif for the middle sister, Mercedes, whose twisted religiosity is symbolically caught at one point by a disturbing plot placement of Ave Maria. An even more rebellious strand in the weave is made up of such World War One-era songs as Mademoiselle from Armentières and My Heart Belongs to Daddy sung by younger sister Frances in her Lebanese uncle's speakeasy. Finally and notably in the second half of the six-hour show is the wonderfully smoky and contrasting exotic sound of the blues, sung by Janelle Cooper as Harlem star Sweet Jessie Hogan.
In Part Two where the story focuses primarily on Kathleen's sojourn studying opera in New York, the Harlem music scene is contrasted brilliantly with the strictly classical arias she sings in the studio – and yet, the richness of the interwoven opera and blues also comes to symbolise Kathleen's growing artistry as her friendship with her accompanist Rose ripens into a deeper relationship. Samantha Hill as Kathleen has a clear classically trained voice which is a joy to listen to and a wonderful contrast to the jazzy richness of Janelle Cooper's club turns. All the musicians, though usually hidden away upstage, do a superb job, easily trading instruments and contributing vocals – Maryem Toller's vocals were a standout in Part One.
One thing that I had expected from early rehearsal photos of the production and missed seeing onstage was a more experimental or expressionistic movement style – except in one instance when a line of uniformed soldiers tumbles up to, over and around the upright piano as Materia plays a song of the period, giving us an unforgettable image of James at war in the trenches of World War One.
Under the symbolic giant piano strings strung above the stage from the flies to the wings like the sails of a ship, and under the careful music direction of Sean Mayes, music weaves together the acting and physical elements of this production making a whole that is deeper, richer, more evocative of the colours, depths, dark secrets and eventual redemption within the story of this family and all those who touch their lives.
Check out the event page for Fall On Your Knees! In Toronto until February 5; Halifax February 10-March 5, Ottawa March 8-25, and London March 29-April 2.
RUBABOO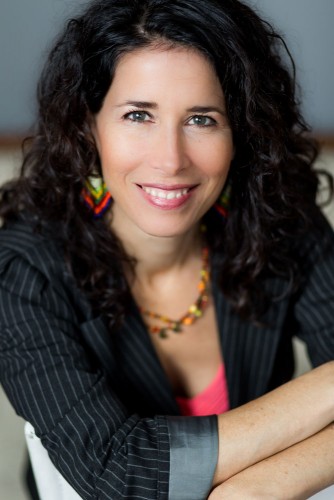 A second world premiere at the Grand Theatre in London, with the intriguing name of Rubaboo, explores and celebrates another facet of our Canadian mosaic, the Métis heritage of the prairies. Commissioned by the Grand from the well-known Métis actor, singer and activist, Andrea Menard, Rubaboo promises to be a delightful evening of song and story combined, according to the Manitoba-born Menard, into a truly theatrical whole that she prefers to term a "cabaret," but a cabaret with a purpose.
In a promotional video Menard says that when the Grand's artistic director, Dennis Garnhum, asked her about possibly creating a show, she was not interested "unless I was using the platform to further reconciliation," and that she "wanted to be somebody who was furthering education [about Indigenous people and their history] and expanding compassion." While this sounds very serious the name of the cabaret indicates that the evening will also be a lot of fun. Derived from the Michif word for "leftovers stew" or "big pot" Rubaboo promises to be a feast of music and masterful storytelling with the sound of drums and guitar adding grace notes to stories and songs of reconciliation, unity, love, frustration and resilience, to "help people fall in love with the Métis people."
Catch Rubaboo at the Grand Theatre from March 7-25.
RETOLD
From the East Coast to the Prairies and back east to Quebec...
Back in Toronto, also in March, the Musical Stage Company and Yonge Street Theatricals are joining forces for the second edition of Retold via Launch Pad, their musical development program that gives three teams of writers and composers in-depth support and mentoring while they create new 30-minute musicals. For the first edition of Retold in 2019 the new musicals were inspired by articles published in The Globe and Mail, and performed in that newspaper's headquarters. This new edition is inspired by three short stories by lauded Canadian writer Mavis Gallant (1922-2014) and will be performed at the Toronto Reference Library. While much of her working life was spent abroad in Paris, Gallant is famous for her depiction of Acadian history and life in Quebec. One of the chosen stories, The Carrette Sisters, displays in particular what The New York Times called Gallant's "Joycean evocations of a mundane haunting Montreal."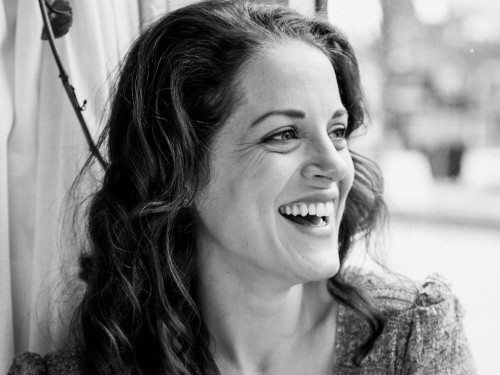 All three shows will be directed by Kaylee Harwood and will feature a cast of four talented actor/singers: Eric Craig, Emily Lukasik, Tracy Michailidis and Starr Domingue.
Retold March 21-26. Tickets are free but need to be booked ahead of time.
QUICK PICKS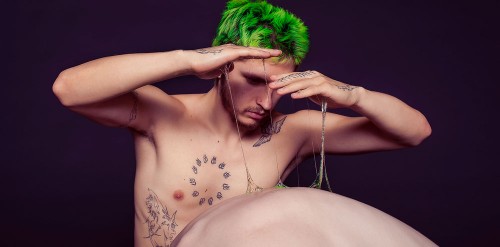 FEB 2-11, 7:30: The Magic of Assembly, Toronto Dance Theatre, Winchester Street Theatre. TDT Artistic Director Andrew Tay is making a strong imprint on the company, introducing new and raw influences to the repertoire, including this new creation by punk street dance artist Ashley "Colours" Perez and electronic music duo LAL who will play live. www.tdt.org/events/the-magic-of-assembly
FEB 4-11, 7:30: Okay, you can stop now, Theatre Passe Muraille. In an immersive landscape filled with newspapers, Shakeil Rollock's new physical theatre piece explores the tangible impact of history and the news on the lives of four people navigating their relationship to privilege and power. www.passemuraille.ca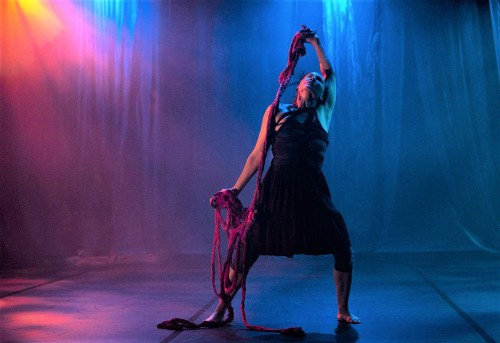 FEB 16-19, 7:30: Firewater Thunderbird Rising, Friday Creeations and Native Earth Performing Arts, Aki Sudio. A return engagement of Christine Friday's Dora Award-nominated multi-disciplinary one-woman, contemporary dance show, deeply rooted in the spiritual beliefs and way of living of the Anishinabek. www.nativeearth.ca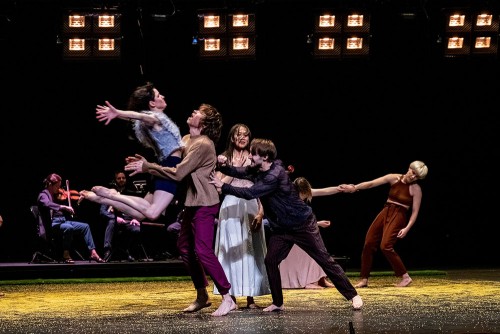 FEB 24-25 7:30: Les corps avalés. Compagnie Virginie Brunelle, Fleck Theatre, Harbourfront "Torque" series, The celebrated Quebec-based company presents a stunning exploration of power relations, inequality and social upheaval, performed to live classical music from the Molinari Quartet. www.harbourfrontcentre.com
Jennifer Parr is a Toronto-based director, dramaturge, fight director and acting coach, brought up from a young age on a rich mix of musicals, Shakespeare and new Canadian plays.