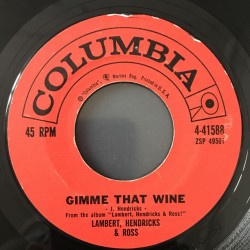 There's no use sugar-coating it: this coming winter promises to be the darkest in living memory. Mix the harsh weather we Canadians can always expect this time of year with the fact that COVID-19 numbers are on the rise everywhere (Toronto is about to re-enter a modified form of the spring lockdown as I write), and you have a recipe for Bleak on Toast with a side of Dismal.
Normally, we can look forward to Christmas and/or Hanukkah to provide an oasis of celebration in the midst of all the cold and ice and snow, but with the lockdown measures set to extend at least 28 days from November 23 on, these holidays will be a lot less festive this year. The best we can hope for is to celebrate them with a vengeance next year and in the meantime, thank God the LCBO is still deemed an essential service. As Lambert, Hendricks & Ross once famously sang, "Gimme that wine (Unhand that bottle)." Cheers.
I'm tired of writing about the effects of COVID on musicians and live music and I suspect you are tired of reading about it, too. Let's just say it's been devastating, that many of us have done our best to do a technological end run around the pandemic, and leave it at that. The real question becomes how do we get through the next couple of months with our sanity and spirit intact? I've already recommended alcohol, but that doesn't work for everyone. We're all going to be cooped up inside so we have to learn to enjoy that as best we can. Cooking, baking, reading a good book or watching some classic movies all help; watching the news, not so much. And of course staying in touch with friends and family by phone or email or Zoom is really important. But above all else, I find listening to music helps the most. Since CDs have become almost obsolete, I came to regret having amassed such a huge collection of them, but no longer. I've spent a lot of the past eight months revisiting my collection and it's been time well spent.
So, in the spirit of "bring it on" which helps Canadians withstand the winters, I've decided to offer a menu of songs which address the "joys" of winter – not Christmas or Holiday songs, which we all know – but rather songs which actually have to do with winter itself. If you're reading this online, I've included YouTube links to each in the hope that housebound jazz fans will get some enjoyment out of these gems.