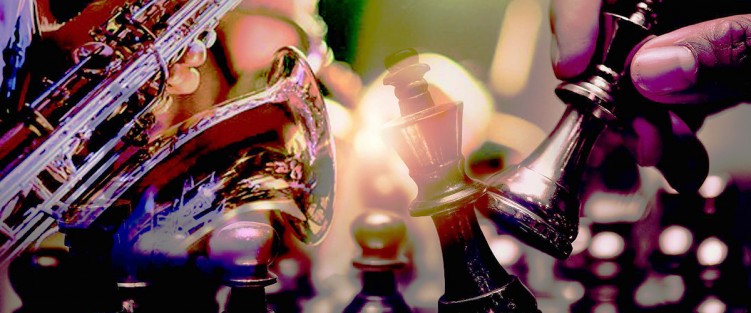 There is an indescribable beauty that comes from a quintet working as one on stage to dazzle an audience. The most amazing, calming physical sensation accompanies those moments where your preparation and instinct have successfully married one another. At the chessboard, it is also this beautiful. The drums, bass and piano are like your rook, bishop and queen. The jazz happens from move one to checkmate. The applause from the audience is the hand reached out to you from across the board. — Michael Shand
I was recently digitally flipping through an old DownBeat magazine from 1937, and came across an article on musicians who played chess by mail, by forwarding moves on penny postal cards. It made me think of our current state in the global pandemic, and how people are finding creative ways to connect without the ability to be in the same room.
As a pastime, chess has enjoyed a resurgence during COVID-19, in part due to the acclaimed Netflix show The Queen's Gambit. I have not been immune to this trend; learning the intricacies of bishops, rooks and knights has helped to fill the long hours at home. But as a musician, my interest also stems from stories about our jazz heroes playing chess.
From Anthony Braxton playing in Chicago's Washington Square Park for money, to Charlie Parker setting out the board during breaks at the Rainbow Ballroom in Denver, Colorado, to Dizzy Gillespie playing on a plane against Chief Justice of the United States Earl Warren, there is a rich history of jazz musicians dedicated to the game. Several even incorporated it into their musical work – trumpeter Jonathan Finlayson's group Sicilian Defense, organist Freddie Roach's album Good Move! and Charles Mingus' album Chazz!. Art Blakey was also a chess player – the first track on The Big Beat (1960) is The Chess Players by Wayne Shorter. (I'm tempted to add that America's greatest blues record label is named Chess Records, but it was named after Phil and Leonard Chess, the brothers who owned and operated it. So let's just leave it there.)
Is this devotion still around? In fact, fans may be surprised to learn chess is as popular as ever in the jazz community in Toronto and environs, in part fuelled by a recent swell of interest among young musicians who, like me, have started to play online on sites like chess.com. Here are short interviews with four musicians (from earlier this spring) explaining their love of the game!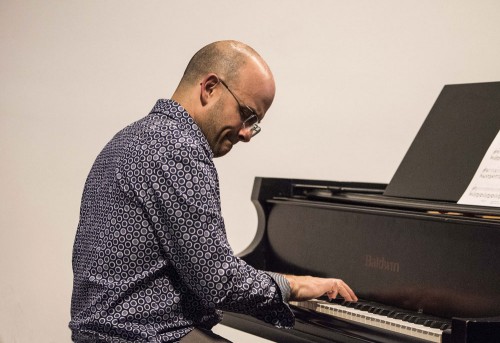 The Artist: Adrean Farrugia, piano
Find me on chess.com: adreanfarrugia
Comparing chess and jazz: Chess to me is about finding the "right"' move(s). Improvising in jazz is about the performer listening to a voice from deep within and expressing one's innermost being through the instrument, projecting out to the listener creating a bond between the two. If I were a better chess player, then perhaps there might be a space for more lofty and artistic expression to happen in chess. After all, there are rules and there is improvisation. But jazz is about expressing one's soul and to me chess is about expressing one's intellect.
One aspect of both chess and improvised music that has always been appealing to me is the idea that both seem to centre around the idea of infinite and undiscovered possibilities.
On practising: For me, chess is about strategy and logic and activating the thinking and analytical mind. Practising music is also very logical and analytical but there is definitely a visceral and experiential aspect to music that I don't find in chess.
On projects in the works: I have some livestreamed shows with a wonderful Ottawa-based initiative called Syncspace (syncspace.live) to look forward to.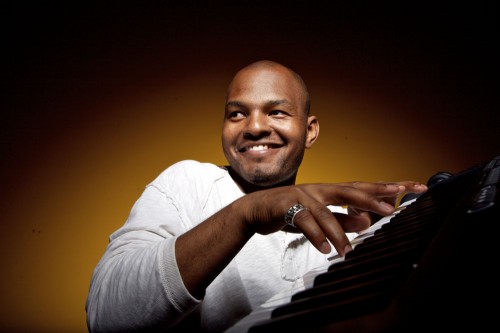 The Artist: Michael Shand, guitar and piano
Find me on chess.com: thehandshand
Contact: @michaelshandkeys on Instagram
Comparing chess and jazz: I am no grandmaster and definitely not a computer with thousands of memorized chess openings. Instead, I improvise in the opening. However, I am not improvising haphazardly, but within a set of guiding principles. If I were to sit down at the piano right now and perform a jazz piece, it would be no different.
On gameplay: Staying cool is important. I like keep my game face on at all times, on stage and when sitting across from my opponent. Mistakes happen. The unexpected happens. We use our improvisational skill to instantly mask or adjust to the issue. You never want the audience, or your opponent, to know that something has occurred you didn't plan for. (But keep that quiet. It's a performer's secret.)
The idea of call and response is of paramount importance in jazz and in chess, of course, the entire game is about responding to what your opponent has just done. As such, you remain in a high state of alertness when playing music or chess. Competitors and musicians alike might think of it as being in the zone. But for me, what makes chess and jazz most similar is the way in which your level of proficiency is so inseparably linked to your grasp of the fundamentals. I can spot an untrained musician without the ear training to support the players around them, about as quickly as I can an opponent who has weak opening principles or hasn't studied king and pawn endgames.
On projects in the works: I have a few projects to look forward to soon; a collaboration with Indigenous artist, iskwē, a performance with Joanna Majoko for her album release, as well as the possibility of a month-long stint in Berlin with Simply The Best: The Tina Turner Story.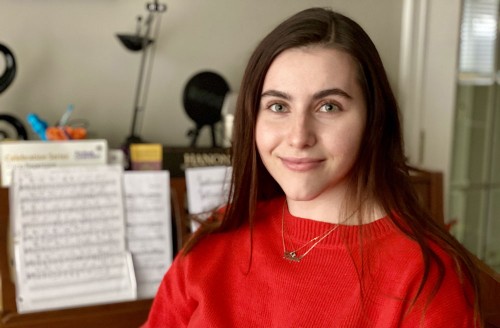 The Artist: Raquel Skilich, voice
Find me on chess.com: raquel43
Contact: @raquelskilich on Instagram
email: raquel.skilich@gmail.com
Comparing chess and jazz: Jazz and chess are similar in the sense that they both require an instrument to be played. With chess, the pieces are your instrument. You have to know what each part does, know how to manage or control it, and know its limits. I know what each part of my voice does, I know my strengths, my weaknesses, I have a good sense of how to control my voice and I am also aware of what my limits are.
For instance, in chess, you can move a pawn forward a limited amount, but you can't move it back. A rook has unlimited range, but only moves horizontally and vertically. When I sing, I know the parts of my range. I am aware of what my lowest note is and what my highest note is. I am conscious of my breath control, my alignment, what I'm hearing, and where I am in the tune, because I know that I can't go back and redo what I played and it's the same thing for chess.
On chess as a means to connect during the pandemic: I can connect with people in the sense that we're both two individuals looking to play a game of chess, and sometimes we happen to be on completely different sides of the world. That's pretty cool, especially because there is most likely a language barrier between my opponent and me. I like that chess is a language that we both know; the only difference is that one of us is better at it than the other.
On projects in the works: I am part of a recording in May for a non-profit organization called Students for Music Wellness. Saxophonist Thomas Steele is leading it, and the recordings are being sent to long-term care homes across Ontario for residents to view.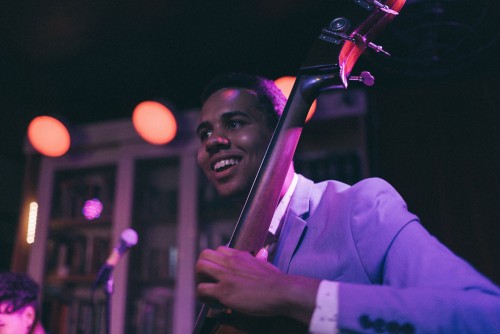 The Artist: Leighton Harrell, bass
Find me at chess.com; user: ayytwix,
Instagram: @leightonmckinleyharrell
Website: leightonmckinleyharrell.com
On chess as a means to connect during the pandemic: Whether it's old friends from high school or my peers I haven't been able to see due to the pandemic, it's been a great joy to pour out a glass of wine, call up a dear friend and play a few games of chess.
In some ways, playing chess with folks online has remedied some of the pandemic isolation, but of course it isn't a perfect cure. My experience with chess began as a communal one. I started to play during my second year of university, when someone in the jazz program brought a chess set to school. Many of my peers and I would gather in the lounge together after class and play for hours, listening to music, hanging out and enjoying the beloved community.
On balancing chess and jazz: There's this Max Roach quote from an interview with Art Taylor in Notes and Tones that I found pretty interesting and inspiring. When asked if he has any hobbies, Roach said, "I like to do everything seriously… If I'm playing chess or if I'm swimming or in conversation, I like to be as honest as possible. What I am, I am. God made it that way and I'm grateful. That's the way it is." While I do like to goof around and have fun, I am pretty serious about the things I love to do. Whether I'm playing chess or practising the bass or writing music or reading a book, I want to give it my all and take it as seriously as I can, because I think that's how I can engage with these things that I care about in the most honest way possible. In some ways I like to view myself in a lineage of chess-playing jazz musicians.
On projects in the works: I'm excited to be heading into the studio to play on Alex Bird's upcoming album, You are the Light and the Way, with Jacob Gorhaltzan, Ewen Farncombe and Eric West, and I'll be relocating to Montreal for the summer where you can find me eating bagels, playing bass, and, of course, playing chess!
Meghan Gilhespy is a vocalist, teacher and writer from Vancouver, based in Toronto. She is currently pursuing a Doctorate of Musical Arts in Jazz Studies at the University of Toronto.