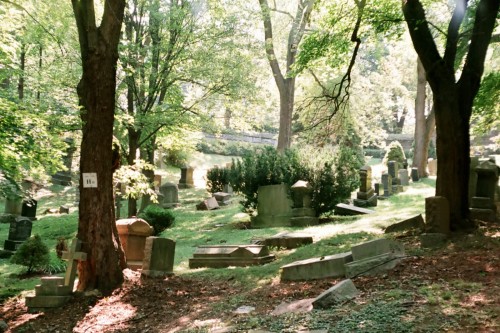 I stay sane these days by walking industrial wastelands, edges of construction fields, less travelled ravine trails and the dead-quiet side streets of Toronto's east and north. Last time I clocked in just over 9.5km – it was raining, then overcast with nasty winds – while listening to This Jungian Life, a podcast in which three Jungian psychoanalysts talk amongst themselves. The recent shows have all been about the current situation, with titles like Facing the Fear, and When Everything Changes: Is There Opportunity in Crisis, and Nigredo: Finding Light Out of Darkness. As I was rounding the final stretch of Rosedale Valley Road where it joins Bayview Avenue, past the outlier graves on the slopes of the St James Cemetery, I could hear the analysts in my earphones saying, When the darkness descends, when the Nigredo is upon us, we will have to sit in it for a time. We can't deny it away. We will have to stay in it, and then survive it. But the only way is through.
It's been impossible to read fiction these last few weeks. I've been searching for something escapist and plotted, precisely the books I don't enjoy in ordinary circumstances. My own library doesn't contain anything carefully plotted and neatly resolved, so I call Book City on the Danforth and bike over for a curbside pickup. I'm now nursing what turned out to be the least-plotted thing Patricia Highsmith ever wrote, Found in the Street. Jenny Offill's Weather was pointless; Jean Frémon's Now, Now, Louison non-immersive and even self-indulgent. It's been impossible to listen to recorded music too because you can't give over to it. Seconds in, you're besieged by thoughts about the future of live performance. I'm not a techno-optimist on the topic of performing arts. Every now and then a few singers start the conversation online with "how we can change and improve our profession for the future," presumably by adding an aspect of digital distancing to it. You can't. We can't. Things are either live, or they're not performing arts. Anything consumed on a screen at home is a different shebang.
We'd already begun self-isolating too much before the pandemic lockdown forced us to go full hermit. We as a society have already started preferring screens to live performance, digital communication to people in the flesh. Maintaining friendships outside the family unit was already made hard. Ticket sales for opera and song recitals have already been slowly but steadily declining in Toronto. We've already been living as citizens weary of other fellow citizens, not bothering to abstract out of our own condition to the life of the commons, in the public square. The end of the lockdown won't reverse this trend.