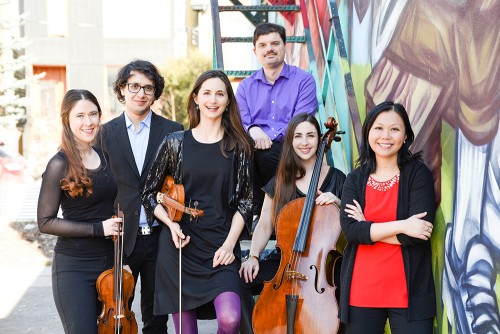 Soprano Vania Chan caught the Handel bug as a young voice student at York University. She had started her training believing she was a mezzo-soprano and was, as she describes it, just experimenting with her upper register. But then she began working with mezzo Catherine Robbin at York. "When I first met her she knew right away. She asked me to try higher repertoire and Oh had I Jubal's lyre (from Joshua) was the first Handel I'd sung. I just loved getting into the coloratura. I was also given a recording of Alcina with Natalie Dessay as Morgana and heard her version of Tornami a vagheggiar. The sparkle of it amazed me. That's when I started getting into my actual voice type."
Morgana will return for an appearance in the program titled "Handel Heroines" that Chan is performing with the Rezonance Baroque Ensemble on October 6 at the Plaza Suite in the Richmond Hill Performing Arts Centre. Chan and Rezonance's artistic director Rezan Onen-Lapointe have known each other since high school years at the Cardinal Carter Academy of the Arts in North York. As young musicians still in training, they both attended the Halifax Summer Opera Festival and took part, alongside Kevin Mallon and the Aradia Ensemble, in a production of Handel's Giulio Cesare. This is where Cleopatra struck. The demanding eight-aria role is now one of Chan's favourites and the forthcoming concert will include at least three of those: the slow V'adoro pupille and Piangerò, and the break-neck Da tempeste.
The character of Alcina too is of great interest to Chan. "I have a whole new respect for Alcina now that I've dived into her arias," she says. It's a different kind of freedom to create the character in a concert setting, without stage direction, with the instrumental ensemble only. "For Morgana, I feel her excitement builds through the aria. For Alcina, in Ombre pallide, it's a different situation. I start with a sense of desperation, a realization that Ruggiero has betrayed her and she has no power to make him love her anymore. Then she comes to a moment of strange peace, where things have got to stop and the body can't take it anymore … but she's all the while thinking what she can do next. Through the text and through the range, the aria goes up and it goes down. When it's calmer, it's not that she's calm – she's taking a moment to rethink. Morgana is in a way more surface-level, Alcina more manipulative."
Natalie Dessay, whom she mentioned early on, was known both for her coloratura and her extraordinary acting skill. How important for Chan is the dramatic aspect alongside the technique? "I feel like one feeds the other," she says. "You release more tension by being really invested in the character. Awareness of what you're saying … a lot of it comes through the clarity of text. With clarity of text comes the clarity of storytelling. When I'm completely in the zone, everything comes together and flows, everything lines up, and the energy continues. The moment you start worrying about something you just did or begin thinking too far ahead, your singing and acting both tense up. There's of course a certain amount of preparation you need to do to get to that point – but then you let it go.
The fun part is being able to play and experiment. Once I know the music and the text, I say to myself, let's be spontaneous about it and tell the story. That makes it fresh for me every time."
She'll also include one aria from Handel's Orlando in the program: Angelica's Non potrà dirmi ingrata. When she was younger and first sang Orlando in concert with some friends, Chan most of all liked the role of Dorinda the shepherdess. It had a lower range and it was soubrette-ish, both of which appealed. But Angelica is more like the role of Alcina, she says, as it sits up higher for a longer time in the opera – and it's in those heights that Chan's voice lives now. "And Non potrà dirmi ingrata is such an edgy aria, very pointed. She's perhaps feeling guilty about being in love with somebody else, not Orlando, who's after her; but also thinks that he can't blame her for that. I love the interplay with the ensemble: it all keeps rolling forward."
Rezonance and Chan already performed similar programs of Baroque heroines in Toronto, Hamilton and at the Bloomington Early Music Festival in Indiana, and now it's the turn for Chan's hometown, Richmond Hill, to hear it. Torontonians can get there easily too, straight ahead on Yonge Street via local transit, after exiting the Finch subway station.
I tell Chan I first noticed her in a contemporary piece, the world premiere production of Brian Current's opera Airline Icarus and she confirms that her interest in contemporary creation is as strong as her loyalty to early music. "I find a lot of singers who do a lot of early music like contemporary music too. It's the two bookends of the music history." And they tend to dislike the grand 19th-century opera? "Ha, it's not so much that as it's the types of voices and the approach to the music." Early music and contemporary voices tend to be less voluminous, I take it, less vibrato'd? "Lighter perhaps, and that's maybe what contemporary composers are looking for today. It's interesting how we get placed. When I was in a master's program in NYC's Manhattan School of Music, I was in the early music ensemble and the contemporary ensemble. Those are my two homes. I've trained to learn music quickly and to use techniques and learning approaches that are based on Baroque and contemporary. They go hand in hand for me."
Later in October, Chan will be branching out in another direction: she'll sing Cunegonde in Bernstein's Candide in Kitchener, with the Grand Philharmonic Choir, Kitchener-Waterloo Symphony, and the Elora Singers, conducted by Mark Vuorinen. (She's loved musical theatre since a young age, she tells me.) That's October 26. In November, she'll be singing in Soundstreams' new music production Two Odysseys and will tour with the same company in Claude Vivier's Musik für das Ende in May next year to the new Elbphilharmonie in Hamburg, to Rotterdam and to Bruges. There is a new opera in the works with Tapestry Opera for the 2020/21 season, and art song-wise, a recital with Syrinx Concerts and baritone Alex Dobson in May 2020, still unannounced (this is a Wholenote exclusive), featuring the cycle Frauenliebe und Leben and a few other of Schumann's art songs.
Handel's Heroines – Sunday, October 6, 3pm – Richmond Hill Performing Arts Centre, Plaza Suite
ART OF SONG QUICK PICKS
OCT 11, 7PM: Neil Crory Tribute Concert. A fundraiser for The Neil F. Crory Endowment Fund in support of the Stratford Summer Music Vocal Academy. Phillip Addis, Isabel Bayrakdarian, Krisztina Szabó, Daniel Taylor, Erin Wall and others. Features spoken tributes and a pre-concert panel discussion moderated by Robert Harris. Trinity-St. Paul's Centre.
OCT 13, 1:30PM: Kingston Road Village Concert Series. "The Passionate Voice: Countertenor, Baritone and Bass." Works by Mendelssohn, O'Hara, Handel, Mozart, Schubert, Grever and others. Russell Braun, baritone; Gary Relyea, bass-baritone; Dan Taylor, countertenor with five protégés and Miguel Brito and Michael Rose, piano. Kingston Road United Church.
OCT 27, 2PM and 4PM: Young People's Concert: "Symphony Spooktacular." Toronto Symphony Orchestra in Grieg: In the Hall of the Mountain King; Stravinsky: Infernal Dance of King Katschei from The Firebird; Maxime Goulet: Metamophosis of the Werewolf from Halloween Night; Mozart: Der Hölle Rache from Die Zauberflöte; Gounod: Funeral March of a Marionette. Teiya Kasahara, soprano; Joy of Dance, dance troupe; Daniel Bartholomew-Poyser, conductor. Roy Thomson Hall.
NOV 1, 7:30PM: St. George's Lutheran Church/DAAD Alumni Association Canada. Schubert's Winterreise. Arranged for bass-baritone and string quartet by Richard Krug. Daniel Lichti, bass-baritone; Penderecki String Quartet. St. George's Lutheran Church.
NOV 1 8PM: Royal Conservatory of Music: Karina Gauvin, soprano, with the Pacific Baroque Orchestra. Opera arias from 18th-century St. Petersburg. Koerner Hall.
Lydia Perović is an arts journalist in Toronto. Send her your art-of-song news to artofsong@thewholenote.com.