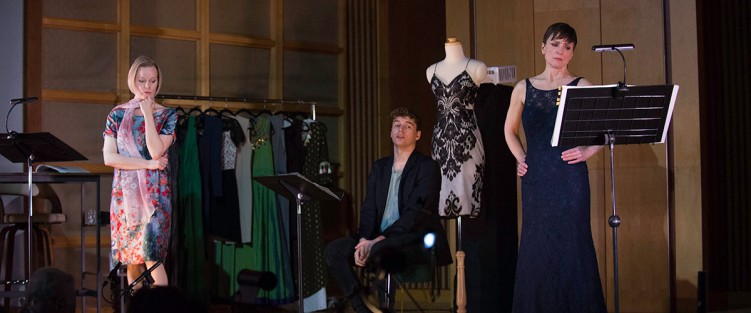 In our February/March issue, Wendalyn Bartley previewed Rodney Sharman and Atom Egoyan's Show Room, their first operatic collaboration since Elsewhereless in 1998. Presented by new music ensemble Continuum, Show Room ran for two performances this past March 18 and 19, and Lydia Perović was there.
There's a dangerous point halfway into the new chamber opera Show Room where you are very close to deciding that a) this is clearly an absurdist piece, in the style of Ionesco, where characters wrangle over the meaning of what's said, and that b) you're not really enjoying it. You had originally thought that it was a comedy: the recurring whining from the period recorders in the orchestra whenever the lady visiting the boutique tries on a new gown was actually comic. But then things change and you're in a very different opera. As the two principals work out the dramatic conflict, they themselves change, as if by a switch in the stage lighting: sympathies travel from one woman to another, to neither, and back. Hurt and righteousness switches from one to the other. The finale, where the small orchestra under Jennifer Tung comes in in full-blown Rosenkavalier mode to lushly underpin the shopowner's emotions, is the final twist. You've gone from the comic, to absurdist, to realist, to melodramatic, to Romantic to not-quite-sure-what-just-happened mode. It's an hour-long opera that keeps you guessing about what is going on and leaves you intrigued. There is depth there.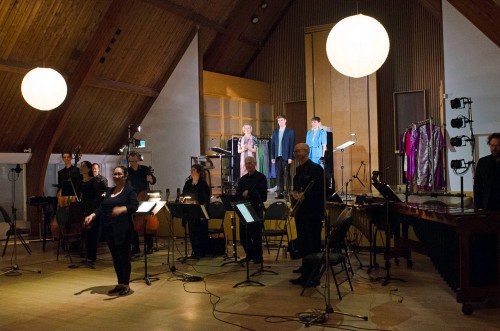 The action – such as it is – is as follows: a lady of means (mezzo Andrea Ludwig) comes into a showroom and unhappily tries on multiple gowns. Her adult son is there (baritone Nicholas Higgs), offering encouraging if concise commentary. The boutique owner/designer (soprano Carla Huhtanen) is trying to be helpful but can't resist remarking how unusual it is for a woman to be accompanied by her son while gown shopping. There is quite a bit of conversation which, on the surface at least, is about the meaning of beautiful clothes. Ludwig looks spectacular as she comes out in each new dress, but is evidently deeply unhappy with what she sees in the mirror. The orchestra's high, whiny, clangy accompaniment both takes her sadness seriously, and not. (A marimba-like instrument in the orchestra, gently bowed on its edges, adds eerie overtones to the violin-recorders-period-trombone chant.)
It is getting late and the shopowner is hoping to close soon; the son, not sure if his mother will be buying anything, writes the shopowner a large cheque for her time, and asks her to help his mother in the change room. After some time, the shopowner comes out to inform him that his mother is crying. Additional awkward exchanges ensue and the mother comes out in her regular clothes. The orchestra changes gears and densifies for the reading of words which both mother and son, reading from letters, release at the shopkeeper, phrase by salacious phrase. The sentences are from the letters, it turns out, that the husband of the shopper sent to his lover – this very fashion designer and boutique owner. Finally, the two women are alone on the stage, in a tense conversation.
While the music becomes highly expressive, the acting stays restrained and mannered, and the libretto remains somewhat abstract, with the shopowner ending the opera alone, repeating one of the best lines from the letters to herself and to us, about the nature of desire. It's to the credit of everyone involved – young director Chelsea Dab Hilke, composer Rodney Sharman, librettist Atom Egoyan – that this unusual mix just somehow works. It's like finding 1950s melodrama film director Douglas Sirk embarked on a series of philosophical musings accompanied by a period orchestra. There are period instruments in Sharman's score for a good reason – they produce a distinctively mannered sound. (The orchestra in full consists of two recorders, two period trombones, violin, cello, bass, piano and percussion.)
Show Room will bring to mind some other recent cultural products – the film Phantom Thread, the novel French Exit – but its bizarro world is also of its own unique kind.
Not everything works out, of course. Some of the lines are clunky (A "moist, pungent nest" in one of the lovers' letters? Just no.) and as I mentioned, the first part of the opera tests our patience almost to a breaking point. But these are fixable issues and everything just might run more smoothly with a proper staging. At 918 Bathurst, where the opera was performed in concert for two nights in March, the singers acted while reading from the music stands and although the gowns did help, the staging was minimal. That this new work still managed to convince in its concert version in a packed and poorly ventilated venue is a great sign. Let's see it staged soon.
"On Opera" Quick Picks
Apr 28 to May 20: The Canadian Opera Company's production of Verdi's Macbeth features Quinn Kelsey as Macbeth; Alexandrina Pendatchanska and Liudnyla Monastyrska share the role of Lady Macbeth; Önay Köse as Banquo; Matthew Cairns as Macduff; the COC Chorus & Orchestra; Speranza Scappucci, conductor; and Sir David McVicar, director. Plenty of bloodthirsty ambition-driven drama to go around! Four Seasons Centre for the Performing Arts, Toronto.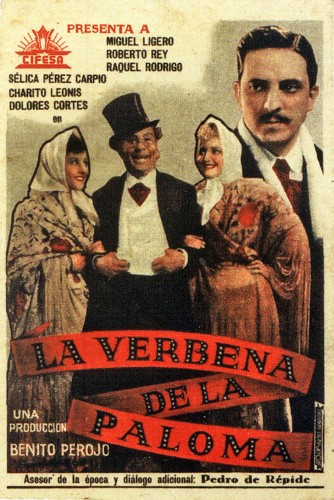 May 5, 8pm: Toronto Operetta Theatre - La Verbena de la Paloma (The Festival of the Dove) is classic zarzuela - a fun kind of sung and spoken Spanish lyric theatre. It premiered in Madrid in 1894, and is set in the lively streets of that city during a festival. Adapted for the cinema in 1921, 1935, and again in 1963, it has great excuses for singing and dancing; young love almost thwarted by foolish older folks, and a happy ending. With Margie Bernal, Rómulo Delgado, Stuart Graham. Kate Carver, conductor & piano, Guillermo Silva-Marin directs. Jane Mallett
Theatre, St. Lawrence Centre for the Arts, Toronto.
May 5 to May 27: The Canadian Opera Company presents Puccini's Tosca. Sinéad Campbell-Wallace and Keri Alkema share the title role, Stefano La Colla as Cavaradossi, Roland Wood as Scarpia, Joel Sorensen as Spoletta, and Donato Di Stefano as Sacristan. With the COC Chorus & Orchestra; Giuliano Carella, conductor, Paul Curran, directs. Love, lust, murder and politics, and (SPOILER!) probably NO happy ending. Four Seasons Centre for the Performing Arts, Toronto.
May 13, 7pm: Southern Ontario Lyric Opera's spring production is Verdi's La traviata, which is based on Alexander Dumas' La Dame aux Camélias. This fully staged production with the Southern Ontario Lyric Opera Chorus & Orchestra is conducted by Sabatino Vacca. Burlington Performing Arts Centre.
Lydia Perović is a freelance writer in Toronto. Sign up to receive her newsletter at longplay.substack.com.