Suba Sankaran is a vocalist, choral director, arranger, educator and composer. People use the word "fusion" a lot when they talk about her work, for want of a word that was especially coined for what she does. Her body of work lovingly embraces a wide world of disciplines and performance genres, and an even wider world of musical traditions. Most recently you may have noticed her as a performer and creative collaborator, in Alison Mackay's The Indigo Project, with Tafelmusik.
Sankaran performs across North America, Europe, the UK, Asia, Australia and Africa with the trio Autorickshaw; with her father, the master drummer Trichy Sankaran; with her husband, Dylan Bell as the FreePlay Duo; and with Retrocity, an octet a cappella revue. Sankaran has composed and produced music for theatre, film, radio and dance. She currently teaches in the jazz department at Humber College, co-directs Toronto's City Choir, is an artistic associate at Confluence Concerts, and is co-sound designer, composer, and performer with Why Not Theatre/Shaw Festival's upcoming production of the epic story, Mahabharata.
When you look at your childhood photo today?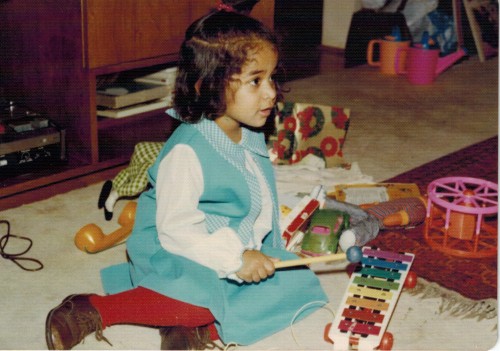 I think about the curiosity and joy that is behind the mildly serious look on my face. I spent a lot of time alone, just singing to myself or playing with toys, or creating my own play space (especially when my sister was in full-day school and I in half-day school). It shows my happy independence.
Suppose a friendly child who asks what your job is? I eat, sleep and breathe music. I love my work so much that it doesn't feel like work at all, so hopefully, when you get older, you will also find something that brings joy to your life.
People and music in your childhood home? My father is master drummer and professor/founder of South Indian music studies at York University, Trichy Sankaran. My mother, Lalitha Sankaran, in those early days felt like a Jill of all trades and right hand to my dad, They married in '69, had my sister, Bavani, in '70, then uprooted in '71 to Toronto, with $8.00 in hand in the (original) Trudeau years. This is a typical yet fascinating immigrant story. I am the only one in my family (of my generation) born and raised in Toronto (Willowdale/North York). Many musicians from India visited from time to time, and they would be welcomed in our home. As per the South Indian music tradition, the senior musicians were expected to teach the children of the house some songs – a way of passing the torch and maintaining and sustaining the guru-kula (guru-disciple or teacher-student) tradition. I learned from the best of the best, from my father on down!
We sometimes had distant relations come to Canada and live with us for months at a time, as they began planting their own roots, found jobs and began establishing themselves. Again, it's considered part of the tradition to welcome these people as our own family and to take care of them as they get their start in life.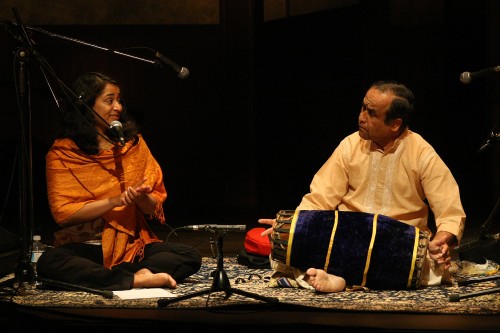 Did everyone enjoy and make music? Yes, particularly the visiting artists, and everyone in my immediate family. While my father and I are the professional musicians, my mother and sister also share not only a love for music, but they are music teachers in their own right.
Where did you attend high school? Claude Watson School for the Arts at Earl Haig Secondary School.
And right after high school? I received my BFA in music at York University where I met my husband, Dylan Bell, and he and I co-directed the student-run Wibijazz'n' Winters College Killer Chorus, now called Wibi (and still going strong!). I went on to do my MFA at York in ethnomusicology after that.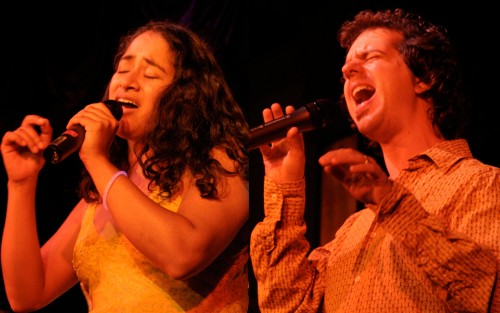 Your absolute earliest memory of hearing music? I think my first memory is of my father's mrdangam playing. It's such a specific and beautifully melodic sound for a percussion instrument. I found it so soothing that as a child I notoriously fell asleep during many of his solos in concerts!
Where else did hearing music, recorded or live, generally fit into your life as a child? We would often listen to albums of many kinds (Indian classical, Western classical, jazz, world music and popular music), as well as what was playing on the radio – music or talk radio – generally CBC and other pop music stations that I would find on my own.
Your very first recollection of making music by yourself? I started singing when I began talking, at or before the age of two. I was taught the basic South Indian Karnatak exercises and short songs (called geethams) as well as regular children's songs from the West from my parents and from children's albums like Sharon, Lois and Bram, Raffi, Sesame Street, and the like.
A first instrument other than your own voice? Voice was first at the age of two, then piano at the age of six. I probably played around on the mrdangam and kanjira at this time, but not formal study until I was older.
A first music teacher? One of my first teachers that really made an impression on me was my first long-term piano teacher who was a student of my father's and also taught through the Royal Conservatory of Music, and her name is Dale Innes. This woman was friendly, down to earth, honest and a great listener. She believed in truly making the music sing even if it was through fingers on ivory keys. These were all great tools for becoming a consummate musician.
An early memory of an audience? My first experience on stage was in the US when I was four. It was for the Navaratri festival (nine nights of celebration of various Hindu Goddesses) at Wesleyan University when I was one of the four children selected for a solo performance on stage, and I sang the hymn Santhatham Paahimaam – which was the Tamil version of "God Save the Queen" – composed by the Saint-composer Dikshitar, only it translated to something more akin to "Save Everyone!" I remember feeling my attraction to the stage and for connecting with large audiences in this moment.
When did you start composing? I started composing and arranging in high school when I attended Claude Watson. Before I really knew much about improvising as an art form, I would make songs up and simply call it "The Game". We would do this in groups and create fugue-like songs, madrigal-type polyphony and more far-out music and would simply brush it off as part of "The Game"!
We had compositions to write in our music classes, and I think the first one I wrote was an a cappella SSAA song called In A Dark Time, poetry by Theodore Roethke. That was more of an assignment than a full-on composition, but then my friend Tanya Battaglia and I arranged the school song for our chamber choir and that made quite a splash! I think they're still singing that arrangement if I'm not mistaken – carpe diem (inside joke)!
Your first time leading other musicians? One of my first memories of leading other musicians was also from my time at Earl Haig in the Claude Watson program. My conductor, Mary Legge, thought I was ready to conduct the choir and so she charged me with the task of conducting Murray Schafer's Epitaph For Moonlight, for multiple voices, optional instruments and modern dancers (if I'm remembering correctly). I probably should have been petrified, but I blindly went forward knowing that it would be fine because she thought I was ready. I then started co-directing the jazz choirs after that, and haven't stopped conducting or arranging since!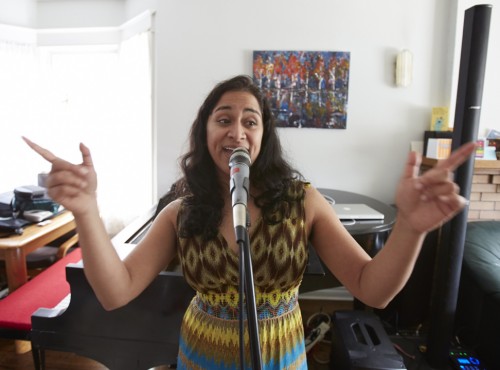 What experiences helped to form your adult musical preferences? It's a mix of my upbringing in my somewhat traditional South Indian household, having a master musician for a father, along with my experiences in an arts school, and a general hunger for wanting to make up music for fun, to create, experience and hear new things. Indian music has a huge scope for improvisation as does jazz and other art forms as well. I think I gravitated to these styles in part because they have a lot of creative freedom. Connecting and communicating, trusting the musicians around me and creating new music, is very important to me.
Do you remember when you began to think of yourself as a career musician? Because I grew up in a musical household, I always thought it was possible to have a career as a musician. I thought about it more seriously at the age of 14. It was my first big "gig": I played classical piano for my neighbour's wedding, and got paid a whopping $50 bill for it! That was a king's ransom in those days. My mom immediately took it out of my hands after the gig and said, I'm holding on to this and framing it as a reminder that you should be grateful for your first gig and stay humble about your talents. She still has that money to this day! In fact, she may have opened my first bank account with said money…
Ever think you might do something else? I never really thought about doing anything else in my life. Making music has always brought me so much joy. It's allowed me to live it, to love it, to constantly learn from it, to lead through it with gratitude, and to hopefully leave a lasting impression/legacy in some way.
There was one time, a very brief but dark time in 2001, right around the time of the Twin Towers going down, and my grandmother taking ill and passing quickly afterwards, and I was sick as a dog as well. I believe I had a double whammy of pneumonia and bronchitis and some mysterious blip on an X-ray that almost led to a bronchoscopy. Thankfully it didn't go that far, and they realized later that the blip was some random inconsequential spot on the X-ray. I thought my singing life was over and fell into a bit of a depression, mostly my mind becoming my worst enemy with all of the hypotheticals… That got me thinking about what else I would do. I still thought I would be in the field of music, but less in performance/singing, and more teaching and perhaps going back to my piano and percussion roots, as well as more composing and arranging. I had also briefly contemplated a career shift to one of my hobbies – gardening, cooking and the like. I don't really know how serious I was about the departure, though.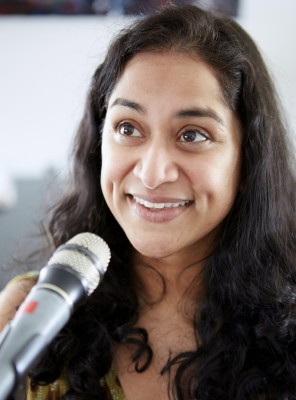 AND TODAY
Are there music-making children in your extended family? My nieces and nephews (on both my side and Dylan's side) have a keen interest in music and music programming/technology. None are pursuing it professionally yet, but it's early times still.
How does making and/or hearing music fit into your current personal home life? Dylan and I are constantly making music. As two full-time, gratefully over-employed musicians, every day is a different slice of the musical pie. It could be teaching at Humber College, or writing a script for SING! Radio (we are co-artistic directors of SING! The Toronto Vocal Arts Festival), creating rehearsal recording tracks for various community choirs in the city (including City Choir, for which I'm one of five directors), composing, arranging, practising …you name it, the list goes on. I've been trying to get out and hear more live music. Unfortunately, when you're deep into the music business and constantly making music, sometimes the ear fatigue sets in and live music is the last thing you want to hear. I'm trying to get myself out of that pattern to support my fellow musicians. It's very important to me…and it's admittedly a work in progress.
What would you say to parents/grandparents hoping their young children will grow up to love and make music? Everyone will come at music in a different way. It can't be forced. That being said, it's good to send the message that music is communication. Music is storytelling. Music can be your best friend. Music is healing. Music will be here long after we are gone. Music is in the cosmos and it's all around us. We just have to listen.
If you were all ALONE (in the shower, driving) and could sing along with complete abandon to ANY one recording, what would you choose? Queen's Bohemian Rhapsody. Or many other contenders, also from the '80s!
UPCOMING …
March 5-15 - performing/touring with my husband, Dylan Bell with our a cappella, live-looping duo, FreePlay.
March 18-22 - adjudicating at Brandon Jazz festival, MB. The choirs are always absolutely stellar at this festival!
March 26 - performing with Aaron Davis for his Circle Of Friends show at Lula Lounge.
March 28 - performing with Barry Livingston Group at Hope United Church, 4:30-5:15pm.
April 1-8 - FreePlay at Choral Festival in Calgary and Cantando Festival in Edmonton, Alberta (adjudication, workshops, performances with FreePlay).
April 14-16 - Autorickshaw school shows (Branksome Hall, Milton, Huntsville).
April 17-May 3 FreePlay European tour (workshops and concerts mostly in northern Germany).
May 9 - Confluence Concerts presents Mandala, Toronto.
May 10 - WEE Festival, Toronto. Autorickshaw performs at 2pm.
May 25 - I am an artist mentor for Small World Music's eMERGEnce program. This is one of several sessions.
May 19-May 31 SING! The Toronto Arts Festival.
Early June - choral competition at the Moscow A Cappella Festival with FreePlay.
Mid-June through mid-September – sound designer, composer, arranger and part of the live band for WhyNot Theatre's Mahabharata at the Shaw Festival, collaborating with John Gzowski.
Through all this, I'll continue juggling one teaching day a week at Humber College. These students and soon-to-be professionals in the field are really inspiring. The future looks bright!