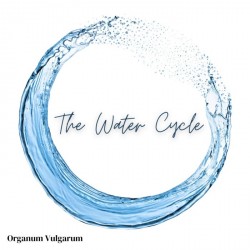 The Water Cycle & Tango Inoxidable
Organum Vulgarum
Independent (amichaibenshalev.bandcamp.com/album/the-water-cycle-tango-inoxidable)
Canadian-born musician/teacher/composer Amichai Ben Shalev was raised in Israel and lived in Buenos Aires from 2005 to 2020 where he graduated in 2012 from the Manuel de Falla Conservatory specializing as a bandoneon soloist under the tutelage of Rodolfo Daluisio. His career there included collaborations with contemporary tango composers and international appearances. In 2020 Amichai moved to Montreal and in 2022 founded the contemporary music ensemble Organum Vulgarum for bandoneon and string quartet/quintet to explore this instrumentation's sonorities.
Amichai's seven-movement contemporary composition The Water Cycle, is inspired by the continuous movement of water on earth and in the atmosphere. Heat opens with ascending string intervals moving to higher bandoneon held notes, with faster lines as the water gets warmer, to an amazing closing with a held high note and a slightly rippling ending. Evaporation has lower pitched held notes, fades and swells creating musical evaporation. Chill has sharp "freezing" bandoneon accents contrasting with longer lower "puddle" strings. Precipitation features pizzicato string raindrops, low held note thunder blasts, and bandoneon bellows shakes increasing the storm effect. Brilliant tight ensemble playing and interpretation of Amichai's reflective "watery" music reminiscent of summers at the lakeside.
Amichai expresses two common tango aspects, "Desolado" (solitary and sad) and "Reo" (rough) throughout his Tango Inoxidable. His virtuosic playing is featured here as bandoneon bellows create a wave effect, followed by dramatic string lines and bandoneon rhythms. Quieter remorseful bandoneon lines lead to intricate musical conversations with the strings.
The Organum Vulgarum instrumentalists' performances meld together memorably, at times amazingly, almost sounding like one instrument. Amichai's sonority explorations are unforgettable.