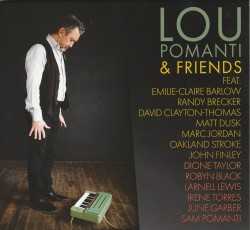 Lou Pomanti & Friends
Lou Pomanti & Friends
Vesuvius Music VMI - 009 (loupomanti.com)
Consummate pianist/arranger/composer/producer Lou Pomanti has often been recognized for his impressive list of professional collaborations, but here Pomanti speaks in his own creative voice by presenting a project rife with original compositions and inspired pairings with artists with whom Pomanti has previously co-created. The jazz, R&B and pop luminaries here include vocalist Emilie-Claire Barlow, iconic trumpeter Randy Brecker, soulful vocalist and lead singer of Blood, Sweat and Tears David Clayton-Thomas, contemporary crooner Matt Dusk, masterful singer/songwriter Marc Jordan, the funkadelic Oakland Stroke blue-eyed soul singer John Finley, gifted vocalists Dione Taylor, Irene Torres, June Garber and Robyn Black, drummer Larnell Lewis and guitarist/synth wizard Sam Pomanti. The material here is a virtual potpourri of eclecticism and perfectly curated tracks – effortlessly pairing the right artists with the right tunes, brilliantly arranged and performed by the A-List musicians in the stirring charts created by Pomanti.
First up is a largo, come-hither take on Lennon/McCartney's Come Together featuring the magnificent Jordan and emerging vocalist Black, set in an inspired arrangement that oozes sophistication. A true standout is the swinging and soulful rendition of Mose Allison's Your Mind is On Vacation featuring the made-in-heaven vocal match of Findley and Clayton-Thomas, followed by the irresistible Laura Nyro hit, Stoned Soul Picnic, reimagined by Pomanti, replete with an in-the-pocket tempo and featuring the breathtaking Barlow as well as a groovy face-melter from Brecker.
Pomanti's "ten piece touring funk juggernaut, Oakland Stroke" is represented here with a bluesy and thrilling version of Me and Mrs. Jones, graced by the incredible pipes of George St. Kitts. Of special, luminous beauty is the haunting Windmills of Your Mind perfectly rendered by the incomparable Garber – who doesn't just sing the lyrics, but imbues them with deep emotional content and flawless interpretation. Of special note is Pomanti's composition, What Remains – a loving tribute to his adored wife of more than 20 years – made all the more moving by featuring the still-besotted Pomanti on vocals.