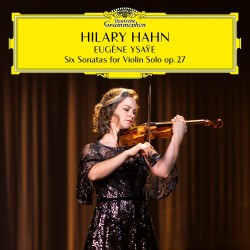 With the July release of her new CD Eugène Ysaÿe Six Sonatas for Violin Solo Op.27 violinist Hilary Hahn celebrates the centenary of these remarkable and challenging works, each dedicated to a younger contemporary of the aging Belgian composer (Deutsche Grammophon 00028948641765 store.deutschegrammophon.com/p51-i0028948641765/hilary-hahn/eugene-ysa-e-six-sonatas-for-violin-solo-op-27/index.html).
The impetus for their composition was Ysaÿe's experiencing a performance of Bach's Sonatas and Partitas by the young Joseph Szigeti in 1923. Like the Bach cycle, the Ysaÿe set starts with a G-Minor work and ends with one in E Major. Szigeti is the dedicatee of the first; Jacques Thibaud, George Enescu, Fritz Kreisler, Mathieu Crickboom and Manuel Quiroga are the other five.
Hahn spent seven years studying at the Curtis Institute with Jascha Brodsky, the last living student of Ysaÿe, so has a direct link with these sonatas. As always, her playing is remarkably strong and quite brilliant, anchored by flawless technique and a profound musicality.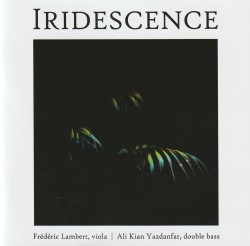 The reasoning behind the digital-only release from Leaf Music featuring Orchestre Symphonique Laval principal violist Fédéric Lambert and Orchestre Symphonique de Montréal principal double bassist Ali Kian Yazdanfar is that Iridescence – the variability in an object's colour when you change the viewing angle – here refers to our viewing the two instruments from a different perspective (LM268 leaf-music.ca).
The duet works are Evan Chambers' 1997 The Fisherstreet Duo, Efraín Oscher's 2008 Escenas del Sur and the 2000 three-movement Duo for Viola and Double Bass by the Welsh composer Gareth Wood.
Each player has a solo piece, completely different in style and effect. Lambert's is the quiet, contemplative in manus tuas, a 2009 work by Caroline Shaw based on a Thomas Tallis motet and originally written for solo cello, but Yazdanfar steals the show with the dazzling Thème Varié pour Contrebasse solo, a 1976 composition by Jean Françaix with variations built on trills, sixteenth notes, double stops, pizzicato and harmonics.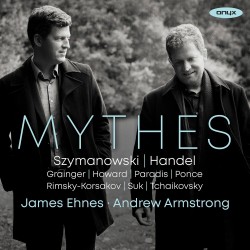 I'm not sure exactly what the reasoning was behind the selection of works on Mythes, the latest CD from violinist James Ehnes and his regular pianist partner Andrew Armstrong, but there's no doubting the quality of the recital of two major works and a series of encore pieces (ONYX4234 onyxclassics.com/release/james-ehnes-andrew-armstrong-mythes).
When Szymanowski wrote his Mythes Op.30 in 1915 he felt that he and the violinist Pavel Kochanski were developing a new mode of expression for the instrument. Certainly the three sensuous pieces are full of brilliantly coloured and nuanced violin effects, all superbly captured by Ehnes.
The original keyboard part for Handel's Sonata in D Major HWV371 exists only as a figured bass line, with Armstrong here using a version that the duo has essentially adapted from various performing editions. A varied selection of seven encores completes the CD: Kreisler's arrangements of a Tchaikovsky Chant sans paroles and Grainger's Molly on the Shore; Heifetz's arrangements of Rimsky-Korsakov's Flight of the Bumblebee and Ponce's Estrellita; James Newton Howard's brief 133...At Least; Josef Suk's Burleska; and the Sicilienne attributed to Maria Theresa von Paradis.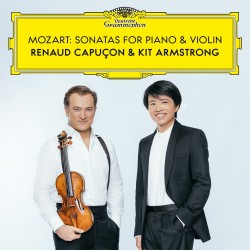 When pianist Kit Armstrong and violinist Renaud Capuçon played all 16 of the mature Mozart violin sonatas at the Mozart Week festival in Salzburg in 2016 Capuçon says that they "knew at once that we wanted to record them." The result is the outstanding four CD box set of Mozart: Sonatas for Piano & Violin, works that mark Mozart's development of the genre from keyboard sonatas with violin accompaniment to the fully fledged violin sonatas of the nineteenth century. The 12 Variations in G Major on "La bergère Célimène K359 and the 6 Variations in G Minor on "Hélas! j'ai perdu mon amant" K360 complete disc two (Deutsche Grammophon 486 4463 deutschegrammophon.com/en/catalogue/products/mozart-sonatas-for-piano-violin-capucon-armstrong-12981).
Armstrong's booklet note perfectly describes their approach and the result: "However, we did not historicize in our playing: on the contrary, it was particularly rewarding to see beauties brought forth by later techniques blossom in Mozart's music. When I hear Renaud render Mozart's lyrical flights with all the sumptuousness and refinement that modern violin playing can have, I am convinced: it is beautiful, and that is what matters."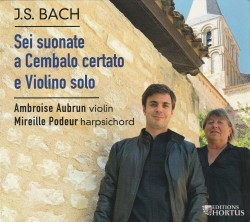 Bach's sonatas for violin and piano, predating Mozart's by some 60 years, are essentially extensions of the Baroque trio sonata. Probably dating from 1720-23 during his time at Cöthen, they were reworked in later years but never published in his lifetime. Several contemporary manuscripts exist, but no autograph copy. They are presented on a 2CD set by violinist Ambroise Aubrun with Mireille Podeur on harpsichord on J.S. BACH Sei suonate a Cembalo certato e Violino solo (Six Sonatas for Obbligato Harpsichord and Violin BWV1014-1019) (Hortus 228-229 editionshortus.com).
The idiomatic performances are delicate and refined, perhaps a bit lacking in warmth. An excellent booklet essay by Podeur with some fascinating technical insight adds to a top-notch release.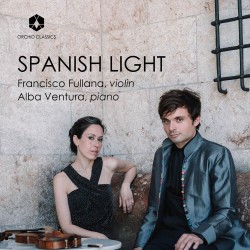 On Spanish Light the violinist Franscisco Fullana returns to his Andalusian roots in an outstanding recital with the Spanish pianist Alba Ventura (Orchid Classics ORC100250 orchidclassics.com).
Turina's Violin Sonata No.2 Op.82, Sonata española from 1934 incorporates Andalusian and gypsy melodies in a work that also shows the influence of Turina's studies in Paris. Sarasate's Romanza andaluza is from the second volume of Spanish Dances Op.22, while his Zigeunerweisen Op.20, originally for violin and orchestra is heard in the piano arrangement made by the composer and recorded by him with one of the three Catalan composers featured here, Joan Manén (1883-1971) in 1904.
Written for Jacques Thibaud, the single movement Granados Violin Sonata H.127 is a real gem; of uncertain date, it wasn't published until 1971. The two movements IV Oració al Maig and VI La font are from the Seis sonetos of 1921-22 by Eduardo Toldrà (1895-1962). The Manén piece is his terrific Caprice catalán No.3 Op.23.
The traditional Catalan Christmas song El cant dels ocells (Song of the Birds) adapted by Fullana from the Pablo Casals cello arrangement, ends a superb disc.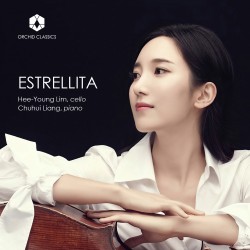 If you like putting on a CD and just relaxing to a stream of beautifully played popular melodies then you should love Estrellita, the new album of "a selection of encores: small but sparkling gems of the repertoire" from Korean cellist Hee-Young Lim and Chinese pianist Chuhui Liang (Orchid Classics ORC100227 orchidclassics.com).
Sandwiched between Saint-Saëns' The Swan and Schubert's Ave Maria are two pieces by Ravel, including the Pavane pour une infante défunte, two by Tchaikovsky, including the Souvenir d'un lieu cher, Godard's Berceuse from Jocelyn, Amy Beach's Romance, Rubinstein's Melodie, the Ponce title track and pieces by Liszt, Debussy, Brahms and Ysaÿe. The Liszt, Brahms and Beach arrangements are by the cellist. BBC Music Magazine noted the warmth and expressiveness of her tone, "which is of truly rare beauty." Indeed it is, across the full range of the instrument.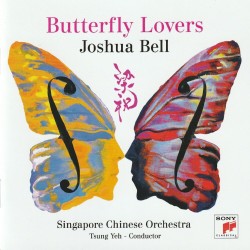 Butterfly Lovers, the popular violin concerto at the heart of the new CD from Joshua Bell with the Singapore Chinese Orchestra under Tsung Yeh (Sony Classical 19658810972 joshuabell.com) was written in 1959 by Chen Gang and He Zhanhao, two students at the Shanghai Conservatory. Despite its use of Chinese folk melodies and pentatonic scales it was scored for a standard late-Romantic symphony orchestra, presumably to widen its appeal beyond China's borders.
Here, though, it's performed in a rarely heard arrangement by Yan Huichang and Ku Lap-Man for an orchestra of traditional Chinese instruments, the only Western exceptions being cellos, double basses, harp and some of the percussion section. Described as being more of a rediscovery than a mere reorchestration, it's a remarkable listening and musical experience, making you wish – unrealistically, it must be said – that this could be the standard performing edition.
Bell and Yeh don't stop there, however, presenting the three other works on the disc in arrangements for the same orchestra. Massenet's Méditation from Thaïs doesn't sound a whole lot different, but the Saint-Saëns Introduction et rondo capriccioso in A Minor Op.28 and Sarasate's Zigeunerweisen Op.20 certainly display a quite different and fascinating tonal palette. Bell's beautifully subtle phrasing seems to mirror the Oriental nature of the soundscape.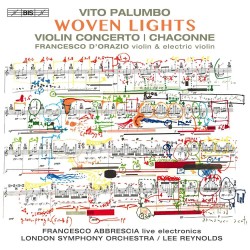 Although it was released in January the CD Woven Lights, featuring the Violin Concerto and the Chaconne for electric violin (five strings) and electronics by Italian composer Vito Palumbo (b.1972) only recently came to my attention (BIS-2625 bis.se).
The 2015 Violin Concerto was recorded at Abbey Road Studios in September 2016 with soloist Francesco D'Orazio and the London Symphony Orchestra under Lee Reynolds. It's a quite fascinating work, albeit difficult to describe; in the booklet notes the description is "a work of bittersweet lyricism," the composer himself noting the echoes of Alban Berg, especially towards the end of the piece.
D'Orazio recorded the two-part Chaconne of 2019-20 in Italy in January 2021 and it is much more difficult to assess objectively. Francesco Abbrescia realizes the sampled sounds and electronics in I. Woven Lights, where the chaconne principle of variation in the opening section gradually transforms into a dialogue with initially sparse electronics that become thicker and denser, while II. The Glows in the Dark is for electric violin and 30 pre-recorded electronic violin parts, pre-recorded by the same performer.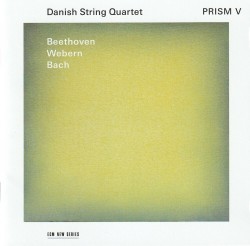 The Danish String Quartet completes a journey of almost eight years with PRISM V – Beethoven Webern Bach, the final volume in a series where connections are drawn from a Bach fugue through one of the five late Beethoven quartets to a quartet by a later master – "a beam of music split through Beethoven's prism" (ECM New Series 2565 485 8469 ecmrecords.com).
Beethoven drew many melodic motifs from Bach's Well-Tempered Clavier for his late quartets. The opening track here is the Chorale prelude Vor deinen Thron tret ich hiermit BWV668. The Beethoven is the String Quartet No.16 in F Major Op.135, and the later master is the young Anton Webern, whose richly chromatic 1905 String Quartet, written while he was studying with Arnold Schoenberg quotes the Op.135 and also shows the influence of Schoenberg's Verklärte Nacht.
Bach's unfinished Contrapunctus XIV from The Art of Fugue brings a superb series to a somehow perfectly appropriate conclusion. "We have worked hard on these pieces for almost a decade," say the quartet members, "and we have done our best."
Their best is simply as good as you could wish to hear.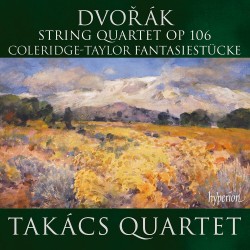 Two complementary and contemporaneous works are presented on Dvořák String Quartet Op.106, Coleridge-Taylor Fantasiestücke in beautiful performances by the Takács Quartet (Hyperion CDA6813 hyperion-records.co.uk/r.asp).
Coleridge-Taylor made three trips to the United States, and his use of indigenous American melodies shows an affinity with Dvořák, who was a major influence. His 5 Fantasiestücke Op.5 though, is a competent and pleasant early work, written when he was a student at the Royal College of Music in London.
The Dvořák String Quartet No.13 in G Major Op.106 was the first composition written after his return from America in 1895 and reflects his happiness at being home again. Completing the CD is Dvořák's Andante appassionato B40a from 1873, the original slow movement from an early A-Minor quartet listed as Op.12 and discarded when the composer revised the work.
As always, there's faultless, gorgeous playing from this superb ensemble.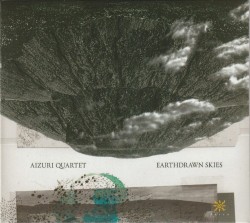 On Earthdrawn Skies the Aizuri Quartet explores deep connections between humans and the natural world with music that "draws from the earth as it reaches upward and outward" (Azica ACD-71359 azica.com).
Hildegard von Bingen's chant Columba aspexit is heard in Alex Fortes' commissioned arrangement which cleverly builds through a series of solos, duets and trios to a full-group unison.
The String Quartet No.1 by the British-Jamaican composer Eleanor Alberga is described as an exploration of the cosmos, launching us into space with jagged rhythms and melodies, contemplating the star-filled sky and energetically returning to earth.
The Armenian composer and ethnomusicologist Komitas Vardapet is represented by Sergei Aslamazian's arrangement of five Armenian Folk Songs, and an excellent CD ends with the Sibelius String Quartet in D Minor Op.56, Voces Intimae, written in self-imposed isolation in Aiola while he tried to overcome the alcoholism that plagued him in Helsinki and reconnect with his natural surroundings.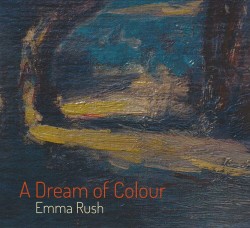 Guitarist Emma Rush grew up in Hamilton, Ontario and had a family connection to the Canadian Impressionist painter William Blair Bruce, whose paintings she saw in the homes of her grandparents and aunts. In 2020 she commissioned seven new Canadian compositions inspired by Bruce's paintings, and her new CD A Dream of Colour – Music inspired by the paintings of William Blair Bruce is the result (emma-rush.com).
The subject paintings are beautifully reproduced in colour in the CD booklet, accompanied by a brief note by the composers – Christine Donkin, Amy Brandon, Dale Kavanagh, Craig Visser (a striking piece for guitar and tape), christina volpini, Daniel Medizadeh and Jeffrey McFadden.
Rush is an outstanding player, and her beautifully clean, sensitive and nuanced interpretations of exquisite additions to the contemporary Canadian guitar repertoire, beautifully recorded and presented, make for a terrific disc.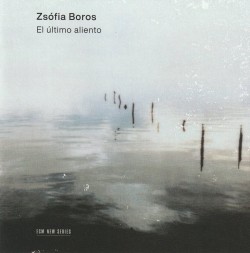 El último aliento (The last breath), the new CD from the Hungarian guitarist Zsófia Boros features music from Argentina and the compositions of the contemporary French composer Mathias Duplessy (ECM New Series 2769 485 8302 ecmrecords.com).
There are six pieces by Duplessy: De rêve et de pluie, Le secret d'Hiroshigé, Le labyrinthe de Vermeer, Berceuse, Valse pour Camille and Perle de Rosée. All display Duplessy's distinctive Romanticism, a mix of traditional tonality with contemporary forms and structure.
Four Argentinian composers are featured, with Quique Sinesi's El abrazo and Tormenta de ilusión of particular interest: for the former, Boros stretches a rubber band over the fretboard to mute the sound, and for the latter switches from guitar to ronroco, an instrument from the Andean region with ten strings in five double-courses.
Joaquin Alem's Salir adentro, Ginastera's Milonga and the title track by the Buenos Aires composer and guitarist Carlos Moscardini complete a CD of quiet, atmospheric music, all played with warmth, sensitivity and admirable technique.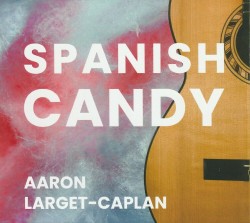 We usually encounter guitarist Aaron Larget-Caplan with his New Lullaby Project CDs, but his tenth solo album, Spanish Candy reflects his work with the Spanish classical music and flamenco dance ensemble ¡Con Fuego!, which reimagines Spanish classical compositions with flamenco techniques and flavours while also adding flamenco works to the standard repertoire (Tiger Turn 888-10 alcguitar.com).
There are three pieces by Albéniz here – Zambra Granadina and Larget-Caplan's own arrangements of Sevilla and Granada – Five Pieces by Tárrega, including Recuerdos de la Alhambra, the flamenco solo Mantilla de Feria by Esteban de Sanlúcar, and Larget-Caplan's arrangement of Pascual Marquina's España Cañi.
Larget-Caplan's aim to "juxtapose the fiery passions of flamenco with the subtle colors and harmonic riches of classical music" results in an entertaining – if somewhat brief at 33 minutes – CD.