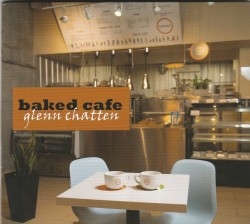 Baked Cafe
Glenn Chatten
Independent (glennchatten.com)
All of us who grew up in the Yukon knew it was a special place and were never surprised when "cheechakos" would arrive to work for a summer and wind up staying for years and making a life there. Glenn Chatten waited until later in life to move to Whitehorse, and had already recorded several albums as a songwriter and fingerstyle acoustic guitarist. His "Yukon" album, Baked Cafe, is named after one of my favourite places to eat and hang out in Whitehorse (known as the "Wilderness City"). The title song has a grooving beat and makes "flying to Whitehorse on a Saturday" sound exciting and intense, especially if it is to meet a very special person at the Baked Cafe.
Liam's Lylt, Tagish Morning and Sima (named after a nearby mountain that has skiing and a zip line) are three marvellous instrumentals that showcase Chatten's fretboard dexterity. Although Chatten is a relative newcomer to the North, his lyrics show a clear appreciation for the landscape and people. In One Land he sings "beyond the sun dogs, and the ice fog, beyond the deep woven aspen tree, lies a quiet, part of nature, from the mountains to the Arctic Sea." The words evocatively capture the essence of the Yukon's territory.
In addition to Chatten's fine acoustic guitar and insightful lyrics, the many excellent local musicians add a spirited community vibe to this work. Baked Cafe is expertly engineered and mastered by Bob Hamilton who has been part of the Yukon music scene for decades. Chatten's album is uplifting and insightful and I hope he remains a permanent part of northern culture.