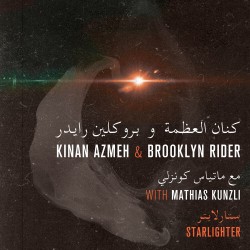 Starlighter
Kinan Azmeh; Brooklyn Rider
In A Circle Records (kinanazmehbrooklynrider.bandcamp.com/album/starlighter-icr026)
Okay, this is the stuff. There's this guy who writes music for strings and percussion and his own voice (a clarinet that sometimes passes for the best alto flute you've ever heard). His name is Kinan Azmeh and the string quartet is Brooklyn Rider (look 'em up); plus there's a percussionist Mathias Kunzli adding to the mayhem.
I get carried away when clarinet tone colour doesn't assault my ears with plangent "listen to me!" swipes left and right. Azmeh can certainly invoke that strident animal, the upper register, but he shows true restraint. Mostly his velvet colour floats across the strings' texture like syrup on waffles, like gravy on poutine, like tahini on falafels. Who's hungry? The quintet-plus-one fires up dance rhythms straight out of the very Near East. Alongside "exotic" modalism and dance figurations, Azmeh draws on contemporary rhythmic complexity and dissonance. His writing is lyric, kinetic and narrative too. The disc opens with the three movements of In the Element, written in 2017-2018; Run and Rain describe themselves, and Grounded (the third movement added a year after the first two were written), narrates feelings from his recent return visit to his home city of Damascus. His other work, Dabke on Martense Street for string quartet, describes an imagined round dance on the street where he lives in Brooklyn.
Brooklyn Rider violinist Colin Jacobsen's title track Starlighter was inspired by the magical transference of energy into matter known as photosynthesis. It takes more than one listen to get inside, but it's worth the effort. The final track is a work adapted for the same quintet plus percussion by Ljova (aka Lev Zhurbin). Originally written for the Silk Road Ensemble, Everywhere is Falling Everywhere (a Rumi reference) makes an apt bookend to the disc. A different version of similar language, more latkes-and-applesauce than falafels-and-tahini, but delicious as well.