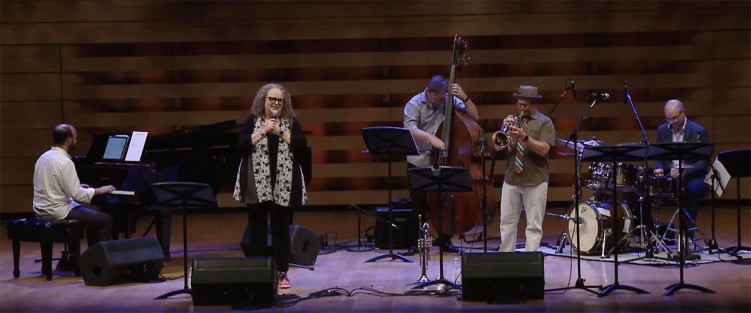 On July 23, I was invited to Koerner Hall to watch a hybrid in-person/livestream event presented by JazzinToronto, in collaboration with the Royal Conservatory of Music. The performance – a double-bill featuring Heather Bambrick, in quintet format, and the Jane Bunnett Maqueque Trio – was the culminating event of JazzinToronto Live: A Community Celebration, a multi-day festival that also presented shows in mainstay local venues, including the Tranzac, the Emmet Ray, and Lula Lounge.
I had not entered the RCM building since the start of pandemic lockdown measures last March. Though the conservatory has been open in a limited capacity for some students, staff, and teachers, the facilities have been closed to the general public. The inaccessibility of communal indoor spaces has been one of the enduring minor tragedies of the past 16 months; as in many of my post-pandemic fantasies, I imagined that returning to a major concert venue would be a boisterous, celebratory affair. The reality of the gradual return to normal, however, was much different. As one of 50 attendees, the experience of walking into Koerner was unreal, the cavernousness of the hall complicated by the many cameras, avatars of our virtual compatriots streaming the show at home. (At the time of the show, it had been but a week since live music was permitted to resume in Ontario; large indoor venues are still mostly closed.)
As the event started, a sense of familiarity quickly set in, dispelling, to some extent, the lingering sense of the uncanny. The house lights dimmed; the audience hushed; Ori Dagan – the evening's emcee, and a representative of JazzinToronto – gave some background information on the festival, listed major sponsors, and appealed to the audience for donations.