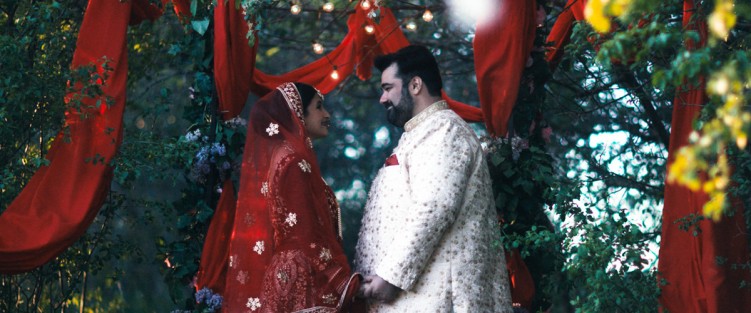 Since its premiere just over 100 years ago, Gustav Holst's chamber opera Sāvitri has polarized critics. There are those who have praised the English composer for fusing South Asian culture with western music, and experimenting with polytonality (the simultaneous use of multiple keys). Then there are others who have panned the work, calling it a colourless composition filled with stereotypical characters and an unmemorable score.
I'm in the latter group.
Holst, perhaps best known for his epic orchestral suite The Planets, has plucked the equally epic fable of Sāvitri and Satyavan from the Mahābhārata and mutated it into a monotonous work, void of the humanity and strong themes of faith, love, and perseverance that make the Sanskrit poem an endearing story to this day.
Miriam Khalil's filmed production of Sāvitri for Against the Grain (AtG), which was launched online on June 23 and runs until July 18, is a mixed bag. There are strong design choices that elevate the work, but also other moments where Khalil's best efforts to deal with the weak source material feel like overcompensation.
Sāvitri follows a woman of the same name who marries Satyavān, a man fated to die one year after their wedding day. When Yama, the God of Death, comes knocking, Sāvitri tries to persuade him to spare Satyavān's life. Assertive and dignified, she stands her ground, telling Yama that without her husband, life is "a word without meaning, fire without warmth, a starless night."
While the original poem is Homeric in its scope, diving deep into the character of Sāvitri and covering the entirety of her life, Holst's brisk 40-minute chamber piece is more like a Grimm fairy tale, centring solely around Satyavān's death day and Sāvitri's interaction with Yama.
Khalil has mitigated this by adding a brief prologue to the AtG production that explains Sāvitri's origins, paired with a beautiful montage of vignettes depicting her wedding day. From the first scene, with Sāvitri speaking directly to the audience, Khalil establishes that this heroine is no stereotype: far from the femme fatale or damsel in distress, Sāvitri is someone who is control of her narrative.
Strong and dignified, soprano Meher Pavri plays the titular character with a robust gravitas that is reflected in her voice. As Yama, bass-baritone Vartan Gabrielian is often shrouded in a veil of haze – a metaphor for his mysterious, mercurial qualities. His voice is dark and sinister, though his broad vibrato often lacks shading and nuance. Tenor Andrew Haji, a COC favourite, has a warm and bright voice that perfectly embodies the gentle, naive Satyavān.
TSO resident conductor Simon Rivard leads a 12-person orchestra and chamber choir that wonderfully accompany the three leads, thanks to well-balanced sound design by Pouya Hamidi.
In AtG's production, however, it's the original Hindustani music underscoring the prologue and credits that truly shines. Composed and performed by Arnab Chakrabarty (on the sarod) and Shahbaz Hussain (playing the tabla), it is colourful and lively – the perfect bookend for the short opera.
Director of photography Dylan Toombs's varied visual palette is filled with sweeping wide-angle shots that capture the stunning beauty of Prince Edward County's serene groves and austere shorelines. But rather than complementing and elevating the material, the expansive cinematography and the pastoral setting are not sufficient to overcome the deficiencies in Holst's opera. There is far too much reliance on B-roll footage of the performers wandering in the open fields, and too few shots of the performers singing directly to the camera.
Other visual elements of Khalil's production, however, do succeed. Ming Wong's costumes are colourful, intricately crafted and culturally specific. Khalil's decision to film the production outdoors, as originally intended by Holst, adds a refreshing buoyancy to the storyline.
And how welcoming to see a group of diverse artists of colour, both in front of and behind the camera, reclaim a story appropriated (and butchered) by a British composer.
Now, let's see what this team can do with work by composers who actually know, and can do justice, to the stories they are telling.
Sāvitri is currently streaming online for free from June 23 to July 18. For tickets, full production credits and more information about the show, please visit Against the Grain's website at https://atgtheatre.com/upcoming/savitri/.
Joshua Chong is a Toronto-based freelance performing arts critic and journalist whose work has been featured in The Globe and Mail, The Dance Current and Opera Canada.