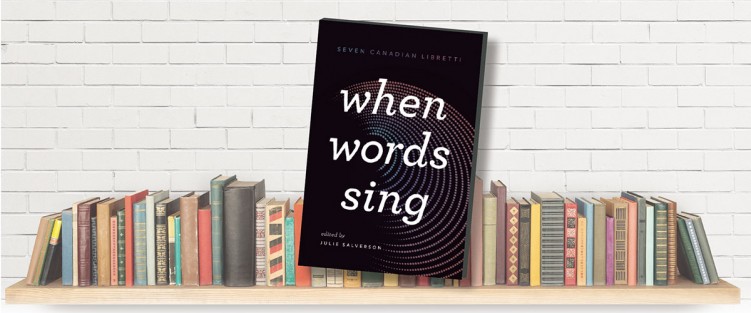 Salverson, Julie. Ed.
When Words Sing: Seven Canadian Libretti.
Playwrights Canada Press
When Words Sing: Seven Canadian Libretti, edited by Canadian author Julie Salverson, is the first publication to feature in-depth overviews of Canadian operas via their libretti. Each opera is given a section in which Salverson features the libretto first and foremost while also providing unprecedented access to the artistic craft and creative processes of those most involved with the opera. Interviews with, and essays by, librettists, composers, directors, set, lighting and costume designers, provide the reader with a rich portrait of individual operas as well as a larger view of the Canadian operatic creation process.
The librettists of When Words Sing, published in the same volume for the first time, are Robert Chafe (Ours / John Estacio), Anna Chatterton (Rocking Horse Winner / Gareth Williams), George Elliott Clarke (Beatrice Chancy / James Rolfe), Marie Clements, (Missing / Brian Current), Ann-Marie MacDonald (Nigredo Hotel / Nic Gotham), Julie Salverson (Shelter /Juliet Palmer), and Royce Vavrek (Dog Days / David T. Little).
The title of the anthology is a nod to the late R. Murray Schafer's 1970 book of the same name, and the contributors listed in the table of contents read as a who's who of contemporary Canadian opera: a foreword by Canadian soprano and conductor Barbara Hannigan, and an introduction by opera scholars Michael and Linda Hutcheon. With contributions from notable librettists, composers and creative team artists, the opening page of When Words Sing creates high expectations that Salverson and her collaborators thankfully meet.