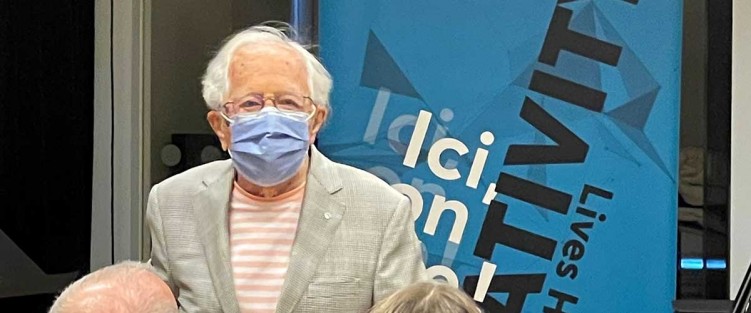 On Friday, September 9 there was a celebration of a book, and of a musician, and of a whole string of numbers, including 17 and 95. It took place within the cozy confines of the Canadian Music Centre, in the space of one hour give or take a half on either side. The book is the 17th published by John Beckwith, who doggedly refused to allow recognition of his 95th birthday, since it took place exactly one-half year ago, and who quibbled in good humour over the accuracy of the number 17. "I'm not sure they were all books…" and with utmost comic timing, added "I think some of them were pamphlets."
The evening was introduced by Beckwith's friend and vital collaborator, Robin Elliott. The printed program mentioned that opening remarks would be given by Beckwith himself, so one assumed (wrongly as it turned out), that John had asked Robin to take the lead. He sat down and the first of two performances took place. Once the singing stopped, Robin stood to ruefully ask if John would in fact still like to make the remarks he had planned. Which, of course, he then did, coming out with the "pamphlets" zinger along with a few more delightful digs at his own and our expense. "I hope you'll enjoy reading it…and if not I believe there are some pictures…" We were eating out of his hand.
Beckwith is modest and self-deprecating, which is no surprise to any who've worked with him. He simply won't give in to age, or inertia, or anything else one might associate with the notion of living well into one's tenth decade. The book's lengthy title is Music Annals: Research and Critical Writings by a Canadian Composer 1973-2014. Call it Volume II. (Elliot noted in his remarks that this book follows an earlier collection, underlining that this was only a selection from among many pieces not yet bound together.) Add to that, since the evening naturally included musical performances, he continues to draw up delightful, witty, challenging and profound music for today's performers.