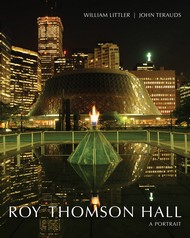 Toronto's cultural and architectural landmark turns 30 this year, and is celebrating its birthday with the launch of William Littler and John Terauds' new book Roy Thomson Hall: A Portrait. The authors use the iconic building, once known as the "New Massey Hall," as a backdrop for the stories of the myriad people who have contributed to its development through the years. From Arthur Erickson's initial architectural plans, to the 2002 acoustical renovations, to the countless outreach and community programs that the hall hosts today, Littler and Terauds have provided readers with a comprehensive story of the building's first three decades while maintaining interest amidst the telling of administrative anecdotes – a testament both to the writers' skill and to the colourful history of the hall itself. Well-researched and beautifully illustrated, the book supplies the community with a refreshing perspective of a much-loved musical landmark.
One such anecdote, which adds particular flair to this behind-the-scenes story, is that of jazz pianist Keith Jarrett's first visit to the hall, which the then-production manager Pat Taylor fondly recalls for Littler and Terauds. For a sneak peek of the account, take a look here for an excerpt of the book.
Excerpted from Roy Thomson Hall: A Portrait.
Copyright © the Corporation of Massey Hall and Roy Thomson Hall, 2013
All rights reserved. www.dundurn.com
If you're looking for some summer reading or want the scoop on Simcoe Street's famous concert hall, get more info through publisher Dundurn Press: dundurn.com/books/roy_thomson_hall.
In an earlier chapter of the book, its authors describe how upon the hall's construction in 1982, Massey Hall's then-chair of the board Edward Pickering made the bold statement:
"Massey Hall served Toronto well for nearly 90 years. It was appropriate for its time. But now we've built a highly contemporary hall to take its place, in an era when what happens inside the hall can be heard and seen around the world. And we hope that it will be so good that it will occupy a significant place in the global scheme of things…Now the real test will come when the concert-going public comes through its doors. They will tell us what they think."
Thirty years later, it seems that Roy Thomson Hall has passed with flying colours.
Congrats to William Littler and John Terauds on a beautiful book, and a very happy birthday to RTH!