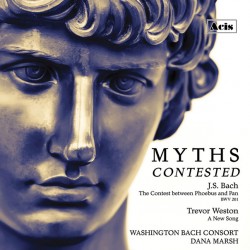 Myths Contested
Washington Bach Consort; Dana Marsh
Acis APL53752 (acisproductions.com)
Johann Sebastian Bach is synonymous with church music, writing hundreds of compositions for choir, orchestra and organ, many of which were intended for use in his role as Kapellmeister of Leipzig's Thomaskirche. In addition to these myriad works, Bach also wrote a number of secular vocal works, including the stunning Geschwinde, geschwinde, ihr wirbelnden Winde, BWV 201, also known as The Contest between Phoebus and Pan, featured on this disc by the Washington Bach Consort.
Titled Myths Contested, this recording juxtaposes Bach's secular musical drama with American composer Trevor Weston's A New Song. This work, commissioned by the Bach Consort, addresses the challenges that arise from attempting to evaluate music from past centuries in relation to contemporary music, an issue that resonates with anyone who is asked to review music in a public forum.
Bach's Contest between Phoebus and Pan is a delightful work composed in traditional cantata form, with recitatives and arias bookended by choral movements. The Washington Bach Consort manages Bach's contrapuntal intricacies masterfully, and the orchestra shines in the opening movement, particularly through the virtuosic writing for wind instruments (which is characteristic Bach, given that the choir is singing "Hasten, you swirling winds.").
Weston's A New Song is fascinating, a modern "cantata" for choir and Baroque orchestra that adheres to certain stylistic conventions while defying others. For example, the opening and closing movements include trumpet and full choir, and arias (titled "songs") are the primary middle movements, although a chorus and chorale are each interspersed between the solo movements. While these traditions look back to the Baroque, the musical vernacular is strikingly different than anything Bach ever wrote, resulting in a listening experience that is simultaneously familiar yet new.