It might as well be spring
The WholeNote has been keeping track of the (mostly southern) Ontario choral scene for almost exactly 20 years, and during that time Ontario choirs have followed a predictable winter-to-spring ritual as predictable as swallows to Capistrano. December brings holiday fare, then it's down to serious business. Choirs gear up over the course of the spring for one last big performance for the season, often involving their most ambitious or at least newest repertoire. After which, by early June at the latest, the choral tents get folded, the slightly more dog-eared scores get carefully stored, and it's hugs all round and fond farewells until the fall.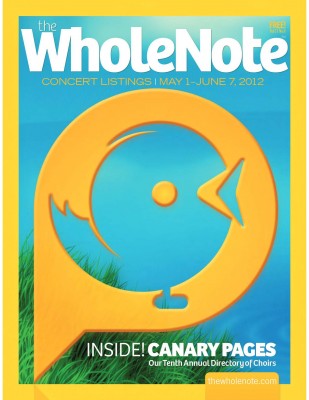 As a small part of that predictable ritual, for over two decades, dozens and dozens of Ontario choirs have signed up for The WholeNote's annual "Canary Pages Directory of Choirs." First published in May 2003 as our "Focus on the Choral Scene," including just over one hundred choirs, it became an annual feature of our May print edition, eventually expanding to include year-round updates on our website. Almost immediately, choirs started using it to describe themselves to prospective choristers: the repertoire they like, where and and how often they rehearse; audition requirements if any, and how often they perform. It became like an annual snapshot of the choral community gathered together – a reminder of how the choral community is more than the sum of its parts.
A reliable spring ritual: that is, until COVID struck, and choral music was the first casualty, going from the euphoria of drawing collective breath and turning it into music into bewildered masked isolation when the air breathed to sing together became lethal.