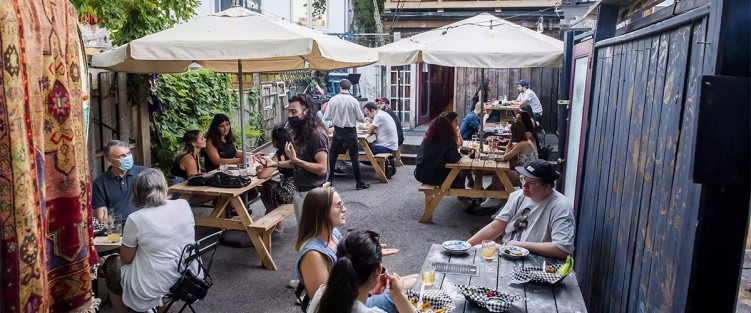 When I first walked into The Oud & the Fuzz, it was a profoundly sensorial experience. The aromas of incense and Armenian cooking envelop you. Black-and-white photos of weathered brick buildings in the city of Gyumri, Armenia, catch your eye. Music wafts you through the entrance to the back patio. There, silent listeners are engrossed by groove-based music, or Armenian jazz, or cross-cultural cello improvisations. Though the type of music varies from day to day, its familiar low pulse always seems to force you into movement.
Every sensory feature of the experience has been carefully selected from within a community of like-minded people. Armenian photographer Aren Voskanyan shot the images specifically for the venue. The incense was bought in Kensington Market, and the food is from Karine's – an Armenian restaurant run by a mother and her two daughters a few blocks away. And the music that determines the space's atmosphere is created by some of Toronto's top musicians.
The Oud & the Fuzz is a family affair, owned by Armenian-Canadian brothers Shaunt and Raz Tchakmak. Twenty-eight-year-old Shaunt books, manages, and curates the music in the space.