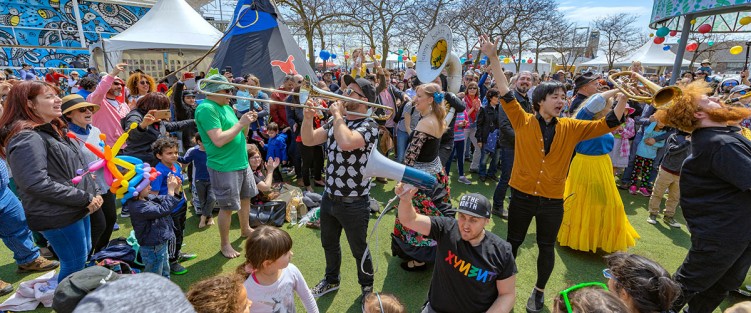 The sun is shining, most COVID restrictions have been lifted, and Canada's internationally acclaimed children's Junior Festival is about to take flight at Toronto's Harbourfront Centre with music of all kinds interwoven throughout.
Taking over the West Campus around York Quay Centre, events will stretch out to infiltrate the east side of Harbourfront at Queen's Quay as well, teasing tourists with walking bands including Toronto's famous "Balkan klezmer gypsy super band" the Lemon Bucket Orchestra, storytelling puzzle scavenger hunts from Bad Hats Theatre, and even giant bees! Not to worry, though, these are actors in bee costumes from Australia's renowned Polyglot Theatre who will lead children (of all ages) through the lakeside territory to the West Campus where they will "build their hive."
According to the festival's new co-curator Lisa Marie DiLiberto, the hiatus from live performance forced on us all by the pandemic led to a renewed vision for the Junior Festival, that could be described as both a licence and an inspiration to innovate. With the festival already a hugely successful event, its curators found themselves with an opportunity to reflect on past practices and how they wanted to steer the festival into the future.