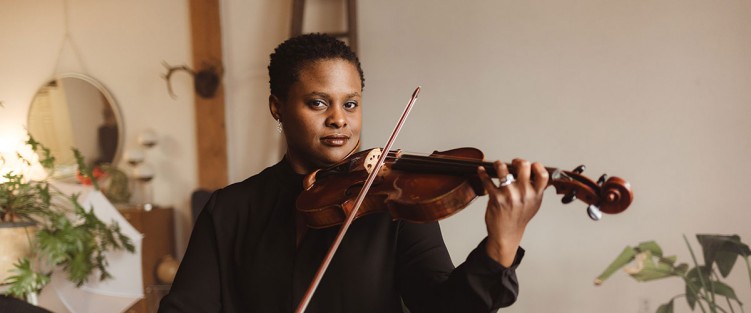 How much energy does it take to build a career as a classical violinist in Canada? And then how much more does it take if you are a Black woman. This struggle sits at the core of my conversation with Toronto-based violinist Tanya Charles Iveniuk – and what enthralls me is the career that she has created for herself within this genre.
Born in Hamilton with roots in Saint Vincent and the Grenadines, Iveniuk is an established performer and avid educator. She has a Bachelor of Music in Performance from the University of Toronto, an Artist Diploma in Orchestral Performance from the Glenn Gould School at the Royal Conservatory of Music, and is an alumna of (and now, a mentor with) the Hamilton-based National Academy Orchestra. Currently, Iveniuk works as a violinist with several ensembles across the Toronto area, including the Toronto Mozart Players, Sinfonia Toronto, and the Odin Quartet. She also plays in Toronto-based mariachi ensemble Viva Mexico Mariachi, and has performed alongside David Usher, Shad, K-Os, the Trans-Siberian Orchestra and Stevie Wonder. As an educator, Iveniuk works frequently as an adjudicator, and teaches at the University of Toronto and at the Regent Park School of Music.
We last spoke in 2020, when I interviewed several Black classical musicians for The Conversation. All of the musicians revealed how they negotiated their way through the predominantly white spaces, the many gaps in information on how to move through the pipeline, and regular hostilities experienced within the field, into professional classical musicianship.
Since then, Iveniuk has been at work on several new projects: a new album with the Odin Quartet, a concert appearance with Montreal's Ensemble Obiora, and multiple teaching and consulting projects throughout the Greater Toronto Area. Dedicated to her practice as a classical music performer and educator, she engages with a broad spectrum of communities – bringing with her a vision of classical music as an offering that should be available for all.