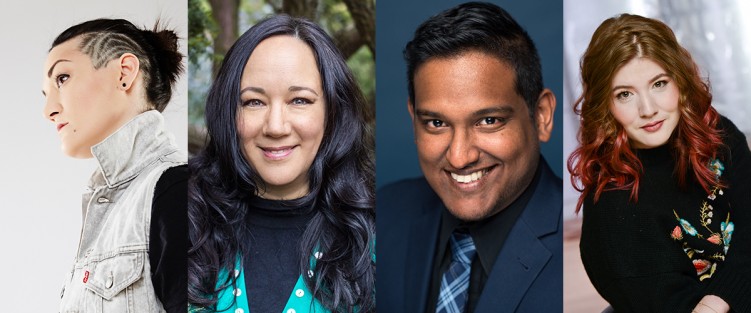 When opera artists Aria Umezawa and Teiya Kasahara decided to use the name 'Amplified Opera' for a new Toronto-based opera company and concert series, they knew it would sound like a misnomer.
"A colleague of mine came up with the name 'Amplified Opera' because he thought it would be deliberately provocative to opera audiences to say 'amplified'," Umezawa explains over video call in May 2020. "That, and this idea of amplifying voices from different perspectives in the industry."
The opera world is one that holds on fiercely to its traditions, and a feature of the art form is that operatic singing is typically—and famously—acoustic. But when Umezawa and Kasahara officially launched Amplified Opera in Toronto in October 2019 (with a totally acoustic series of concerts), their paradoxical name, and the irreverence it suggests towards what many view as a defining characteristic of opera, was a key part of their mandate. They wanted to create a company that placed equity-seeking artists with diverse lives and experiences at the centre of public, operatic discourse—something where many traditional opera houses have repeatedly fallen short.
Opera has repeatedly been reported as an industry where racist and colonialist caricatures abound onstage; where in many opera houses the legitimacy of blackface in costumes is still considered a contemporary debate; and where, in one prominent example, the Metropolitan Opera's 2016 staging of Kaija Saariaho's L'amour de loin marked their first performance of an opera by a woman in 113 years.
The issue is not just one of representation and misrepresentation, but of the deeper, structural problems to which these stories point. In a recent interview with Michael Zarathus-Cook at Toronto-based online publication Ludwig Van Toronto, baritone Andrew Adridge talks about how representation in opera doesn't work without structural change: that seeing the occasional Black artist in a lead operatic role does little for solving systemic issues within the industry, and does little for BIPOC (Black/Indigenous/People of Colour) aspiring artists beyond proving that they need to be exceptional to be welcomed into what many see as an overwhelmingly conservative and Eurocentric tradition.
Where many big opera houses have failed—weighed down by an aversion to risk-taking, a commitment to a flawed canon, a structural system that funnels the most privileged students and young artists into the most powerful positions, or a combination of the three—smaller companies like Amplified Opera have found their strength. In their ability to be flexible in challenging the operatic status quo, Amplified Opera, and other grassroots groups like it, have championed the idea that values-driven innovation in opera is possible and necessary—and that within the art form, there are newer, more relevant stories to be discovered.
Concept to realization
Umezawa and Kasahara explain that the idea for building an opera collective began in 2017 while Umezawa was visiting Canada from San Francisco, where she had been working as an Adler Fellow in stage direction at the San Francisco Opera.
"It was June, and I was expressing to her how frustrating it felt for me still within the opera industry, struggling with my gender and how I should present myself—even in an audition," says Kasahara. "If I should wear the heels, or stuff my bra, or have the long hair, or have the short hair—all of this stuff. And Aria was explaining: 'Well, not being yourself hasn't gotten you anywhere—so why not be fully yourself and see what happens?' It was like a huge lightbulb for me at that time."
"We had also been talking about different ways to help artists find their agency," they add. "So this idea of wanting to create an initiative to help artists and stimulate a conversation around the industry, around music, around art—it was kind of born that summer."
When Umezawa returned from the United States after her fellowship, she and Kasahara decided to formalize their ideas as a Toronto-based opera company. For Umezawa, it was a chance to show the industry at large that there was a way to create operatic programming in which artistic merit and values-based organizing weren't seen as separate initiatives.
"While I was [in San Francisco], there seemed to be industry-wide conversations starting around equity, diversity and inclusion, but often the way they were framed was that there were our 'equity/diversity/inclusion concerns'—and then there were our 'mainstage concerns,'" Umezawa says. "Many reasons were cited for why it was difficult to do an equity-focused mainstage show: 'lack of talent at the right level', 'donor interests', that it's easier to do it in new opera but not easy to do it from the canon. I felt like there was a misunderstanding about what an opportunity including diverse voices in opera was."
"When we are talking about how to make opera relevant—it's to empower the artists performing opera to tell stories that resonate with them, and to actually invite conversation and critique and dialogue," she adds. "I figured: this new company could actually be the proving ground for what can happen when you empower artists to tell stories on their own terms."
Umezawa and Kasahara's inaugural project, a three-concert series in October 2019 titled AMPLIFY, attempted to put their ideas into practice. Their first concert, The Way I See It (directed by Umezawa), featured mezzo-soprano/author Laurie Rubin and pianist Elizabeth Upchurch, who used their experiences as blind and visually impaired (respectively) individuals navigating the opera industry as a creative and curatorial starting point. The second event, The Queen in Me (directed by Andrea Donaldson and accompanied by Trevor Chartrand), was a one-person show that reinterpreted the story of the Queen of the Night to explore queerness and expressions of gender, starring Kasahara in the soprano role. The third concert—What's Known to Me is Endless (directed by Michael Mohammed)—explored experiences of Black identity in Canada and the United States, featuring African-American baritone Kenneth Overton in collaboration with Canadian pianist Richard Coburn.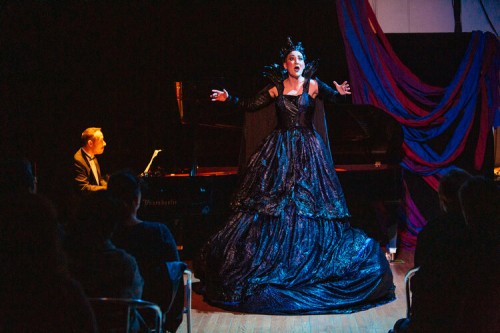 Umezawa describes a moment in their first AMPLIFY concert when Rubin sang "You'll Never Walk Alone" from Carousel. "Beforehand, she told a story about her first and only guide dog and how that guide dog taught her what it meant to trust," says Umezawa. "Then she revealed that the dog had passed away recently and dedicated the song to the guide dogs of the world, singing 'you'll never walk alone.' It was really touching—and not the first thing that comes to mind when you think of that song. I thought that was a great example of how we could reframe and reread some of these canonical works."
Flexible futures
In April 2020, Umezawa and Kasahara announced the addition of opera artists Marion Newman and Asitha Tennekoon as co-founders to the Amplified Opera team. Both artists have years of operatic experience on local and international stages, and both bring fresh perspective to the one-year-old company.
Though they are new additions to the team, Newman and Tennekoon are joining as co-founders, with the idea that the four artists will share organizational roles and responsibilities in a fluid and non-hierarchical manner.
"When [Kasahara and I] started the company, we started out calling ourselves co-artistic directors and co-founders,' says Umezawa. "And then we had a talk about the social structures that exist in opera that we would like to challenge. For me personally, the hierarchies that we've put into place in opera is something that I don't believe is necessarily serving us anymore. So Teiya and I removed every title but co-founder, and when we brought Marion and Asitha in, we decided that if we're all going to be doing all of the work, we're all co-founders at this point."
"I think it speaks to the transparency that we are trying to foster within this little company," adds Kasahara. "Being small, and being new right now, and being nimble, we can be adaptable and flexible, especially to the situation we all find ourselves in."
During a time when most arts organizations have had no choice but to streamline their activities due to complications related to the COVID-19 pandemic, news of their expansion came as a welcome surprise. For the team, these steps forward as a young company, and the time they have in quarantine to dedicate to this project, represent a source of positivity amid cancelled concert work.
"This is a really great time for us to get to know each other and how we work, and to actually have enough time to decide on our best practices," says Newman. "That's pretty special, because what we all had planned meant that we would all have been very busy, had all of that stuff gone ahead. So I'm keeping that in my heart as a good thing."
"I love that we're taking care of how we work with each other—the kind of culture we want to create for ourselves and thereby impact the industry as a whole," adds Tennekoon. "Trying to hone in on the focal points that are the most impactful, so that we're not just figuring it out as we plan a specific event. I think that's important, because I don't think that what we want to say has been effectively brought forward and presented as one collective front for the industry [before]."
In the coming months, the team plans to launch Amplify Beta, a retrospective project that will include documentation from AMPLIFY, as well as personal stories submitted by AMPLIFY concertgoers last fall (which will be interpreted on digital media and through a visual art piece by local artist Aquil Virani).
They've also just announced an upcoming digital collaboration with Tapestry Opera, another independent company in Toronto focused on showcasing new works and perspectives in opera. Titled 'Holding Space', it will take the form of a three-part series of private digital discussions with BIPOC opera artists in Canada. Taking place on June 30, July 5 and July 8, the conversations will be moderated via Zoom, and will serve as open forums for artists to share their experiences. (There is also an option to submit discussion proposals anonymously on Amplified Opera's website. Details and registration info can be found here.)
During our conversation in May, Newman expressed a similar sentiment around the need to give BIPOC creators opportunities for artistic agency within the opera creation process. Reflecting on musical projects in Canada on themes of Indigenous reconciliation that she's been a part of as a First Nations mezzo-soprano, Newman recalled how efforts by some established organizations have lacked some of the deep and slow thought required to ensure that invited Indigenous artists were able to make informed artistic choices.
"One of the things I have felt quite deeply is frustration, when I see people who these stories are about or who are [asked to] create these stories—say, an [Indigenous] librettist who's never written an opera before—and because they don't understand the art form, the things they are asking for might not actually reflect opera," Newman says. "We need to be spending this time figuring out a way of working with community so that [artists] feel they are being heard—and their questions about how opera amplifies a story are being satisfied—before they actually have to produce a piece that goes onstage, or make recommendations about a director or designer who may or may not be the best person for that piece."
"Create really good teams that understand from the root what those stories are, and give them the power to actually say [what they think]," she adds. "I have seen that being attempted, but not quite met yet with companies that are more established and used to doing things a certain way."
--
What's striking about the work of Amplified Opera is how absolutely unapologetic they are in their commitment to addressing issues in their field—and to doing it loudly, with an artist-first philosophy. Umezawa mentioned the hope that their company would serve as an example for what operatic programming that centres artist agency could look like; so far, it's a plan that's working.
"We went for it,' says Kasahara. "We put something up, and the reaction from not only the public but also from our colleagues was that we didn't realise that we needed something like this. And we want more opportunities to talk: to engage with art, and with our personhood as well."
Amplified Opera co-presents 'Holding Space' with Tapestry Opera as a series of private Zoom discussions on June 30, July 5 and July 8, 2020. For more information, visit https://www.amplifiedopera.com/.