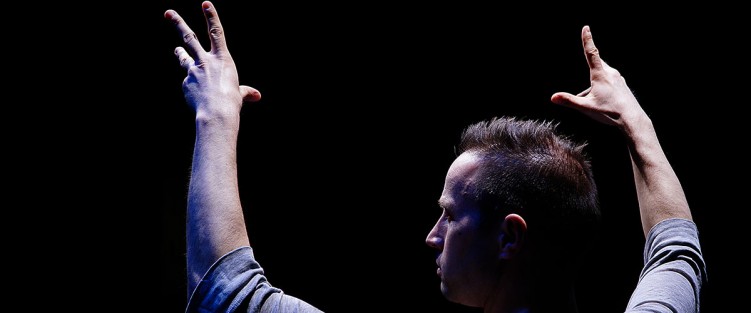 For many of us, Saint-Saëns' Le Carnaval des animaux was one of the first pieces of classical music we were able to recognise as children. Though written in 1886, when Saint-Saëns should have been working on his "Organ" Symphony, the piece received its public debut decades later in 1922, a year after the composer's death. (Saint-Saëns, concerned for his reputation, only permitted the comic piece to be performed privately in his own lifetime, apart from the solemn "Le cygne" cello solo.) Despite the composer's misgivings, the piece has become one of his most well-known works, and it continues to inspire artists in all mediums nearly a century after its premiere.
From Mikhail Fokine's "The Dying Swan" solo for Russian ballerina Anna Pavlova to Christopher Wheeldon's The Carnival of the Animals for the New York City Ballet, Saint-Saëns' zoological suite lends itself particularly well to movement. This fact did not go unnoticed by the Marcel Marceau School-trained mime artist Trevor Copp, who has recently developed a full-length performance in which he embodies every creature in Le carnaval. Before the pandemic, the Burlington-based Copp shared the stage with several live orchestras, including at The Festival of the Sound in Parry Sound, as well as with actors such as R.H. Thompson, who read aloud humorous verses by Ogden Nash (written 1949 and often recited during performances of the work) between movements.
Keenly aware that mime is considered a "declining art form," Copp's latest performance is part of a long-term goal to introduce mime to a wider audience. "The trouble that I have with a lot of mime that I see now, is that it gets very sunk in novelty," he explains. "There are whole mime pieces where it's just about, 'Look, I can make a wall,' and artistically, that's all it has to say." Frustrated with seeing performances that rely on tricks, Copp founded Tottering Biped Theatre in 2009 to develop more expressive, complex mime productions. Over the last decade the company has premiered a series of highly physical shows that draw from source material as varied as Shakespeare's plays, a Hermann Hesse novella, and Bulfinch's Mythology. "I'm interested in mime as telling sophisticated, artistically viable conversations... I'm trying to figure out mime for the twenty-first century."
When the Saint-Saens piece was suggested to him by classical music agent Robert Missen, Copp realized he had found the perfect challenge. "No matter what I do, I will always be a biped," he says. "I will never walk on all fours, I will never weigh a thousand pounds. But the question is, can I find the quality, the image of the animal that is the essence of the animal, and can I reproduce that?"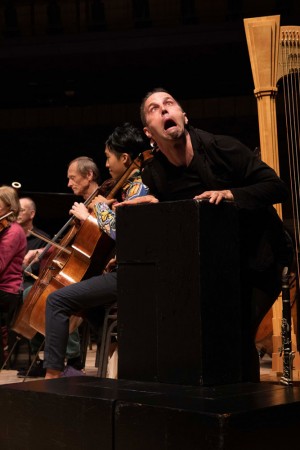 Copp found a strong ally in Missen, who has fond memories of Marcel Marceau and Red Skelton and is eager to see mime restored to its former place of glory. Working with director Robert Patterson, Copp spent time visiting the zoo, watching animal videos, and, of course, listening closely to Saint-Saëns' score.
The preparation gave him a new appreciation for the physical capabilities of both man and animal. "Animals all perfect limited ranges of movement qualities. I will never move with the sharpness and precision of a squirrel, but humans have a wide range of movement potentials. I can move like a squirrel, and like an elephant, and like a bird, but a bird will never move like an elephant."
It is essential for Copp that the orchestra members are an equal part of the performance, and not relegated to the position of "back-up band." Describing his approach, he says, "I work to try to find a balance. There are times when I'm simply drawing attention to the orchestra, and there are times when I take over the narrative. So it's really a dialogue with me and the orchestra." Especially when performing for children, Copp believes it is important to accentuate how each instrument commands a different presence that mimics the qualities of each animal.
Though the pandemic forced Copp to cancel all live performances, it did give him time to rework another facet of the show—the poetry. Finding that Ogden Nash's classic 1949 verses did not always resonate with younger audience members—references to the invention of the radio, and to Harry Truman, understandably fell flat—Copp took it upon himself to write his own. Retaining the zany tone of the original while also highlighting the importance of environmental conservation, the poems are now being turned into a children's book by Dollhouse Publishing, with illustrations by Mexican sculptor Cesar Cordoba.
For now, though, the main focus is getting the performance back onstage, and touring it across the country. "Our hope is to pick up and perform with orchestras coast to coast, as it's part of every group's repertory."
Jane Coombs is a writer based in Toronto. She recently graduated from Cambridge and the Courtauld Institute.