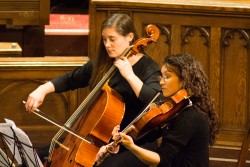 Celebrating its 27th season, the Academy Concert Series offers innovative and intimate chamber music concerts on period instruments. The three-concert series brings to audiences the musical riches and spirit of improvisation of the 17th and 18th centuries, and the passion and sonorous colour palette of the 19th and early 20th centuries all with historical performance practices. The programs are thematic and deliberately crafted to highlight a specific time, place and/or composer. The three concerts presented this season by artistic director Kerri McGonigle are:
November 10, 2018 – "A Complicated Friendship: Brahms and Schumann": a violin sonata and two piano quartets composed by these remarkable men highlighting their complicated friendship. Featuring violinist Sheila Jaffé and pianist Jeanie Chung;
February 16, 2019 – "Inspired by Italy: Corelli, Vivaldi and Handel": a delightful Baroque programme featuring soprano Nathalie Paulin and harpsichordist Christopher Bagan;
May 4, 2019 – "A Poe Cabaret": a program co-created by Tom Allen and Lori Gemmell with music by Debussy, Caplet and Alexina Louie woven together through storytelling, narration and poetry. Concerts are at 7:30pm, at Eastminster United Church (310 Danforth Ave).
Kerri McGonigle
416-629-3716
kerrifm@gmail.com
www.academyconcertseries.com