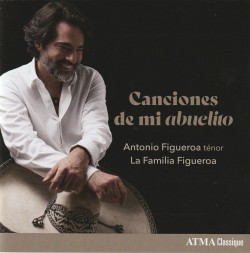 Canciones de mi abuelito
Antonio Figuero; La Familia Figueroa
ATMA ACD2 2856 (atmaclassique.com/en)
This recording is a master work, created in celebration of the paternal Figueroa Grandfather (Don José Figueroa), through the veil of the potent 1950s/1960s "Golden Age" of Mexican music composed by noted 20th-century Mexican composers. Featuring the vocal work of dynamic tenor Antonio Figueroa, the talented Figueroa family performs on a variety of instruments throughout and includes Anton Virquis on voice/violins; Esteban Duran on voice/violin and arrangements; Tomy Figueroa on voice/trumpet; Manuel Figueroa on vihuela (he's also artistic adviser); José-Luis Figueroa on voice/guitar; Alexandre Figueroa on voice/guitarron and José Figueroa on voice. Grandfather José first visited Canada as a performing mariachi during Expo 1967, and eventually emigrated to Montreal with his 11 children, beginning a thrilling cross-cultural relationship. It wasn't long before Mariachi Figueroa became a family business.
Mariachi music and particularly the "Cancion Ranchera" is an emotional genre by which Mexicans express the raw pain of a broken heart. The stirring opener, Paloma Querida (José Alfredo Jiménez) features Antonio's superb, limitless and communicative tenor. Every track here is a cultural and musical gem – rendered with authenticity and skill. Highlights include the lithesome Martha (Mosés Simóns), Dime Que Si (Alfonso Esparza Oteo) with supple trumpet and violin work, El Pastor (Los Cuates Castilla) with its gymnastic, stratospheric melodic line brilliantly negotiated by Antonio and Diez Años (Raphael Hernandez) a stunningly arranged gem of Musica Mexicana. The closer of this compelling collection, Ojos Tapatios (Jose F. Elizondo & F. Menendez) is an exceptional and deeply moving example of authentic Mexican music – performed to perfection by the entire ensemble.