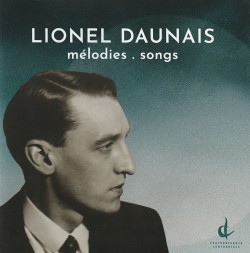 Lionel Daunais – Melodies/Songs
Jacqueline Woodley; Annina Haug; Pierre Rancourt; Marc Bourdeau; Michel Bellavance
Centrediscs CMCCD 30122 (cmccanada.org/shop/cd-cmccd-30122)
Lionel Daunais (1901-1982) was a French-Canadian baritone and a prolific composer. As a founding member of notable ensembles such as the Trio lyrique and the Variétés lyriques, and via his other numerous musical activities and roles such as artistic and stage director, Daunais had a lengthy career and a meaningful influence on Quebec's musical scene of the mid-20th century.
With Mélodies, pianist Marc Bourdeau pays homage to Daunais' legacy with a carefully considered curation of a large repertoire (over 250 songs). The final selection includes 27 songs that mix the diverse writing styles of art songs and popular songs with more traditional Quebec folklore songs. Bourdeau's impeccable research and care of Daunais' musical intentions, guided both by his appreciation for Daunais and the time he spent in the archives of the Lionel Daunais Fonds, allow for an authentic (re)discovery of this formidable artist. The detailed CD booklet is augmented by a website (LionelDaunais.com) with considerable documentation, useful material on Daunais' career for possible further research, behind-the-scenes details, as well as videos of recordings and rehearsals.
Bourdeau's collaborators are soprano Jacqueline Woodley, mezzo-soprano Annina Haug, baritone Pierre Rancourt and flutist Michel Bellavance. In a variety of ensembles, duets and trios, they excel at recreating the gentle humour, and sometimes sarcasm, the depth and subtle meanings of texts, as well as the appropriate tones for themes of earlier times. Mélodies is not only a significant addition to the life, times and music of Lionel Daunais, it is also an important contribution to Quebec's musical heritage.