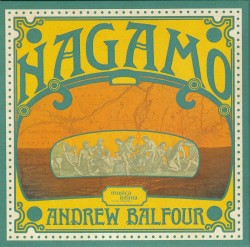 Andrew Balfour – Nagamo
Musica Intima vocal ensemble
Redshift Records TK522 (musicaintima.org)
Often, in histories of rock music, one confronts the idea that the so-called "concept album" is the sole province of this genre. Friendships, I'm told, have been ruined as a result of heated debates as to whether Frank Zappa's Freak Out!, Sgt. Pepper's Lonely Hearts Club Band or Pet Sounds by the Beach Boys can rightly lay claim to being the inaugural blending of music with an extra musical meaning in conceptual form. All of this is ridiculous, of course. Woody Guthrie was recording dust bowl ballads with a shared narrative theme through his recordings as early as 1940. Further, Frank Sinatra's 1955 In the Wee Small Hours is most certainly united by way of the themes of melancholy and unrequited love, weaving a requisite and consistent thread through the tracks that, by all accounts, is a hallmark of the concept album.
Regardless of the aforementioned problematic claims to historic ownership of the format, composer Andrew Balfour, a self-described "former choir boy" and Sixties Scoop survivor, has waded into this conceptual format in an extraordinary and beautiful way with his 2023 release Nagamo. The title, like several of the album's lyrics, is Cree (other texts featured here come from Ojibway, English, Latin and Gaelic sources) and the concept mines the fantastical question of what might have happened musically should Indigenous and European musics and cultural expressions come together in a manner collaborative and respectful, rather than divisive. The suggested result, as manifested on the beautiful album here, captures 12 crystalline skilled voices working their way through motets and Elizabethan choral music reimagined into Cree and Ojibway languages, alongside a duo of fine original pieces by Balfour with a Scottish Gaelic text. A beautifully recorded and interesting new release from the ensemble musical intima.