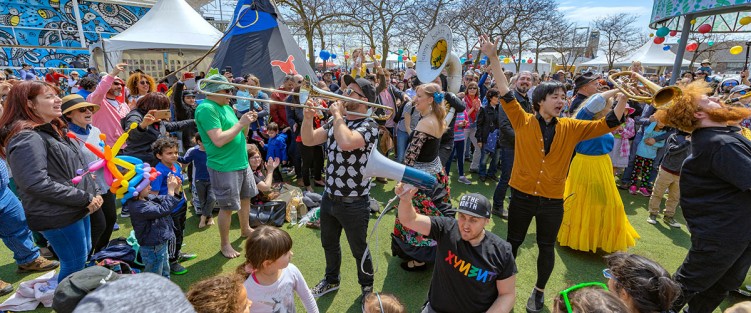 The sun is shining, most COVID restrictions have been lifted, and Canada's internationally acclaimed children's Junior Festival is about to take flight at Toronto's Harbourfront Centre with music of all kinds interwoven throughout.
Taking over the West Campus around York Quay Centre, events will stretch out to infiltrate the east side of Harbourfront at Queen's Quay as well, teasing tourists with walking bands including Toronto's famous "Balkan klezmer gypsy super band" the Lemon Bucket Orchestra, storytelling puzzle scavenger hunts from Bad Hats Theatre, and even giant bees! Not to worry, though, these are actors in bee costumes from Australia's renowned Polyglot Theatre who will lead children (of all ages) through the lakeside territory to the West Campus where they will "build their hive."
According to the festival's new co-curator Lisa Marie DiLiberto, the hiatus from live performance forced on us all by the pandemic led to a renewed vision for the Junior Festival, that could be described as both a licence and an inspiration to innovate. With the festival already a hugely successful event, its curators found themselves with an opportunity to reflect on past practices and how they wanted to steer the festival into the future.
I talked with DiLiberto before everything had been finalized, and was particularly struck by her thoughts on the the challenge of going to large-scale performances for young people who "aren't sure of the rules of engagement" as most of them have not had the chance to see a large scale live performance for two or even three years thanks to COVID restrictions. "This is kind of a good thing as we can now reimagine ways for young people to engage with art," she tells me, "because I think the way we did it before (which was becoming more and more formal) wasn't necessarily working for them."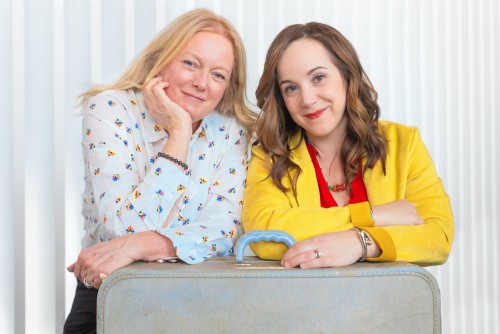 The response of DiLiberto and co-curator Nathalie Bonjour (also Harbourfront Centre's Director, Performing Arts) to the challenge was twofold. First was to focus on the idea of adventure and artistic events that involve the audience as participants, whether designing and creating their own tipis or graphic novels, learning circus arts or many different types of dance, being swept into musical parades around the site, or surrounding expert gymnasts from only feet away as the gymnasts explore the limits of gravity. Second (and really intertwined with the first) is to take a "more sophisticated approach" to the ideas being presented – not only "inviting kids to meet artists on their level in a more sophisticated way" but looking for material that has another meaning beyond just being entertaining, "so we're not just thinking 'this is really fun and the kids will be really entertained' but 'what is the deeper thing that they might take away from it'?"
The larger-scale core shows of the festival all reflect this idea. An acclaimed darker Pinocchio from Denmark's Teater Patrasket uses music, stylish puppetry, and design to really examine the questions at the heart of the famous story: What does it mean to be human? What is the meaning of love, and what is the real difference between right and wrong? Patch Theatre's interactive performance ZOOOM, inspired by the iconic children's book Harold and the Purple Crayon, uses music, lasers and projections to share the story of a child who makes sense of their world and finds light in the dark. And one of DiLibertos's favourites (which she discovered at a festival in Oslo, when she and her nine year old son fell in love with it), Family Portrait, is a four-screen film installation by Scotland's Barrowland Ballet that follows dancer Natasha Gilmore and her three mixed-race children through choreographed sequences across Scotland's wild landscapes, evoking an emotional response tied to the importance of play, and of being able to embrace nature and wild spaces with family.
DiLiberto who is artistic director of one of Canada's top theatre companies for young people, Theatre Direct, is also the mother of a seven-year-old and a nine-year-old and acknowledges that this has had a direct influence on her programming choices. A very good thing! The programming looks and sounds rich and engaging for not only the "target audience" of 5-12 year olds but also for their parents, and for anyone of any age interested in interactive, engaging art that doesn't shy away from big ideas.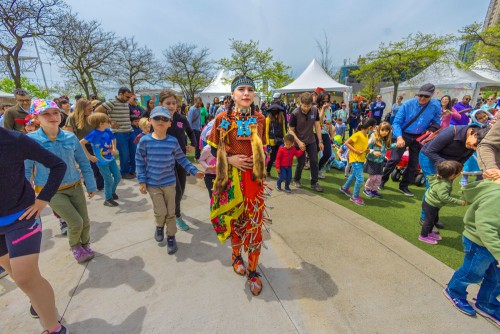 Families will be delighted to know that access to all outdoor activities is free! Some workshops will ask participants to register ahead of time online, but there will always be some spots available on the day as well as alternate events and workshops to take part in. Even the "big ticket" events on the concert stage will cost no more than $10-$20 per person. On May 21 there will be additional access initiatives including ASL interpretation and audio description for some events, as well as relaxed performances. For the first time there will also be free child care onsite all weekend, for families with younger children or babes in arms.
For more details about the festival and individual shows, please see www.harbourfrontcentre/series/junior