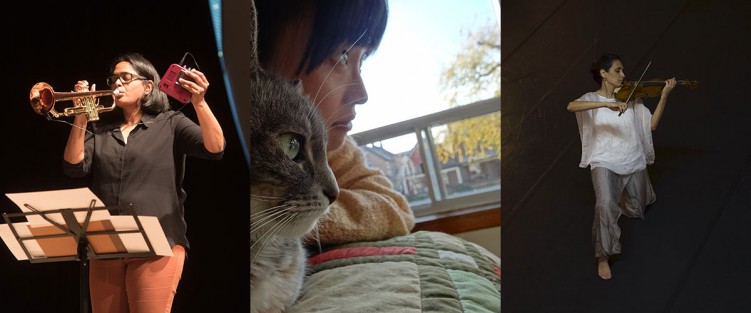 There is an intriguing beauty that lies in the parts and processes of trees that we don't see. We observe a tree's life story from looking at it aboveground, but what's beneath – the understory – often goes unseen.
Musicians Germaine Liu (based in Toronto), Nicole Rampersaud (based in Fredericton), and Parmela Attariwala (based in Vancouver) are committed to building—and telling the understory of—a new, nationwide artistic network. Funded by the Canada Council for the Arts and in partnership with Toronto's MOCA (Museum of Contemporary Art), Understory is a new online improvised music series that features artists from across Canada.
In an interview with the co-founders, they explained that they were very deliberate in their choice of artists for their inaugural 2021/22 season. "We're trying to expand what improvisation is, and who can occupy that space," they say. "The kind of person that we've invited is open and respectful of their colleagues." For the Understory series, above all else, they value "artistic agency so long as it's respectful."
Unlike live group improvisation, Understory features recorded layers of improvisation. "It is not traditional improvised music – nor is it intended to be a replacement for real-time, 'playing (dancing, singing, rhyming, painting) together in one space' improvisation," they say. Each online concert features two sets, each by a different trio of artists. Each trio performs three improvisations, so that each artist has the chance to record the first layer of a track, overtop of which their collaborators contribute additional layers of sound and/or visuals. The artists are given three weeks to co-create their works; in the fourth week, Evan Shaw works his video editing magic, and audio engineers Mark Zurawinski and John D.S. Adams polish the sound.
The series launched on July 15, 2021, with an online event co-presented with the Canadian Music Centre's (CMC) online festival Multilocation (curated by Nick Storring). The video is currently available on Understory's YouTube page and website, as well as on the websites of the CMC and Museum of Contemporary Art (MOCA). The first set features Gabriel Dharmoo (voice), Lan Tung (erhu) and SlowPitchSound (turntables, electronics), while set two features Bianca Palmer (percussion), Nilan Perera (guitar), and Randy Raine-Reusch (Bashkir kurai, Chinese guanzi, Japanese hitoyogiri, Chinese zheng, Thai khaen). Each group improvisation is titled so that the artists can register their works with SOCAN, and so that, as Attariwala puts it, the performance is "not just an ethereal moment."
Dharmoo, Tung and SlowPitchSound's set often went to frantic, reactive, busy spaces. I appreciated the chaotic world that the group brought listeners to, as it made for peaceful release in their more serene sections. Leaving silence while recording in a layered, online format like this one can be tricky – so the full trio sound of this set felt particularly appropriate (compared to more difficult-to-execute solo or duo formations).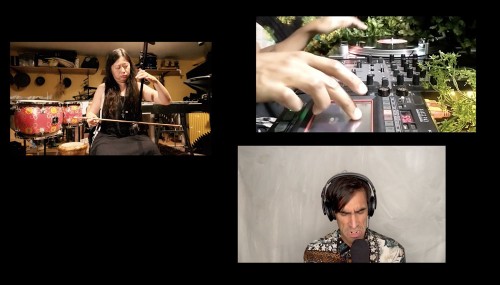 The third piece of the first set, titled Freshwater Organism, was thoughtful and compelling. I particularly enjoyed instances when Lan Tung hummed along with her erhu playing, creating another texture that felt like a much-needed release. SlowPitchSound's turntable contributions felt pensive, and especially memorable: in some sections he remixed Gabriel Dharmoo's vocalizing to add an ethereal element; in others, he provided additional texture by placing the turntable stylus directly on the platter, putting pressure on the stylus to create percussive sounds.
Palmer, Pereira and Raine-Reusch's set differed significantly from the first. In addition to the second trio's own unique sound world, the visual element of the second set – put together by video editor Evan Shaw, using video supplied by the artists – was completely different (although I enjoyed the visual experience of both sets). Whereas the first video predominantly comprised shots of the musicians performing, the video for the second set interspersed footage of the musicians playing with shots of water, trees, slugs, and people gardening.
The second set featured a plurality of instruments that I am not familiar with, as well as guitar processing and distortion – all of which concealed at times who was sounding. This disguise helped me, the listener, feel deeply immersed in the sound world that the artists were creating. By far, the most captivating aspect of the set for me was Palmer's percussion in this set, which was accompanied by visuals of her using different vegetation as drums or sticks. Each of the three performers in the second set was filmed near a different large body of water for their recording – Lake Ontario, and the Pacific and Atlantic Oceans – and this connection felt palpable in their music. Their third piece, entitled Thalassa, features what I interpret as eerie whale sounds.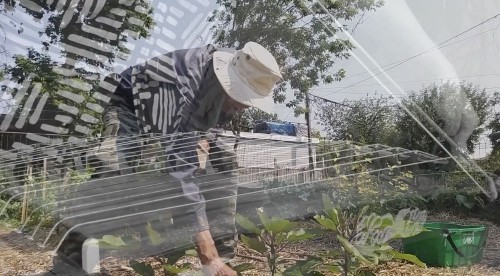 "Understory is inspired by the interdependent processes of an underground root network that activates the relationships between trees," the co-founders state at the beginning of the concert video. "We follow this process from our perspective with the aim to:
Expand community
Build systems of trust
Nurture one another,
Across the Land."
Based on their opening event, for Understory's passionate co-founders and its artists, this goal seems totally achievable. Don't miss the second concert of the series, featuring Louise Campbell, Germaine Liu, Arthur Bull (first set), and Mira Martin-Gray, Ellen Waterman, and Mei Han (second set) on August 19, 2021. The series takes place every third Thursday of every month, with the last concert of their season on January 20, 2022 – with the co-founders' hope that after that, the series will be renewed annually, with different curators each year. I for one sure would appreciate a monthly dose of this exploratory, artful improvisation!
Understory, co-founded by Germaine Liu, Nicole Rampersaud, and Parmela Attariwala, launched online on July 15, 2021, and continues monthly on the third Thursday of every month until January 2022.
Meghan Gilhespy is a vocalist, teacher, and writer from Vancouver, based in Toronto. She is currently pursuing a Doctorate of Musical Arts in Jazz Studies at the University of Toronto.