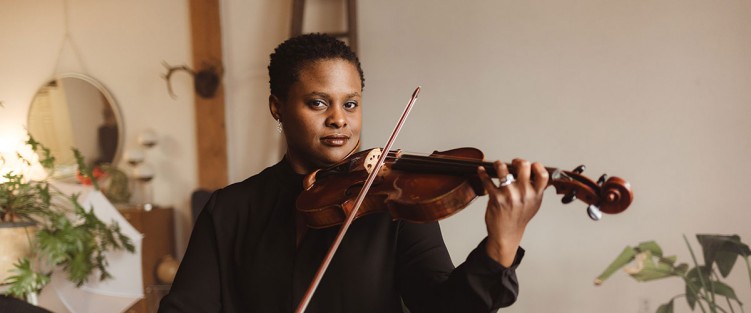 How much energy does it take to build a career as a classical violinist in Canada? And then how much more does it take if you are a Black woman. This struggle sits at the core of my conversation with Toronto-based violinist Tanya Charles Iveniuk – and what enthralls me is the career that she has created for herself within this genre.
Born in Hamilton with roots in Saint Vincent and the Grenadines, Iveniuk is an established performer and avid educator. She has a Bachelor of Music in Performance from the University of Toronto, an Artist Diploma in Orchestral Performance from the Glenn Gould School at the Royal Conservatory of Music, and is an alumna of (and now, a mentor with) the Hamilton-based National Academy Orchestra. Currently, Iveniuk works as a violinist with several ensembles across the Toronto area, including the Toronto Mozart Players, Sinfonia Toronto, and the Odin Quartet. She also plays in Toronto-based mariachi ensemble Viva Mexico Mariachi, and has performed alongside David Usher, Shad, K-Os, the Trans-Siberian Orchestra and Stevie Wonder. As an educator, Iveniuk works frequently as an adjudicator, and teaches at the University of Toronto and at the Regent Park School of Music.
We last spoke in 2020, when I interviewed several Black classical musicians for The Conversation. All of the musicians revealed how they negotiated their way through the predominantly white spaces, the many gaps in information on how to move through the pipeline, and regular hostilities experienced within the field, into professional classical musicianship.
Since then, Iveniuk has been at work on several new projects: a new album with the Odin Quartet, a concert appearance with Montreal's Ensemble Obiora, and multiple teaching and consulting projects throughout the Greater Toronto Area. Dedicated to her practice as a classical music performer and educator, she engages with a broad spectrum of communities – bringing with her a vision of classical music as an offering that should be available for all.
Creative classical
I first saw Iveniuk perform in 2013 at Lula Lounge, a Toronto venue known for Latin music. She was conductor and soloist of an ensemble, where she played Mozart's Violin Concerto No. 4, with cadenzas she had written herself.
Iveniuk now works as one of two violinists of the Odin Quartet, a string quartet that regularly performs throughout southern Ontario. The quartet itself is a culturally diverse group: between the four musicians – Iveniuk; Alex Toskov, violin; Veronica Lee, viola; and Samuel Bisson, cello – they speak Serbian, Korean, Spanish, French, Dutch and English. (Guess which four of these languages Iveniuk, a Vincentian-Canadian woman, speaks.) In addition to their regular concertizing, the quartet, sponsored by the Brantford Symphony Orchestra, has produced pre-recorded concerts for retirement homes, as well as a call-for-scores project titled "Lockdown Lullabies." The quartet also leads workshops at the Regent Park School of Music – a music school, says Iveniuk, where "a good portion of the demographic is kids who look like me."
The Odin Quartet's new CD, Journey Through the Night, brings the works of Canadian composers to the forefront with pieces by Bruno Degazio, Alex Eddington, Daniel Mehdizadeh, Chris Meyer, Elizabeth Raum, the quartet's own Samuel Bisson, and producer Ronald Royer. The current release date is set for October 2021, pending pandemic restrictions; updates can be found on the Odin Quartet's website.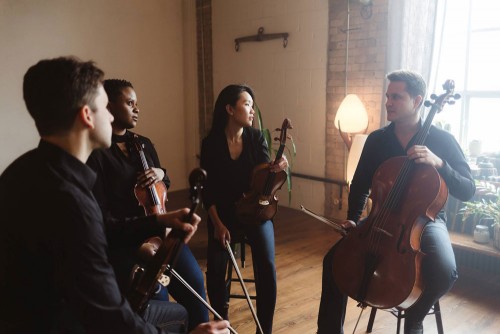 Challenges in the field
The quest for perfection is often an ingrained part of classical music culture and can be a challenging path for aspiring professionals. For racialized musicians, however, the limited view of who belongs within the community – as professionals, as well as in audiences and educational institutions – is an added stressor.
"I was confused by my educational experiences," says Iveniuk. "Stuff kept on happening for no apparent reason. I was placed as first violin in an orchestra where I was far beyond the playing level of the others. It was not a prize. It was an obstruction disguised as something one should accept and be grateful for."
Iveniuk also slowly developed an awareness of summer programs abroad that her peers were partaking in, such as Tanglewood (USA), the Verbier Festival (Switzerland) and the Schleswig-Holstein Musik Festival (Germany). "There were kids who had been doing this since they were 18. By the time I found out about the Youth Orchestra of the Americas, I'd already aged out."
Iveniuk describes a relentless series of incidents and experiences over the years of her classical music education – "interactions that just don't sit well, [that] can bear heavily on one's emotional state, on the psyche," she says. "That's my personal experience."
Talking context
"It's going to sound funny," Iveniuk tells me, "but I'm sort of coming out of the closet in terms of talking about difficult topics, such as racism and, and even how I see myself in my career. I'm just developing the courage to speak about it. I think we need to talk about these things, and that that's the only way that we can create the change. Let's talk context."
Iveniuk explains that a colleague recently revealed to her that they were unaware of racial prejudice in their common field of classical music. Said colleague was also unaware of the potential impact of these experiences on the mental and emotional confidence of racialized classical musicians who already apply extreme scrutiny to their own work; that it might take incredible courage to show up and play in such an emotionally taxing environment.
Despite still having to engage in these perplexing conversations, Iveniuk believes that some change is happening within the Canadian classical music community.
"I saw a webinar on diversifying music education," she says. "There was a gospel artist, someone on steel pan and a pianist with Caribbean influenced pedagogy. And then there was a classical bassist, Brandyn Lewis.
"The first three musicians on the webinar were experts in more traditionally Black forms," says Iveniuk. "There was no discussion however, on the complexities of the bassist's choice to play in what is seen as a Eurocentric field. And since outreach is my specialty, I called him up!"
"It is nice to feel solidarity for once in my entire career. It is huge," she adds. "Sometimes you just need a place where one is understood, where no explaining of one's choices or existence is necessary."
Brandyn Lewis is the artistic director of Ensemble Obiora, a new Montreal-based classical music ensemble made up primarily of Black people and people of colour who primarily perform the works of composers of colour. "In the United States, this is ordinary – there are whole orchestras of Black people! In Canada, it's a brand new thing," says Iveniuk.
The 30-piece ensemble will present its inaugural concert on August 28 at the Pierre-Péladeau Centre in Montreal. The program features the small-ensemble work Startin' Sumthin' by Jeff Scott, Samuel Coleridge-Taylor's Nonet in F minor Op. 2. The full orchestra, with Ivernik as concertmaster, will perform Tchaikovsky's Serenade for Strings Op. 48 and Joseph Boulogne's Symphony No.1 in G Major. Details can be found at www.ensembleobiora.com.
Conducting Change
"The pandemic, the murder of George Floyd and the people before him, has been a catalyst," Iveniuk tells me. "In the past, I didn't have the vocabulary to speak openly about these things. Colleagues have approached me with questions and I feel that there are now a lot of people reaching out to one another, about how to make things more diverse, accessible. I think this is where I find the most use for my experiences and stories."
Iveniuk will soon be working as the Diversity, Equity, Inclusivity and Accessibility consultant with the Scarborough Philharmonic Orchestra (SPO), where she plans to address issues within the genre so that classical music can be more accessible to the many communities of Scarborough and beyond.
In bringing her own leadership to these necessary cultural shifts, Iveniuk hopes to inspire dialogue about engaging larger numbers of Black musicians and audience members. "I get it. It's a European tradition. It doesn't often make it into Black culture as a thing that we are listening to in the home [or] will play at a party. It doesn't always make the cut. It might also be a class thing too, as we are not a monolithic group. I'm not sure how common that would be in non-Black families either."
And while white musicians happily play what is traditionally seen as Black music and are rewarded for it, Iveniuk notes that she might not receive the same support even from within her own communities. "I've had the experience of being on online forums for Black creators where I share my excitement about a concert that includes Black composers and receive little response, whereas a spoken word show will be shared and promoted widely."
Iveniuk also says that many people may not even be aware that a career in classical music can extend beyond teaching, that one can have a salaried job as a performer, and that it is a viable career choice. In her work with the SPO, Iveniuk will draw from her experiences with the intention of changing perceptions of who classical music is for.
Tanya Charles Iveniuk has developed a varied musical career, working towards better access to the classical music genre for all and using methodologies that we all can learn from: engage with community; play, teach, perform; create that which you wish to see.
Tanya Charles Iveniuk appears as violinist with Ensemble Obiora on August 28 at the Pierre-Péladeau Centre (UQAM) in Montreal, and with the Odin Quartet in an album release concert for Journey Through the Night in Toronto in October 2021 (details to come).
Gloria Blizzard is a non-fiction writer, poet and penner of songs, whose wordsmithing has appeared in numerous literary publications, magazines and sound recordings. She is currently completing her first full-length book, a collection of essays, and can be reached at www.gloriablizzard.com.