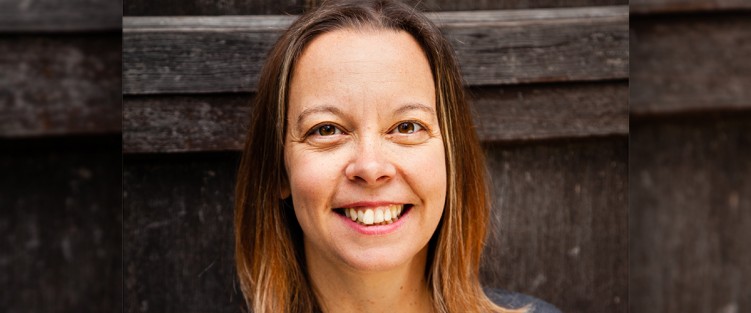 There's a palpable sense of enthusiasm in Kendra Fry's voice and there's a good reason why. On April 1, she made her debut as general manager of Stratford Summer Music (SSM). For seven years, she had been in the same role at Trinity-St. Paul's United Church and Centre for Faith, Justice and the Arts in Toronto (TSP), where she played an instrumental role transforming it into a vibrant and multi-faceted community hub.
Working closely with the artistic director, violinist Mark Fewer—who himself took on the role in 2018, as the second artistic director in Stratford Summer Music's two-decade history—and espousing a shared vision to raise the bar, Fry is setting the stage for a successful season that embraces the spirit of collaboration and innovation, including digital content delivery. "This is an exciting time to be in Stratford," she explained on a recent phone call. "The city is thinking about the relationship of art to commerce and the lives of its citizens."
In a city brimming with creativity, and as the second largest arts organization after the Stratford Festival, SSM will continue to showcase a range of musical performances by Canadian and possibly international artists representing a wide range of music, including classical, jazz, folk, performances from Indigenous musicians, and an eclectic blend of genres geared toward children. Programming will take place from August 5 to 29 at seven or eight indoor and outdoor venues, including three new ones: Stratford Perth Museum and Gallery Stratford, as well as Tom Patterson Island (previously used for outdoor programming at SSM, but never for full concerts). "We're directing our energy toward optimizing outdoor opportunities based on events that really spark joy for people," says Fry.
Tom Patterson Island in particular will beckon those keen on taking in performances while enjoying a feast amid the gentle breeze of the summer sky. "We intend to partner with local restaurants to offer options to purchase dinner to have on the island before the show."
Some of these events include educational programming where parents can bring their children to an outdoor concert at Gallery Stratford, but also engage in hands-on activities, like arts and crafts. "This acknowledges the fact that [children's] minds like to work on more than one thing at once."
There will also be a series of indoor jazz concerts at Revival House, which will likely be delivered as digital content, made accessible in November and December once the colder weather returns and people retreat indoors.
Such programming exemplifies the emphasis Fry is placing on widespread collaboration with other arts organizations and the broader community. "The goal is for SSM to not only be inspiring and exciting for people to attend and connect with art, but one which will also help keep this great city running and people employed in its restaurants and businesses," she says. Given the many challenges that have been experienced in Ontario throughout the pandemic and subsequent lockdowns, Fry sees this as especially important.
Similarly, when time permits, Fry will continue to build on the monumental work she's been dedicated to with regard to repurposing historic spaces, which is the cornerstone of her legacy at TSP. This is being realized through her own consultancy, Creative Collisions and Regeneration Works, a collaborative project of Faith & the Common Good and The National Trust for Canada. The consultancy seeks to help faith groups across the nation truly connect with the community at large and fully occupy their positions as 'third spaces'—places to gather that are neither work nor home.
Currently, Fry is involved in plans to revitalize one church in Manitoba and several in Ontario, including Knox Presbyterian in Stratford. The project is in its inception and it's a complicated site to develop, but working with the Stratford Arts and Culture Collective, a new vision is being developed that includes housing and a community theatre redesign, with the overall aim to create a new cultural centre and a dynamic hub of activity. "This aligns with my work in the arts, because often, what we're creating is a hybrid, such as recital halls that are also community centres for young, amateur practitioners."
She adds that churches offer a vast space and that they're often accessible, making them an ideal place for a diverse and representative cross-section of society to engage in a wide range of pursuits, such as dancing, conducting rehearsals, taking in concerts and attending religious services. "I really love spaces, places and organizations that give you the opportunity to learn something, be a part of something and then observe."
Noting that this was the strength of TSP—which is home to the Tafelmusik Baroque Orchestra and Chamber Choir, as well as other local arts organizations—Fry is committed to leveraging her lifelong passion and experiences in the arts and building on the momentum at SSM to enrich and inspire. "Since my time [as general manager] at Theatre Passe Muraille, I've held a firm belief that as people, we grow and connect best with the arts when we have the chance to exist on a continuum: from practitioner, to participant, to all of the things in between," Fry says. "It's in these creative collisions that we grow as people—that we experience 'the other' and we get to try new things and expand beyond the bounds that we imagined for ourselves."
Stratford Summer Music runs from August 5 to 29, 2021, with programming taking place in various locations throughout Stratford as well as online. Specific programming will be announced over the coming weeks; updates available at https://stratfordsummermusic.ca/.
Ayah Victoria McKhail is a Toronto-based journalist. She especially enjoys writing about arts and culture, particularly music.