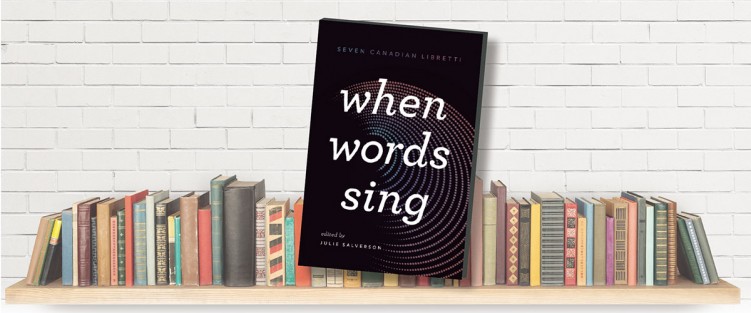 Salverson, Julie. Ed.
When Words Sing: Seven Canadian Libretti.
Playwrights Canada Press
When Words Sing: Seven Canadian Libretti, edited by Canadian author Julie Salverson, is the first publication to feature in-depth overviews of Canadian operas via their libretti. Each opera is given a section in which Salverson features the libretto first and foremost while also providing unprecedented access to the artistic craft and creative processes of those most involved with the opera. Interviews with, and essays by, librettists, composers, directors, set, lighting and costume designers, provide the reader with a rich portrait of individual operas as well as a larger view of the Canadian operatic creation process.
The librettists of When Words Sing, published in the same volume for the first time, are Robert Chafe (Ours / John Estacio), Anna Chatterton (Rocking Horse Winner / Gareth Williams), George Elliott Clarke (Beatrice Chancy / James Rolfe), Marie Clements, (Missing / Brian Current), Ann-Marie MacDonald (Nigredo Hotel / Nic Gotham), Julie Salverson (Shelter /Juliet Palmer), and Royce Vavrek (Dog Days / David T. Little).
The title of the anthology is a nod to the late R. Murray Schafer's 1970 book of the same name, and the contributors listed in the table of contents read as a who's who of contemporary Canadian opera: a foreword by Canadian soprano and conductor Barbara Hannigan, and an introduction by opera scholars Michael and Linda Hutcheon. With contributions from notable librettists, composers and creative team artists, the opening page of When Words Sing creates high expectations that Salverson and her collaborators thankfully meet.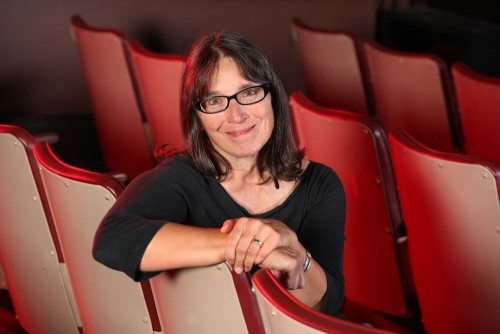 When Words Sing is exceptionally well crafted and generous in all aspects, with highlights that include a brief but solid history of the Canadian libretto (Michael and Linda Hutcheon); introspective essays on Dog Days by Royce Vavrek ("Writing Dog Days") and David T. Little ("On the Origins of Dog Days and Little & Vavrek"); lighting designer Paul Mathiesen's fascinating window into the mechanics of lighting that ultimately set the tone for a production ("Remembering Light and Shadow for Nigredo Hotel: Snapshots"); a most compelling read by director Baņuta Rubess ("The Alchemy of Nigredo Hotel"); and everything Beatrice Chancy.
Equally significant is the section on Shelter with essays from Keith Turnbull (director), Wayne Strongman (director and conductor), Julie Salverson (the editor is the librettist of this opera), Juliet Palmer (composer) and Sue LePage (set and costume design). Beyond the opera itself, this section provides significant insight into the Canadian opera creation process: the somewhat artificial initial process that often precedes Canadian operatic collaborations (composer librettist laboratories are fairly common); the subsequent workshops; the hiring of actors that sound out the text; the tentative gathering of a creative team should the funding application for a commission be granted; and finally the casting, staging and premiere – all aspects are laid bare. Strongman's words on this process are especially valuable: as the founding artistic director of Tapestry Opera and a trailblazer in the commissioning of new works, he was intimately familiar with the inner workings of Canadian operatic creation for over 30 years.
For my part, I found myself particularly invested in the microcosm offered by When Words Sing: to a significant extent, the book's elucidation of the themes and stories that matter to librettists, composers and opera producers also reflect Canadian preoccupations. The samples offered in When Words Sing reveal socially conscious individuals who write about historically based, spiritually charged and intellectually provocative subjects. Although the musical context of course always needs to be considered, it would be an exciting research avenue to study the libretti of Canadian operas for the stories they tell us about us in a repertoire which, from 1867 to today, already comprises more than 500 works.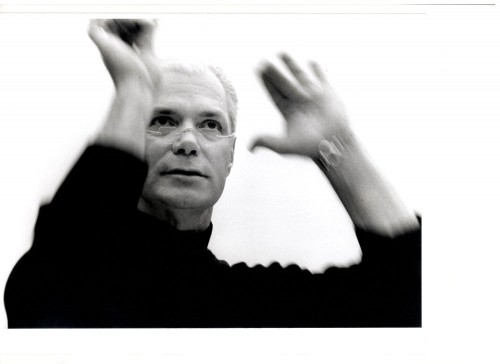 Dedicated to Wayne Strongman, When Words Sing is both a captivating journey into the world of contemporary Canadian opera creation and a welcome addition to the Canadian operatic literature.
Sophie Bisson is an opera singer and a doctoral candidate in musicology at York University. She is the editor of the forthcoming online Encyclopedia of Canadian Opera.