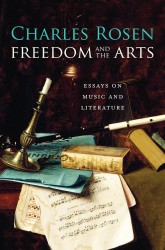 Freedom and the Arts: Essays on Music and Literature
by Charles Rosen
Harvard University Press
448 pages, musical examples; $35.00 US
Once again, Charles Rosen has drawn on his talents as a pianist, scholar and essayist to produce a singularly thought-provoking collection of articles and reviews. Most were first published in the New York Review of Books — the title paper, Freedom and Art, appeared just this past May. At 85 Rosen is as brilliant as ever, if a touch more curmudgeonly than in previous collections. He has also become noticeably more nostalgic for the days when directors were not expected to "spruce up" operas to attract audiences, young composers did not feel compelled to write easily accessible music, and audiences read essays for pleasure.
Rosen's ongoing tiffs with fellow journalist-musicologist Richard Taruskin run through these pages. In Western Music: The View from California, a detailed review of Taruskin's six-volume Oxford History of Western Music, Rosen challenges Taruskin's more sociologically-based approach to music history. He even goes so far as to accuse Taruskin of gearing his writing to appeal to the lucrative textbook market. In a postscript, Modernism and the Cold War, Rosen attacks Taruskin's response to this review, in which Taruskin had written that he "regards Rosen's literary output — all of it — as Cold War propaganda." And so it goes. While this is all very entertaining — and edifying — the irony is that as outspoken as these two are, they are often not that far apart, especially on controversial issues like early music.
In a heartfelt tribute to Elliott Carter on his 100th birthday, Rosen writes eloquently in defence of Carter's complex music, "Since Beethoven, it is the difficult music that has survived most easily; the originally unintelligible Wagner, Strauss, Debussy, Stravinsky and all the others that were so shocking are now an essential part of the concert scene." Recalling a critical comment about a lack of emotion in Carter's Night Fantasies after he performed this gorgeous work in Toronto 30 years ago, he adds, "Only when one understands how the music works (that is, consciously or unconsciously, feels at ease with the music) can one perceive the emotion."
He offers plenty to argue with, such as when he dismisses composers who reject what he calls the "triumphs of modernism" and produce tonally based works with regular pulses and measurable rhythmic patterns. "All the modern tonal music I have heard," he writes, "is loosely and simply organized, incapable of the subtle articulations and complex significance we find in Haydn or Beethoven."
Rosen is especially attuned to nuances and outright contradictions in matters of interpretation, above all when it comes to the significance of style in understanding music. "Musical style," he writes, "is not a passive material that can be molded at will, but a system that both resists and inspires change." So I find it surprising that throughout this collection Rosen fails to recognize that an interpretation of musical style is fundamental to period instrument performances, and is responsible for their refined techniques, ever-expanding repertoires, and ever-increasing influence on mainstream performers and conductors. Yet Rosen writes, in Culture on the Market, "Concerts of music by Locatelli, Albinoni or Graun are bearable only for those music lovers for whom period style is more important than quality."
The point of these essays is not to convince us, but to enhance our experiences of the music. More than anything, it's the surprising and delightful connections, not just in music but also in related philosophy, art and literature, that make them so delightful to read. Rosen's scope is so broad that it's a challenge to keep up to him, especially when he writes that "the history of art can only be understood if the most extreme and eccentric phenomena can be integrated into our view of the whole picture." What we can do is keep reading and listening — and enjoying.