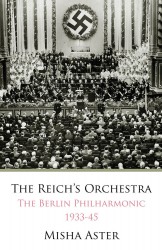 The Reich's Orchestra:
The Berlin Philharmonic 1933–45
by Misha Aster
Mosaic Press
286 pages, photos; $27.95
In 1944 British warplanes bombed the Berlin Philharmonic's home, destroying instruments, archives and music along with their beautiful concert hall. But still they managed to keep performing and even touring — right up until the day when, as Misha Aster writes, "The Third Reich's demise cut the 1944–1945 Philharmonische Konzerte series drastically short."
There were many factors involved in the orchestra's remarkable survival under the Third Reich, not least the determination of the musicians themselves. But in this study of the orchestra during that period Aster pinpoints the main reason right in his title — it became the Reich's orchestra.
With his exhaustive research in archives and obscure private collections, Aster traces how the orchestra, facing bankruptcy in 1933, went from being a self-governing, independent collective to a symbol of the Nazi regime. It was clearly a matter of compromise rather than political commitment. Its principal conductor at the time of the deal, the celebrated Wilhelm Furtwängler, never joined the Nazi party (unlike their long-serving post-war chief conductor, Herbert von Karajan). But once it was run directly by the Nazis, with Joseph Goebbels, Hitler's propaganda minister, as boss, it now functioned as an "instrument of cultural propaganda." Duties included performing for Hitler's birthday celebrations.
Soon enough, the orchestra was purged of Jewish performers, including its prized concertmaster Szymon Goldberg. Jewish patrons were prohibited from attending concerts, and Jewish composers like Mendelssohn and Mahler were removed from the repertoire. But Furtwängler's indignant resignation from the orchestra in 1934 — temporary, as it turned out — was sparked by the Nazis' political interference in artistic affairs, in this case a choice of repertoire, rather than direct opposition to their policies.
Aster is a Canadian historian living in Berlin. His book was originally published in German, and too many traces of that still remain. Terms and concepts are left in their original German, and translated only on their initial mention, if at all. Nor are they included in the sparse index, or provided with a separate glossary. Similarly with the numerous acronyms — I couldn't keep them straight. And many passages quoted in the text and the comprehensive footnotes are left untranslated from their original German and French.
But Aster's thorough, systematic research pays off again and again throughout this book. His straightforward style proves ideal for uncovering the ambiguities of the orchestra's situation, especially when, in the final chapter, he analyzes how it all adds up. After the war, the orchestra had to answer for its recent past and redesign itself. It did so by building on its strongest assets, "its collective combative spirit and the group's shrewd political judgement." These were the very qualities that had ensured its survival during the Third Reich, as Aster shows so well.
Concert Note (for 2012/13 season): The Philharmonia Quartett Berlin, made up of members of the Berlin Philharmonic, performs at the St. Lawrence Centre on October 11, 2012, at 8pm, for Music Toronto.