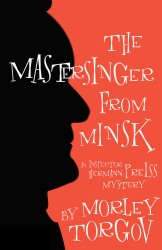 The Mastersinger from Minsk
by Morley Torgov
Dundurn Press
264 pages; $17.99
The plot of Morley Torgov's latest mystery novel, like his previous Murder in A-Major, revolves around real figures from the world of classical music — in this case Richard Wagner and his young wife-to-be, Cosima von Bülow, daughter of his friend Franz Liszt. Cosima's current husband Hans van Bülow is on hand as well, since he is conducting the premiere of Wagner's new opera, Die Meistersinger von Nürnberg.
Rehearsal is underway in Munich when Chief Inspector Hermann Preiss, who narrates, is called in to investigate a disturbing message Wagner has received. It says, "June 21 will be the day of your ruination." Dead bodies keep appearing, including that of the star heldentenor Wolfgang Grilling, who had been the main suspect in the threat against Wagner. Grilling was furious because Wagner had given the lead tenor role in his new opera to an unknown singer who had shown up at auditions, and saddled Grilling with the apparently demeaning buffo role of Beckmesser. But what Torgov doesn't seem to realize is that Grilling would undoubtedly have been especially vexed because he, a heldentenor, had been given a role written for a light baritone — a different range, colour and weight of voice altogether.
This setting allows Torgov to paint a vivid picture of Wagner rehearsing his opera. When Father Owen Lee gave one of his insightful books on Wagner the title The Terrible Man and His Truthful Art, he summed up what Torgov manages to capture in his plot, which revolves around the horridness of the man and the glory of his music. To add authenticity, Torgov wisely consulted the journals that Wagner's ballet-master Richard Fricke kept while working with the composer on the premiere of the Ring Cycle.
Because this story is set in 1868 Torgov gets away with referring to Preiss as "the only policeman in Europe who takes an interest in opera." Books featuring opera-loving detectives like Sherlock Holmes, Inspector Morse and Kurt Wallander may have been written earlier, but they all take place later.
With his imaginative plotting, Torgov has found an effective way to present the complicated questions surrounding Wagner's — and Cosima's — deep-seated anti-Semitism. Whether Wagner intended Beckmesser to be the anti-Semitic figure of fun that Torgov paints him is open to debate. In any case, Torgov deftly conveys the transcendent power of Wagner's music through his novel, if far-fetched, twist to the convoluted plot. It's worthy of Hitchcock in the way it uses the interpretation of a song as a plot device — rather like Die Meistersinger itself, for that matter.
But it's the characters, fictional like Preiss, real like Wagner, that kept me reading so eagerly. Torgov is at his best creating characters, and Preiss is at his most sardonic and colourful describing them. Preiss seems to be aware of this, since part way through the case he comments, "I was a curator, not of a collection of tangible evidence, but of a collection of people — living curiosities, flesh and blood to the eye yet unfathomable, untrustworthy, conniving, everyone seemingly filing onto my stage carrying his or her own bundle of plots and lies, and at the centre of the stage, Richard Wagner himself, principal plotter and liar."