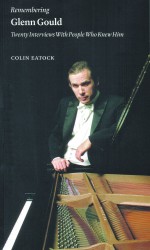 Remembering Glenn Gould:
Twenty Interviews with People Who
Knew Him, by Colin Eatock.
Penumbra Press, 2012. 189 pages. $19.95.
The glenn gould booster club seldom sleeps. Toronto music journalist Colin Eatock has gathered together many of the familiar names who were part of the Gould constellation at one time or another — Andrew Kazdin, Verne Edquist, Walter Homburger, Margaret Pacsu, Ray Roberts, Robert Fulford, etc. — asked them each a few intelligent questions, then just hit the record button to let them speak at length. Et voilà, a conversational-flavoured biography of the famous Canadian pianist.
One may well ask, why do this? Eatock asks it himself in an introductory essay — his opening sentence is "Why another book about Glenn Gould?"— yet he seems unable to answer his own question. I'll venture an answer for him. Because there are still plenty of Gouldites out there, like me, who for silly if obsessive reasons devour a book like this, in our bid to further mythologize an oddball deceased Toronto classical musician who for a time captivated the world through his concerts and records. So yes, this book has a market, especially in English Canada. Penumbra is an Ontario publisher that celebrates Canadian culture, and this paperback is handsomely produced, on beautiful paper, well bound, with a gracious type font. (Stan Bevington designed the book, and deserves an ovation for the old-fashioned art of bookmanship.)
Though Gould fans have encountered most of these reminiscences before from the same cast, Eatock poses gentle questions to 20 articulate people and adds his own short preludes and postludes. Here and there, insightful sentences tap a reader on the shoulder. Vincent Tovell, the CBC TV producer, muses: "[Gould] was ahead of his time. But he was also before his time, reaching back to a simpler world, before the modern age, in a search for serenity." William Littler, distinguished Canadian music critic, observes of Gould the would-be philosopher: "He didn't want a dialogue — he wanted an audience." American violinist Jaime Laredo states: "I've never, ever, in my life worked with anyone who played the piano better than he did."
Eatock snared an interview with Cornelia Foss, an American visual artist who first came out of the shadows back in 2007 to speak of her four years living in Toronto as Gould's semi-secret lover/companion. She tells us that she found his much-admired Bach playing entirely wrongheaded, and explains why.
The longest interview is accorded to CBC Radio's John Roberts, an abiding friend of Gould's and major keeper of the Gould flame. "I always found Glenn to be very kind, very thoughtful, extremely loyal — and he was the best friend I ever had," Roberts says fondly.
Canadian pianist Anton Kuerti and Canadian composer John Beckwith express serious reservations in their interviews, both about Glenn Gould the stylistically mannered musician and the posthumous fan industry he spawned. They probably won't be buying copies of this book to give as gifts.
But I will. Newcomers to the Gould saga will enjoy it, at $20 it's a bargain, and its keyboard hero remains a cipher.