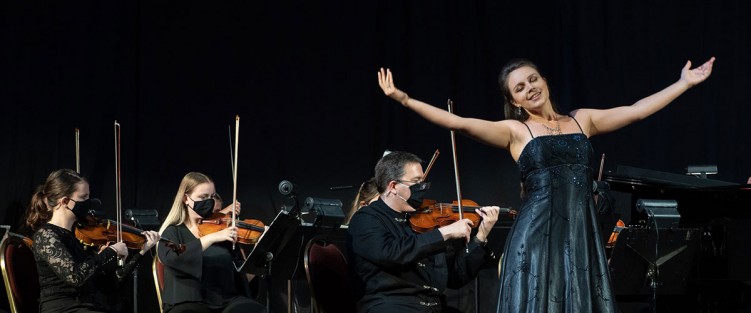 The annual Collingwood Summer Music Festival has made an inspiring comeback following last year's pandemic-induced hiatus.
Held from July 10 to 16, 2021, this year's festival featured outdoor and drive-in events for local audiences, as well as an online component for those staying home through the pandemic. The concerts included performances by artists such as Ekaterina Shelehova, soprano, a rising star in the international opera scene. Much like her electrifying performance on Italia's Got Talent earlier this year, which reverberated around the world with more than 28 million views, she was captivating in Popera, the festival's opening concert featuring a selection of arias and duets, accompanied by the National Academy Orchestra of Canada under Boris Brott.
The drive-in events took place at the New Life Church (28 Tracey Ln. in Collingwood) and were simultaneously livestreamed online. "The response to our drive-in and online performances has been tremendous," says Daniel Vnukowski, the classically-trained concert pianist who's the founder and artistic director of the Collingwood Summer Music Festival. "We had tickets already up for sale in April."
The festival partnered with a multi-camera film production crew to capture the intricacies of each performance in striking detail, effectively rendering a live concert hall experience to drive-in and online audience members alike. Prior to the start of each performance, Vnukowski facilitated lively Q&A discussions to engage artists and audience members alike.
Several riveting performances were complemented by other forms of artistic expression, such as Chocho ('butterfly' in Japanese), by the celebrated drumming ensemble Nagata Shachu. Showcasing Aki Takahashi on taiko drum and shamisen (a three-stringed traditional Japanese musical instrument), it featured Wasaga Beach-based Shandelle McCurdie's plein air painting session to the song Tenkai, which means 'heaven' or 'to evolve or unfold' in Japanese.
Similarly, Red Sky Performance, Canada's leading contemporary Indigenous dance and performance company, also featured Dr. Duke Redbird, Ojibway poet, historian and wisdom keeper, who recited a selection of poetry from his latest book and appeared among other Indigenous artists, such as flute player Jason Chamakese, actor Graham Greene and guitarist Stevie Salas.
The event also included a screening of the 13-minute documentary The Water Walker, which depicts the journey of Autumn Peltier (Anishinaabe), clean water advocate, from Manitoulin Island to New York City to address the United Nations. Time-lapse photography from the Saugeen First Nation, taken by the Collingwood Festival film crew and shown at the event, was also striking.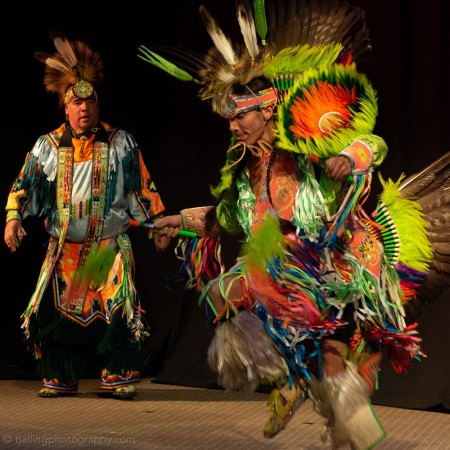 Planning a festival of this magnitude amidst pandemic concerns and restrictions was an ongoing challenge. It came to embody a constant game of troubleshooting in order to address the myriad production and technical challenges that arose – including, according to Vnukowski, files that arrived a mere hour before a particular performance, a cable that was a few feet too short, and customer support issues.
Improvising and adapting to shifting circumstances during the festival-planning process was critical – and this was exemplified when Vnukowski himself took to the stage in four pre-festival events for the festival's Summer Solstice series, two of which were centred on the music of Frédéric Chopin. "Chopin wrote 24 preludes and he'd begin his performances with a prelude followed by another one of his compositions," explains Vnukowski. Often, these preludes would be improvised, and in a sense, that's kind of how the festival feels this summer, because nothing goes as planned."
Faced with all this, the festival's many highlights – such as A Woman's Love, where poet Vera Pavlova shared the stage with her daughter, soprano Natalia Pavlova; The Powerhouse Trio, featuring Mayumi Seiler on violin, Angela Park on piano and Cris Derksen on electric cello; and a screening of the award-winning movie, Rumble: The Indians who Rocked the World – remain memorable.
The closing event, Scheherazde, starring Joyce El-Khoury, soprano, Serouj Kradjian, piano and arrangements, Kathleen Kajioka, violin, featured another plein air painting session by Bill Franks, who was mentored by A.Y. Jackson, one of the famed painters of the Group of Seven. Franks painted to Astor Piazzolla's Oblivion, and like the performance itself, it was mesmerizing.
As Vnukowski reflects on the success of the festival, he's filled with gratitude. "The outpouring of support has been wonderful. Each of our events is covered by either a corporate or private sponsor and there have been over 70 donors." He also acknowledges the impact of grants from all levels of government, and the palpable sense of enthusiasm from the local community since the festival's inception in 2019.
As Vnukowski looks toward the future, he's committed to strengthening the many partnerships he's developed and building on the momentum in order to elevate the festival to even greater heights. He points to his involvement both with the Blue Mountain Foundation for the Arts (which promotes the work of local artists) and the Collingwood Art Culture Entertainment (CACE) Group as primary examples. Plans are also in the works to build a new concert hall in Collingwood.
In the same way as he has embraced technology from the festival's very inception, he'd like to continue to work with new media in innovative ways – leveraging the potential widespread reach of online shows, as well as other innovations in the field that were ushered in during the pandemic. He notes that insofar as future planning goes, a hybrid model of in-person and online options will remain an effective strategy. "Enjoying a traditional classical music and chamber music evening in an in-person environment with the music we love and cherish, such as Beethoven, Bach, Brahms, Chopin, Debussy, and living composers, can be mixed with technology."
One of Vnukowski's other priorities is cultivating a love for music in new generations and strengthening youth involvement, a goal he says is shared by all artistic directors. One of the free events, which took place during the festival and was geared toward preschoolers, illustrated this. Led by Lara Heaton, a local music teacher, its stated aim was to introduce children to the building blocks of music. Heaton brought along a ukulele and a drum kit, and, as the children learned about musical terms, two puppets by the names of Adagio and Allegro made quite an impression on them.
As planning for the future gets underway, Vnukowski is incredibly excited about what the future holds. "We're only going to grow from here."
The Collingwood Summer Music Festival ran from July 10 to 16, 2021, streamed online and presented in-person in Collingwood, Ontario.
Ayah Victoria McKhail is a Toronto-based journalist. She especially enjoys writing about arts and culture, particularly music.