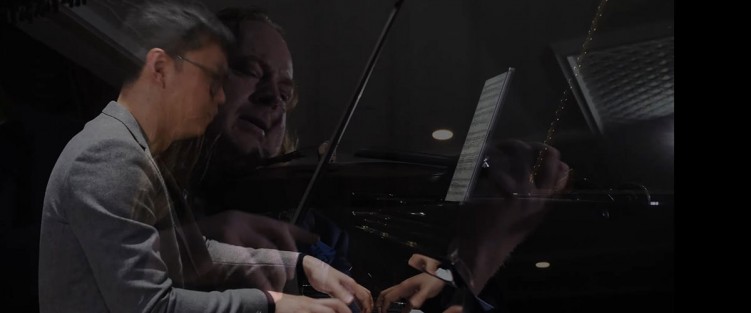 SweetWater Music Festival launched its 18th season on May 28 with a special spring musical event, "Up Close & Personal with Edwin Huizinga and Philip Chiu."
Violinist Edwin Huizinga, SweetWater artistic director, and pianist Philip Chiu played works by Brahms and American composer William Bolcom together as part of the online show. They were joined by CBC Radio personality Tom Allen, who introduced the event and moderated a virtual post-concert green room chat on Zoom with the two musicians.
Over the last decade, it's become de rigueur for performers to talk about the music they're about to play and this they did with charm, introducing themselves and the program to come.
In his intro to the concert, Huizinga talked about playing once again with Chiu, "a great friend, an old, old, old friend, the one and only Brahms Sonata in G Major 'Regensonate' (Rain Sonata) – it is so near and dear to my heart."
"Edwin and I go way, way, way back," said Chiu, referring to their time together at the Young Artist Performance Academy at the Royal Conservatory of Music in Toronto (now the Phil and Eli Taylor Academy for Young Artists). " It was my first time playing with a real violinist. It brings back a lot of memories thinking about it."
In his own introduction to the concert, Tom Allen provided additional context for the Brahms. He played brief excerpts of recordings of two of the composer's own songs quoted in the first and third movements, noting that Brahms moved the "Rain Song" Op.59 No.3 from minor to major in the sonata, which enhanced its luxuriant lyricism. Written in the summers of 1878 and 1879 after the success of his first symphony, the sonata "recalls youthful innocence" and how that sweet remembrance of childhood has gone awry. Allen also pointed us to the arpeggiation in the piano that mimics rainfall.
The Brahms sonata begins with the pianist playing two simple chords which set the stage for the violin's entry – lovely and tender – overlaid on Chiu's restrained piano. Then Huizinga introduces the gorgeous violin melody – sublime and graceful. Chiu is a superb partner, who never gets in the way, as the radiant first movement builds and the development intensifies into a variant of the main theme. Huizinga's sensitive playing is filled with subtle gradations of expressiveness leading up to a big finish.
Like the first movement, the second movement begins with the piano – this time more extensively. The piano's plaintive tune is joined by violin fragments that extend into an elegiac glance that turns dark before coming into its own. A new violin melody (the close-up videography here focuses on Huizinga's joyful face) is echoed on the keyboard and carried off with aplomb by the two performers. A version of the opening motif leads off the final movement – there are several cyclic episodes throughout the piece – with the two artists playing a characteristic Brahmsian riff on the tender theme, Huizinga crouching, cradling his instrument and casting glances at Chiu, whose delicate touch conveys a gentle rainfall.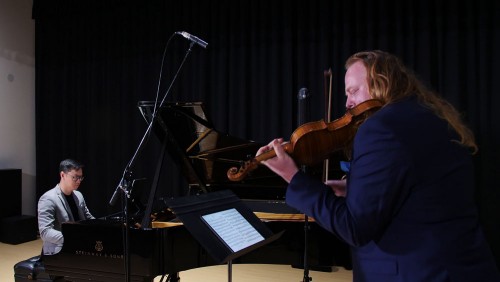 A bonus was the lively Zoom chat that followed the concert, in which Huizinga and Chiu talked about the life-changing aspect of their first encounter with chamber music as high school students, when they attended the Young Artist Performance Academy at the RCM at the same time.
"I was in my last year of high school," Chiu said. "There was a sonata class taught by [pianist] Peter Longworth – I didn't know anyone – and he matched us up to play the Grieg sonata."
"I remember being matched with a tall, imposing man who was so gentle and didn't make me feel bad," Chiu added.
"That program totally changed my life," Huizinga said. "All week, all I'd be doing is praying to get to Toronto [from Guelph]. In it, I met my people. It made me realize I had to make chamber music a big part of my life. Peter Longworth was a huge part of my life."
Huizinga recalled the first time he played the Brahms (in 2008 in San Francisco). "It's been in my love repertoire for so long," he said. Chiu has played it "a million times" [over many years with students at the University of Montreal and the Schulich School of Music at McGill] and "I've never gotten saturated," he said. "I'm always happy to revisit it."
Huizinga is comfortable in many genres and has made a career in them. "There are grooves that happen and I feel the pull," he said. "So much of music is like that." Chiu thought Huizinga's enormous experience in so many genres made him an ideal Brahms interpreter, since Brahms was really innovative in his use of rhythm.
This particular performance for SweetWater almost didn't happen. Chiu arrived in Toronto from Montreal the night in early May that Ontario announced the latest lockdown. They had only one day to rehearse, leaving them just enough time before the lockdown went into effect, limiting their options. Luckily, they were able to arrange to film the concert on a Steinway in the basement of a music lover's house. Images from many cameras were expertly edited to produce an intimate record of the recital.
Following the Brahms, Huizinga and Chiu brought an elegant, high-stepping restraint to William Bolcom's Graceful Ghost, evoking the spirit of a Scott Joplin rag. The violin sang atop the piano's solid foundation, enlivening this love letter to a bygone time.
The whole event was an ode to the joy of music, with the warmth of the participants' personalities as evident as their consummate musicianship.
Up Close & Personal with Edwin Huizinga & Philip Chiu was released online on May 28, 2021 by SweetWater Music Festival, and is available until June 7 at https://www.sweetwatermusicfestival.ca/.
Paul Ennis is the managing editor of The WholeNote.