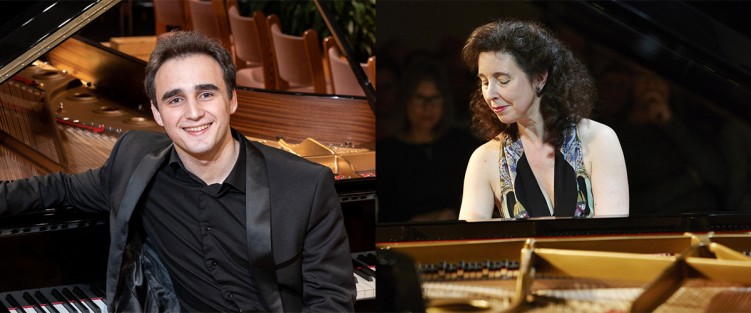 Toronto Summer Music (TSM) returns July 6 to 29 with Metamorphosis as its motif and, appropriately enough, a butterfly as its graphic signature.
noun: metamorphosis;
plural noun: metamorphoses
1 The action or process of changing in form, shape, or substance.
– The New Shorter Oxford English Dictionary
The festival began, in 2004 and 2005, as the Silver Creek Music Foundation, running two summer pilot programs in each of those first two summers: a series of one-or-two-week chamber music workshops in piano, strings and percussion; and a mini-series of public concerts by the Gryphon Trio, Scott St. John, Shauna Rolston, Lydia Wong and NEXUS, all centred around Walter Hall in the University of Toronto Faculty of Music's Edward Johnson Building.The seeds of the Fellows and Mentors program that is now at the heart of the TSM experience were sown right from the start. Two seasons later, with the arrival of Agnes Grossmann as TSM's founding artistic director, a Vocal Academy was added to the mix, and the key ingredients of TSM's recipe for success were in place.
Fellows and Mentors
The Metamorphosis metaphor works wonders in terms of the festival's growth: the TSM Academy features 23 Mentors and 28 emerging artists/Fellows (all attending tuition-free), and their interaction has become the lifeblood of both the Festival and the Academy. Fellows will rehearse and perform with Mentors from both the Chamber Music Institute and the Art of Song program in a series of eight Saturday ReGeneration concerts at Walter Hall; Academy Fellows will also perform in a series of free noon-hour concerts in Heliconian Hall (July 12-14 and July 26-28); and some will appear in TSM's 5pm Shuffle Hour free concerts (July 11-13 and 18-20), also at Heliconian Hall.
Adding to the vibrant mix, around 20 top-flight musicians are mentoring the Community Program that runs parallel to the Academy. Some of them will share the stage with Academy Mentors and other guest artists in the ambitious June 28 mainstage concert, titled Metamorphosis, at Walter Hall, and can also be heard on July 29 in free concerts featuring TSM Artists, Academy Fellows and Community Program participants (repertoire still to be announced).
Mainstage concerts
All in all, an astonishing 20 of the 23 TSM Academy Mentors (there is a full list on the TSM website) will participate in the festival's mainstage concerts, either as established ensembles, or as part of the mixing and matching of musicians who don't usually get to play with each other, that is the hallmark of a well-curated summer festival. And of course there are other great musicians who will grace the TSN main stages as well, visiting Toronto as part of a number of summer festival appearances.
Take the festival's opening concert for example, at Koerner Hall on July 6. Ukrainian pianist Illia Ovcharenko, winner of the 2022 Honens International Piano Competition at age 21, stops by as part of a 17 concert swing between June 15 and September 10, including multiple concerts in France, Germany, Switzerland, Poland and the USA, and two return Canadian visits – to Domaine Forget at the end of July and Calgary, scene of last year's Honens triumph, in early September.
For the July 6 TSM opener, Ovcharenko will be joined by Honens music director, pianist Jon Kimura Parker, for a two-piano extravaganza tour of Beethoven's indelible "Moonlight" Sonata; the chamber version of Mozart's Piano Concerto No.12; Milhaud's rollicking Scaramouche; and a pair of two-piano works by Rachmaninoff and Liszt. Ovcharenko adds a special twist with two preludes by Levko Revutsky, a composer from his hometown.
Setting the tone for festive collaboration, their "supporting cast" for the concert includes TSM artistic director Jonathan Crow (violin), Academy strings Mentors Yura Lee (violin), Milena Pajaro-van de Stadt (viola) and Ani Aznavoorian (cello), and Community Academy strings Mentor Michael Chiarello (bass).
Piano plus
The next concert in Walter Hall on July 7 picks up in terms of mix-and-match music-making where the opening concert leaves off: with Crow, Lee, Pajaro-van de Stadt and Aznavoorian being joined by fellow Mentors pianists Charles-Richard Hamelin and Rachael Kerr (accompanist for the Community Academy choir). The concert features music by Clara and Robert Schumann, and their remarkable protégé, Johannes Brahms, who originally conceived his colossal and profoundly dramatic Piano Quintet as a piece for string quintet (with two cellos) and then revised it for two pianos before its final metamorphosis into the Piano Quintet. Richard-Hamelin, musically evolving into one of our most sensitive chamber performers, plays the key Brahms piano role.
Solo piano in all its glory is on display in Koerner Hall on July 25, when Angela Hewitt, hailed by The Guardian as "the pre-eminent Bach pianist of our time," presents a full evening of Bach's ever-fresh music. Selections cover a wide range of repertoire, from the bold Chromatic Fantasia and Fugue to the joyous Italian Concerto.
Bach's music is well served throughout the festival, starting with his Goldberg Variations – the 18th century's most outstanding work in this form – which will be performed for string trio by Jonathan Crow, TSM Academy Mentor Juan-Miguel Hernandez (viola) and former TSM Fellow, Cameron Crozman (cello), on July 13 in the Church of the Redeemer.
Book early if you don't want to miss the duo of Michael Bridge (digital accordion) and Kornel Wolak (clarinet) – as accomplished as they are antic – at Lula Lounge on July 18 as they rollick their way from Bach to Benny Goodman (by way of Chopin, Bechet, Moricone and Gershwin).
Finally, in the first of two appearances, New York-based Isidore Quartet offers up two cornerstone composers, Bach and Beethoven, in a July 19 Walter Hall performance that includes selections from Bach's Art of the Fugue and Beethoven's visionary String Quartet Op.132. Winners of a 2023 Avery Fisher Career Grant, and the 14th Banff International String Quartet Competition in 2022, the New York City-based string quartet was formed in 2019 with a vision to revisit, rediscover and reinvigorate the repertory, espousing the Juilliard's idea of "approaching the established as if it were new, and the new as if it were firmly established." Two contemporary composers are also featured: Sri Lankan-born Canadian composer Dinuk Wijeratne's Disappearance of Lisa Gherardini (inspired by the theft of the Mona Lisa from the Louvre Museum in Paris in 1911) and the sublime umbra, by Aida Shirazi.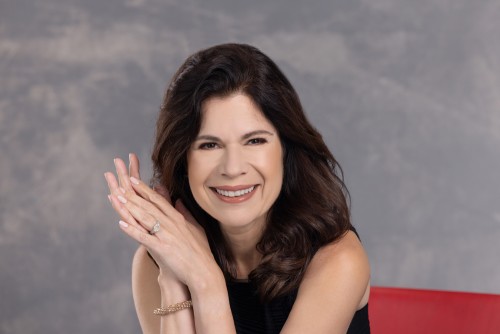 Vocal
Vocal music fittingly kicks off the first full week of the festival on Monday July 10 with a recital at Walter Hall by Grammy Award-winner, Puerto Rico-born soprano Ana María Martínez.
Fresh off an appearance at the Metropolitan Opera as Zerlina in Mozart's Don Giovanni, Martínez, along with fellow Art Song Mentor, pianist Craig Terry, offers up a fiery Spanish-language song recital on July 10 in Walter Hall, featuring composers such as de Falla, Rodrigo, Turina and Carlos Gardel, father of the tango.
As the festival draws towards a close, on July 27, Sondra Radvanovsky, who needs no introduction to Toronto audiences, brings her Carnegie Hall recital program to Koerner Hall, where she will be joined by American pianist and pedagogue Anthony Manoli, in a program including Rachmaninoff, Duparc, Richard Strauss and Verdi.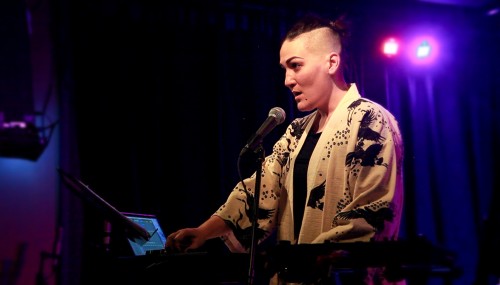 Between these two recitals, and one of the festival's more intriguing offerings, on July 12, Toronto-based Amplified Opera, in the person of interdisciplinary performer-creator, Teiya Kasahara (they/them), brings their show titled The Butterfly Project (or, The Ballad of Chō-Chō san) to Walter Hall – a reimagining of Puccini's famous opera, Madama Butterfly. Focusing on the Japanese melodies Puccini quotes in the score, The Butterfly Project highlights the original intention of these melodies, bringing them into the 21st century with live and recorded sounds, electronics and classical singing.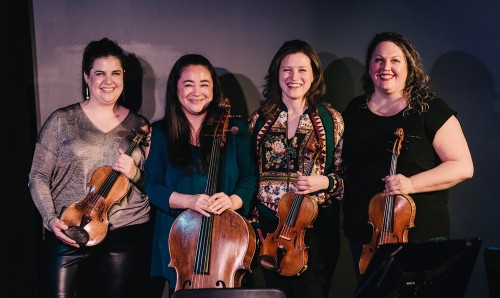 A Quartet of Quartets
In addition to the Isidore Quartet, there are three other string quartets featured in the festival. On July 11, TSM showcases a unique, multi-disciplined and all-Canadian event: the members of the Ironwood Quartet, joined by Tai Chi Chuan players including prize-winner Jonathan Krehm, David Robert and Evonne Tan in a combined ode to the Chinese martial art and to Canadian artistry. Premiere works by Evan Mitchell, Kevin Lau and Alexina Louie, alongside a performance of Parting Wild Horse's Mane by one of Canada's most widely known composers, R. Murray Schafer, frame Tai Chi Chuan demonstrations of forms and weapons.
For their concert on July 14 in Walter Hall, the Miró Quartet performs two pieces from the traditional string quartet repertoire by Haydn and Brahms, which bookend two examples of the medium by contemporary Pulitzer Prize-winning American composers, making this recital a compelling mini-history of the chamber music medium.
The New Orford String Quartet, headed by the concertmasters of Canada's top orchestras, the TSO (Jonathan Crow) and OSM (Andrew Wan), returns July 26 to play Schubert's glorious – and final – exploration of the string quartet format, the fourth of Hungarian master Béla Bartók's Six String Quartets (1928) and Canadian composer Kelly-Marie Murphy's vibrant string quartet Oblique Light, a reflection on, to quote the composer, "How we experience light in a northern climate.
Metamorphosis
The final main stage concert – Metamorphosis, on July 28 in Walter Hall – brings together 16 musicians drawn from the Toronto Symphony Orchestra, Orchestre symphonique de Montréal and the Rosebud Quartet, in a program of powerful works showcasing the brilliance of the musicians assembled as performers and mentors for the festival and academy. The program begins with Francis Poulenc's cheeky Sextet for piano and winds, which reached its final form in 1939 after nearly a decade of revisions. Richard Strauss' Metamorphosen Septet (1945) is in equal measure filled with deep lament and optimism, written in response to the devastation of the Second World War, with both obvious and more layered references to Beethoven's Symphony No. 3 "Eroica". The concert closes with a gem of the repertoire: Brahms' Piano Trio No.1, which ran a lengthy path to its final form. The first version, the one being performed on July 28, dates from 1854. No less than 35 years later, Brahms produced a thoroughly revised second version, which is now most commonly performed.
There is perhaps one more metamorphosis to talk about here – the one that will be on display in the Finale Concert on July 29, again in Walter Hall. It will feature Academy Fellows, Festival Artist Mentors and Community Program participants (with repertoire to be announced in July). On display should be a joyful demonstration of the changes brought about for all the participants – Fellows, Mentors, and Community Academy participants alike – by immersion in such a creative and collaborative event. TSM has come a long way.
Paul Ennis is the managing editor of The WholeNote.