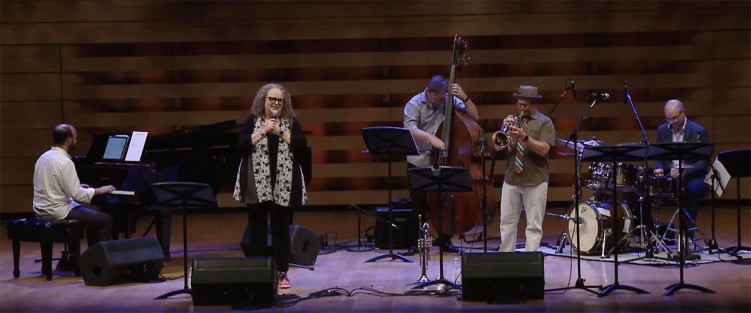 On July 23, I was invited to Koerner Hall to watch a hybrid in-person/livestream event presented by JazzinToronto, in collaboration with the Royal Conservatory of Music. The performance – a double-bill featuring Heather Bambrick, in quintet format, and the Jane Bunnett Maqueque Trio – was the culminating event of JazzinToronto Live: A Community Celebration, a multi-day festival that also presented shows in mainstay local venues, including the Tranzac, the Emmet Ray, and Lula Lounge.
I had not entered the RCM building since the start of pandemic lockdown measures last March. Though the conservatory has been open in a limited capacity for some students, staff, and teachers, the facilities have been closed to the general public. The inaccessibility of communal indoor spaces has been one of the enduring minor tragedies of the past 16 months; as in many of my post-pandemic fantasies, I imagined that returning to a major concert venue would be a boisterous, celebratory affair. The reality of the gradual return to normal, however, was much different. As one of 50 attendees, the experience of walking into Koerner was unreal, the cavernousness of the hall complicated by the many cameras, avatars of our virtual compatriots streaming the show at home. (At the time of the show, it had been but a week since live music was permitted to resume in Ontario; large indoor venues are still mostly closed.)
As the event started, a sense of familiarity quickly set in, dispelling, to some extent, the lingering sense of the uncanny. The house lights dimmed; the audience hushed; Ori Dagan – the evening's emcee, and a representative of JazzinToronto – gave some background information on the festival, listed major sponsors, and appealed to the audience for donations.
After a brief introduction, Heather Bambrick and her band – Chase Sanborn on trumpet, Adrean Farrugia on piano, Ross MacIntyre on bass, and Mark Kelso on drums – took the stage, chatting amiably as they set up, and acknowledging the novel nature of the evening (Bambrick exclaimed: "There's people here!") A Toronto jazz scene mainstay, Bambrick is an experienced voice actor, has long been a host on JAZZ.FM91, and, as might be expected, is very comfortable talking to an audience. Her live show had an element of cabaret, and, from the outset on the 23rd, tended toward autobiography, in her affectionate stories about the genesis of her original music, in the relationships between her and her bandmates, and, in certain cases, in her lyrics.
Kicking off Bambrick's set was "I Want to Be Happy," a medium-up swinger with an excellent piano solo by Farrugia, whose technically-accomplished playing was tasteful, punchy, and fun throughout the evening. Next up: "That's Falling In Love," an original in the style of a standard, complete with introductory rubato verse and Basie ending. "Aren't I Cute?" featured a bit of schtick, with Sanborn and Bambrick trading in an increasingly (and self-consciously) silly back-and-forth that saw Bambrick whistling and scatting through a kazoo, and Sanborn playing his mouthpiece through a mute. One of the set highlights was Bambrick's arrangement of "Let Me Fish off Cape St. Mary's," with a beautiful introduction, lush accompaniment by Farrugia, and a Newfoundland-accented a cappella ending.
As Bambrick's performance ended, there was a bit of a half-time show, in the form of two interviews: the first with Bambrick, hosted by Dagan, and the second with Bunnett, hosted by the RCM's Executive Director of Performing Arts, Mervon Mehta. Bambrick's interview consisted of questions asked by at-home viewers, including "which instrumentalists have most influenced you?," "what is the best jazz show you've ever seen?," and "name your top ten favourite singers." Bunnett's interview was less structured, and her conversation with Mehta – who exhorted the audience to write letters to Tory and Ford letting them know that the concert "was great!" – had more to do with Bunnett's experience of the pandemic (she's been doing a lot of painting) and her future plans (a tour, complicated by the anxiety of border reopenings, and of the political situation in Cuba, where many of her band members were born).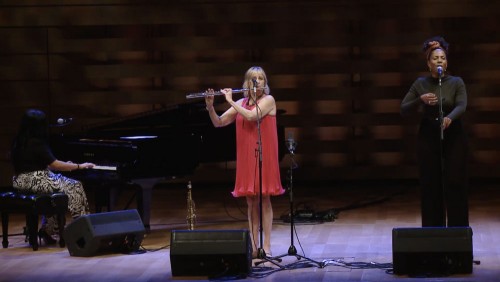 In contrast to Bambrick's set, Bunnett largely eschewed elaborate narration, letting the music, for the most part, speak for itself. Bunnett was joined by vocalist Joanna Majoko and pianist Dánae Olano, and the trio format – along with the absence of any visible sheet music – created an immediate sense of intimacy that worked well with the nature of the group's music. "Little Feet," the first piece, featured Majoko and Bunnett stating the melody together, with Olano filling in the harmony and providing the low-end. "Maqueque," evidently a central song in the group's repertoire, saw Bunnett playing a strong, athletic solo on flute, with rich comping and the impressive maintenance of a left-hand ostinato by Olano, and impressive trading with Majoko. Though they were playing supporting roles, Majoko and Olano emerged as the breakout stars of the evening, their individual artistic voices coming through prominently in the small-ensemble setting.
As the show ended around 10pm and I walked home, I was struck by a sense of quietness: of the RCM, of the audience, and of the city, still returning, cautiously and gradually, back to a sense of normalcy. It is still too soon, probably, to entertain expectations of unrestrained public ecstasy. But it's nice to feel like we're heading in that direction.
Heather Bambrick and Jane Bunnett were presented by JazzinToronto Live: A Community Celebration, in collaboration with The Royal Conservatory of Music, on July 23, 2021 at Koerner Hall, Toronto.
Colin Story is a jazz guitarist, writer and teacher based in Toronto. He can be reached at www.colinstory.com, on Instagram and on Twitter.