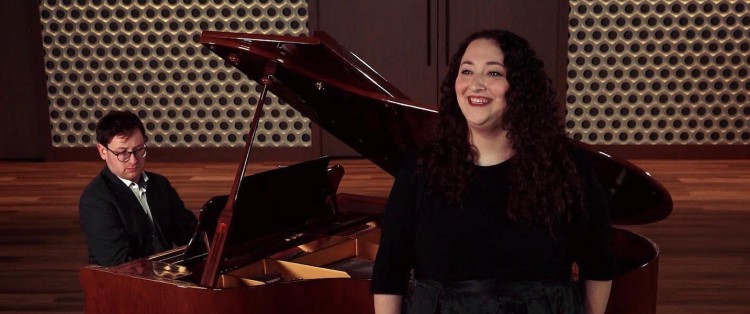 On Sunday, April 4, the Harold Green Jewish Theatre Company presented a new series by Likht Ensemble involving five installments of rarely-performed music by Jewish artists, composed during the Holocaust. The Shoah Songbook online performances launched on the eve of Yom HaShoah, or Holocaust Remembrance Day, with Part One: Terezín.
Theresienstadt was a concentration camp located in the city of Terezín, in what's now the Czech Republic. In dire circumstances, imprisoned artists occupied their minds writing and performing music to keep joy and hope alive, long beyond the time they themselves were murdered.
Likht Ensemble's 35-minute streamed concert included the music of multifaceted musician Gideon Klein, famed pre-war composer Viktor Ullmann, as well as the joyous tunes of cabaret artist Karel Švenk and the haunting lullabies of Ilse Weber, who all found themselves in Terezín over the course of the Second World War.
In the concert's introduction, Jaclyn Grossman, soprano and co-creator of The Shoah Songbook, said she found a recording of Ilse Weber's music and it opened the gates to a "goldmine of extraordinary music." Grossman said she was "disappointed that as a classical artist and as a Jewish person," she had never heard any of these composers before.
When Ilse Weber—a poet and musician—was forced into a concentration camp, she worked as a nurse in the children's infirmary and sang songs to the children there. When children in her care were ordered to a death camp, Weber volunteered to go with them. Legend goes she sang her lullaby "Weigela" in the gas chamber to soothe the children in their final moments, taking comfort in soothing others. Grossman sang "Weigela" gracefully and woefully, conjuring images of pastoral breezes and bright moonlight—a performance suggesting that "Weigela" is overdue to take its rightful place in the lullaby canon alongside the best-loved classics.
After the war, what remained of Weber's music were fragments of melodies she would have accompanied herself on the guitar. Many had never been arranged for the piano by a Jewish composer until these thoughtful arrangements by pianist and co-creator Nate Ben-Horin, such as "Und der Regen rinnt" (And the rain falls)—an arrangement replete with tinkling notes in the upper register of the piano, like drops of rain hitting a tin roof.
During the presentation, Ben-Horin recalled that the first thing he and Grossman had ever performed together was a set of songs by Wagner—an infamous anti-Semite. "There's actually a long-standing tradition of anti-Semitism in classical music, not just Wagner," Ben-Horin explained in the stream. "It's really powerful to find music by Jewish composers because it gives us a point of identification within this tradition that we felt like we'd been missing."
Grossman had command over a powerful range of expressive emotion throughout the concert. She sang Weber's "Ade kamerad" with particular awe-inspiring exuberance and masterful rolled r's, capturing the power of this music to bring light to the darkest places. She also recited gut-wrenching verses of Weber's original poetry. As for the recording itself, video quality was crystalline and professional but the piano sounded distant, making Ben-Horin's beautiful arrangements sound too quiet at times.
The jubilant music of Švenk, who continued to produce cabarets in the ghetto, ended the concert on a powerful and victorious note for those that survived to pass on his message: "And on the ruins of the ghetto shall we laugh!"
The next concert will be in November 2021, in time for the sombre anniversary of Kristallnacht. Grossman says the repertoire will focus on music from the Kovno ghetto, specifically the music of Edwin Geist, a German composer and librettist banned from creating music in Nazi Germany. Geist created music including symphonic works, chamber music and opera before he was killed in the ghetto in 1942. After World War II, much of his music was lost in Germany but some survived in Lithuania.
"To our knowledge, his music has never been recorded and it has rarely—if ever—been performed," Grossman wrote in an email to The WholeNote. "Bret Werb from the Washington Holocaust Memorial Museum shared his archived manuscript music with us, and [Ben-Horin] and I are working to decipher the music and re-notate it now."
The Harold Green Jewish Theatre Company presented The Shoah Songbook Part One: Terezín online on April 4, 2021, featuring soprano/co-creator Jacyln Grossman, pianist/co-creator Nate Ben-Horin, creative directors Ilan Waldman and Madison Matthews, and audio engineer Jonathan Colalillo.
Leah Borts-Kuperman is a Toronto-based journalist whose arts reporting has also been featured in The Dance Current, Opera Canada and The Hoser. She has a Master's of Journalism from Ryerson University and a Bachelor's in Political Science and Art History from the University of Toronto.