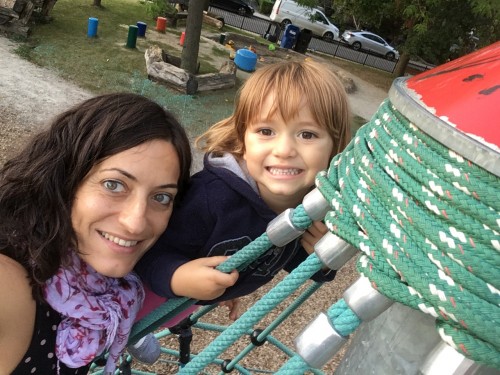 Music Director of Tafelmusik Baroque Orchestra since 2017, Elisa Citterio moved from her native Italy to live in Toronto with her partner and their child, three-year-old Olivia.
Where does making music fit into your child's life? Music is a form of play for me and Olivia, we do it every day at home. We sing together, we play with small instruments, as well as on a small violin. We pretend to do lessons in a very fun way. She has attended group music classes since age two, and we are planning to start regular violin lessons soon. Olivia also comes to Tafelmusik concerts and rehearsals and joins us on tours, so she is surrounded by music and musicians.
What would you say to people hoping the young children in their lives will grow up to love and make music? As a child, I fell asleep with the sound of Chopin or Bach or Mozart playing on the radio. Musical language enters children's brains on a subliminal, cellular level. My parents never insisted that we play or study music. It was in the air we breathed. Music education is very important, especially if it is sensitive and subtle.
I would love to see families with young children attending live concerts of any kind on a regular basis. We had a great experience with this recently at Tafelmusik's Fall Social, a family friendly concert, and I was glad to see so many children there. Music, especially live music, has a deep effect on children, both cognitively and emotionally. In addition to developing cognitive capacities, music provides an important example: watching a group of musicians performing together instills an understanding of a collective effort towards a single goal.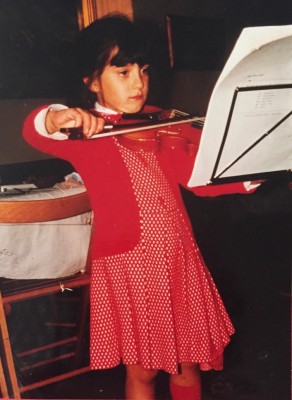 Looking back at yourself …? Violin isn't an easy instrument at the beginning, and it takes years to get a nice sound. But I also remember how much I enjoyed walking around with my small violin case! I'd like to ask her which piece of music she was playing because I can't remember it. I would encourage her by saying that music is the best way to connect with oneself.
Just the basics … I was born and raised in Brescia, an Italian city just east of Milan. My mother is a pianist and composer who taught music privately and in middle school and my father was a bank employee, now retired. He has been an amateur painter since his youth. I have a brother and two sisters, and music was a big part of our lives growing up. We had a lot of fun playing together, especially when I used to sight read accompanied on piano by my brother. We didn't play all the notes correctly, but we played like actors in a show! All of us now work professionally in music.
Your earliest memory of hearing music? The sound of my mother playing the piano. In addition to being a composer, my mother plays piano and taught it and I remember hearing the sound of her playing in our home. Anyone who spent time with my mother fell in love with classical music. Music, both live and recorded, was constant in my childhood home. In addition to hearing live music played by my mother or siblings, I would hear music on the radio, which my mother had on most of the day, tuned to a classical station. My lullabies were symphonies by Mozart or Shostakovich. My brother and his friends experimented with jazz, and I have clear memories of listening to them as they practised "Autumn Leaves."
Your very first recollection of making music? After seeing an orchestra on TV at the age of five, I became fascinated by the violin. I begged my parents for a violin of my own and the next day, they presented me with a tiny quarter-size instrument, which I began learning to play with a violin teacher. I also played piano from an early age. And singing? Yes, in the choir at the Conservatory.
First music teachers? I started with piano before the age of five, which is when I became interested in the violin. My first music teacher was my beloved Aunt Anna, who taught me piano. Then I started violin with an elderly violinist in Brescia. I didn't have a great time studying with him, and at age ten switched to another teacher who I loved and who inspired me. There is a test at the end of the eighth year of violin study which includes viola playing. I liked it so much that later I also got a degree in viola (in addition to violin).
My new viola will be ready soon!
First performances? My mother organized concerts every year with her students, and I played every time on both piano and violin. The first time I probably played a Bach minuet on the piano, and a violin concertino by Küchler. My first professional performance was the award ceremony of a violin competition: I was 12 and
I played an easy Vivaldi concerto.
When did you begin to think of yourself as a career musician? Probably around the age of 16, when I gave up my piano studies to focus solely on the violin. I've never thought about doing anything else!
UPCOMING … There's so much I'm looking forward to, it's hard to pick highlights! In October, in addition to "Baroque Roots," we're doing several community concerts around Toronto including one for asylum seekers at Toronto Plaza Hotel, a family concert at Cloverdale Mall, a Nuit Blanche performance at the Aga Khan Museum, and "Café Counterculture" – our first Haus Musik of the season at the Burdock Music Hall. In November: our first Europe tour in several years, and I'm thrilled to have this first opportunity to work with soprano Karina Gauvin. We'll perform in several cities in England including London's Barbican Hall, also in Bruges, Belgium.