Born and raised in Lachine, Quebec, dynamic percussionist Beverley Johnston began her music studies at Vanier College in Montreal and was then accepted into the University of Toronto Faculty of Music, to study music education. Johnston is recognized as a "Canadian Music Centre Ambassador" because of her ongoing commissioning and performing of music by Canadian composers. She tours and performs frequently in Canada and internationally as a soloist and chamber musician, and is a frequent contributor at summer festivals such as Festival of the Sound and the Ottawa Chamber Music Festival. Featured in several documentaries Johnston has recorded six solo CDs and collaborated on numerous others. She has been an instructor at the Banff Centre and currently teaches at the UofT, Faculty of Music.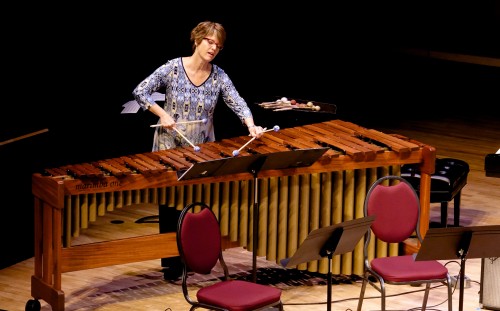 About your childhood photo… I believe it was my fifth birthday party, at my home in Lachine, Quebec, with all my friends from the street and my sister. This photo makes me realize that I have not lost that sense of concentration that happens when immersed in the sound of a musical instrument. Playing an instrument is one of the most satisfying activities…the ability to create your own sounds with your own body…as opposed to just listening.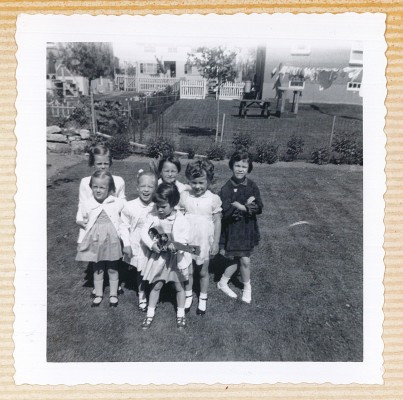 Suppose a friendly child asks what your job is? Well, I would say that I make my living from beating things! But seriously I would say that I do a number of different things to make a living: playing extra in different orchestras and chamber music with some pretty awesome musicians, teaching percussion, recording and commissioning composers to write me solo pieces!
Your absolute earliest memory of hearing music? I actually don't remember much from when I was younger about hearing music but I suppose subconsciously music was just there and when I was very little, I would rock my body back and forth when hearing something musical. This helped me to relax and to also be in that music trance! I think the most connected memories would be when my mother would sing to me. She seemed so happy then. She would imitate the sound of castenets with her tongue which always used to make me laugh! We listened to my mother and father's small but varied collection of LP records. These included opera and I do remember some wonderful Danny Kaye records which included him imitating different voices and characters. We had a small record player on the second floor of our house and danced around when playing the records. It wasn't like I was going out of my way to listen to music when I was a child. It was just there, through listening to the radio, watching television and attending local musical events either through church events or through school events.
Working musicians in your family? My mother, Mary, was a substitute elementary school teacher and stay-at-home mom. My father, Gerald, was a horse-racing chemist (they tested the horses at the race track for drugs) who eventually expanded his company to include environmental testing. There were no working musicians although my grandmother on my father's side was a great organist for the local church in Thetford Mines, Quebec. I loved listening to her play both piano and organ. But we all enjoyed music. My sister and I took piano lessons for a few years. I continued playing piano even after I finished with the lessons. I was drawn to the instrument like a magnet! My mother loved to listen to opera while my father was more interested in jazz. My sister and I loved to listen to the latest most popular rock music which, of course, included the Beatles!
Your very first recollection of making music? Making music started in the kindergarten rhythm band…playing the triangle. It's ironic that playing the triangle was probably one of the biggest sources of income for me when I first became a professional musician….one of the first gigs I had was playing mostly triangle for the National Ballet Orchestra!
A first instrument other than your own voice? My first instrument was the piano. I started lessons at age seven until age ten. But I continued playing during lunchtime after I quit the lessons. I would grab any music available, from classical to pop tunes and sight read them on piano. I loved just getting lost in the music and the feeling of being able to instantly create melodies and harmonies and also to sing along with the tunes.
An important first music teacher? I did not enjoy my piano-lesson teacher…she was a bit harsh. But the first real influence on my musical life was Iwan Edwards, my music teacher at Lachine High School which was just up the street from where I lived. My music experience there was awesome…thanks to Iwan! He was brilliant and very encouraging to me. He thought I should become a singer….not a percussionist! Iwan has been a big name in Canada as a top choral conductor.
Early experiences of making collaborative music? Perhaps the first collaborations were singing in choirs in elementary school and with certain church groups to which I belonged. My first legitimate percussion experiences were, of course, playing in the high school band!
The first time you performed for an audience? I was involved with a few house concerts at my piano teacher's house. I first performed as a percussionist in my high school band in Grade 7…that would be in 1969. I remember the band only had minimum percussion gear…the usual snare drum and bass drum…and then a set of chimes. We did an arrangement of Black Magic Woman and there was a bells part (probably supposed to be played on glockenspiel) which I ended up playing on the chimes with one mallet. Interesting!!!
How about composing, and improvising? I don't compose…I leave that up to my husband who's an expert at that. But through my career I have dabbled in structured improvisations which I thoroughly enjoy. I also love working with composers since I feel that I am a part of the creative process: developing the piece without actually having to write it myself!
And leading other musicians? I suppose that my work as a teacher has allowed me to lead other musicians. I've certainly been involved with many projects with which I've had to take the lead in aspects of organizing rehearsals, coaching ensembles and all the logistics that are involved with putting on a successful concert.
What early experiences most significantly formed your adult musical appetites? I remember the feeling of being totally absorbed and lost in my music which was a great way of dealing with my external world. I was quite shy but music was a vehicle through which I could most successfully express myself….no pressures. My parents did not pressure me into music at all so for me that was a total relief. In retrospect, I think that is why I ended up being a musician. But Iwan Edwards was the most influential mentor because he was the first person in my life who really understood music at a more sophisticated level.
Do you remember when you began to think of yourself as a career musician? I suppose just joining the Toronto Musicians' Association was the point at which there was no looking back…yes indeed, at that point (in 1979) was when I knew I was a career musician.
Was there a time when you thought you would do something else? I never thought I would do anything else in my life, simply because I don't feel I am good at anything else! In this world of seemingly feeling more important if we are capable of multi-tasking at a high rate, I'm the opposite…I am a good 'uni-tasker'. I love getting absorbed at the task at hand and sticking with it.
AND TODAY
Is the music you are involved in today different from what you thought, as a younger musician, you would be play? I feel the trajectory of my career has been pretty consistent. My main focus for many years (perhaps since university) has been commissioning new works for percussion. What I'm surprised at is that I've been able to still play being in my 60s…although I've had to be really careful not to overextend myself physically. I find I am not as tolerant to lifting percussion gear. I've definitely had to be careful with that!
Are there children in your immediate or extended family? What music-making, if any, are they involved in? I have a stepdaughter who is not a musician but she is currently seeing a rap artist. She loves music but makes her living as a hair dresser.
How does making and/or hearing music fit into your current personal home life, and among your extended family? Both my husband and I are so absorbed into our careers. He is a composer (Christos Hatzis). He has actually written me quite a few solo and chamber works for percussion over the years. What I find as I get older is that I love to absorb creativity through other means…not just by listening to music. I love theatre and anything to do with acting. I attended a few performances at the Luminato Festival last summer and was blown away by the raw talent. I feel that I am still learning so much about performing through other means of creativity besides music. Music for me is the gateway into one's emotions. If I can tap into creativity from other forms, I find that so enlightening. But I also love listening to music from different cultures and genres than my own. This really feeds my soul.
What would you say to parents/grandparents hoping their young children will grow up to love and make music? Even if your child does not become a professional musician, it's so important to have them involved in extracurricular activities which involve music. The sound world and the ability to create your own sounds with your own body, is one of the most important activities one can take part in. Music is a special way to connect in a communal environment with other human beings and is so important for our mental health and brain development. It is a shame that some governments feel that these music education activities are not that necessary to fund.
If you were all ALONE (in the shower, driving) and could sing along with complete abandon to ANY one recording, what would you choose? Abbey Road. The Beatles!
UPCOMING…
FEB 21 & 22: Confluence Concerts, "Witch on Thin Ice…" based on the life and works of Yoko Ono. Aki Studio, Daniels Spectrum, Toronto
MAR 8 to 14: Drum Festival, Hugh's Room Live, Toronto.
APR 2: Music in the Afternoon, "Beverley Johnston and Friends" with special guests Marc Djokic, violin, Susan Hoeppner, flute, Aiyun Huang and Russell Hartenberger, percussion.
MAY 8: Serenata Music presents Beverley Johnston, percussion, Susan Hoeppner, flute. Von Kuster Hall, Don Wright Faculty of Music, London.
Any new recordings, DVD or film projects in the works? My next recording will be released in a few months and it includes an all-Canadian program of works by Christos Hatzis, Richard Mascall, Norbert Palej and Dinuk Wijeratne. It will be available through Centrediscs.