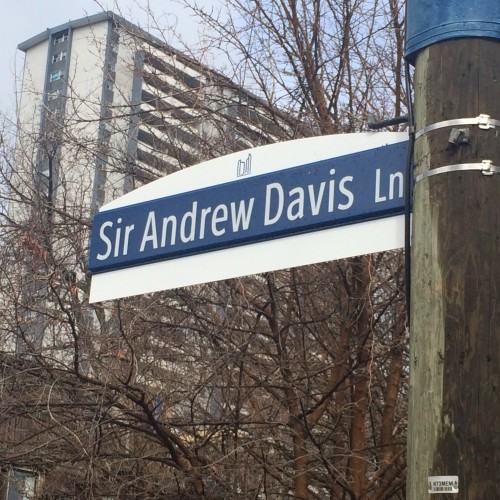 "December's child is Sir Andrew Davis. And Sir Andrew Davis Lane in Toronto owes its name to John Sharpe, Archival & Research Assistant with the Toronto Symphony Orchestra, who sent an application for changing the lane name. Best regards, Pablo Fernandez." (WholeNote reader)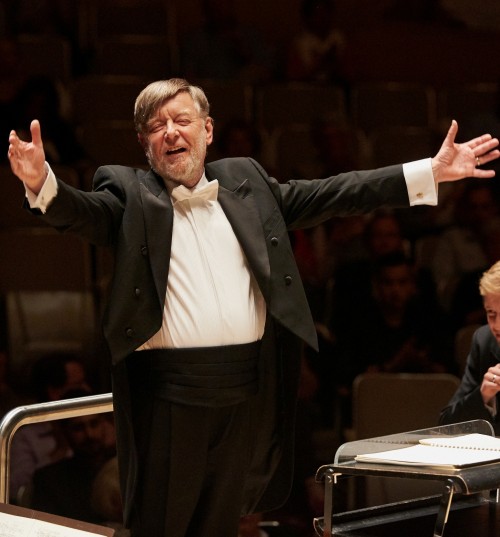 If you were all ALONE (in the shower, driving) and could sing along to any recording with complete abandon what would you choose? The Circus Band by Charles Ives.
UPCOMING … ?
I am particularly excited about the concert that I am doing on my birthday, February 2. I am conducting Wagner and my favourite 20th-century composer Alban Berg. Between now and the summer I will be conducting four weeks with the Toronto Symphony. I'm also looking forward to doing the Brahms Double Concerto with Jonathan Crow and Joseph Johnson, Mahler Symphony 7, and collaborating with Louis Lortie, whom I first worked with on the TSO's Japan and China tour in 1978.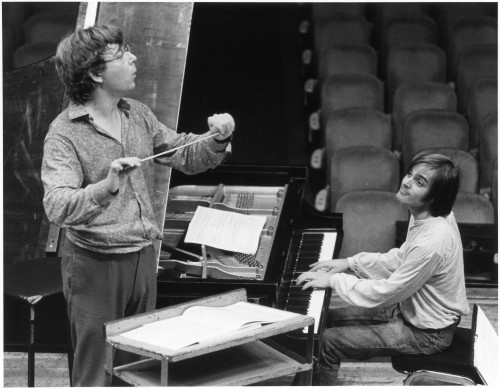 Any new recordings, DVD or film projects? Due for release shortly is Berlioz L'Enfance du Christ.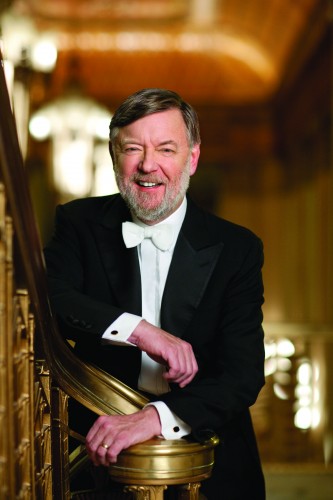 Sir Andrew Davis is the Toronto Symphony Orchestra's conductor laureate and was the orchestra's music director from 1975-1988. He stepped in while the TSO's music director search led to Peter Oundjian, and subsequently has been their regular and beloved guest. He was then named the TSO's interim artistic director for 2018-2020 during the transition from Oundjian's leadership to that of the newly appointed music director Gustavo Gimeno.
An organ scholar at King's College, Cambridge, before taking up conducting, the young Andrew Davis had in fact been to Toronto in 1967 for an organ convention, and taken second prize in an improvisation competition at Grace Church on-the-Hill, long before May 1975 when he first conducted the TSO.
With a face familiar to generations of Canadians, and a Toronto laneway named in his honour, Sir Andrew has probably conducted all of the world's major orchestras, opera companies and international festivals over the past 45 years. Today he is also music director and principal conductor of the Lyric Opera of Chicago, and chief conductor of the Melbourne Symphony Orchestra; also conductor laureate of the BBC Symphony Orchestra, conductor emeritus of the Royal Liverpool Philharmonic; and former music director of the Glyndebourne Festival Opera. A substantial award-winning discography documents his remarkable career.
ABOUT YOUR CHILDHOOD PHOTO…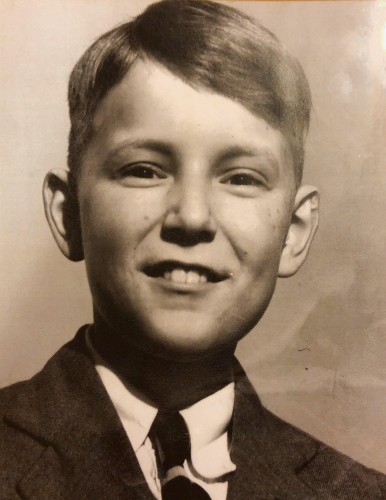 Was the photo taken for some particular occasion or purpose? My guess is that I was 11 -- it was a school photo taken when I entered Watford Boys Grammar School.
When you look at the photo today, what do you think about? What I think about is that it was probably about 1955 and I loved the 1950s. I think things have gone downhill steadily since!
Where did you live as a child? I was born in a temporary wartime hospital in Ashridge, in the country of Hertfordshire, in 1944. But until I was seven we lived in Chesham, which is in Buckinghamshire.
What did your parents do to earn a living? My father Robert (Bob) worked at a printer's as a compositor (i.e. he set type). He also played in the local football team and was a bell ringer at St. Mary's Church. My mother Joyce worked as a clerk in a grocery store before I came along, thereafter she was a full-time mother.
Who lived in your childhood home? Any musicians? My parents, my sister Jill, and my brothers Martin and Tim. My mother had studied the piano when she was a girl but she didn't play anymore. My father sang in the church choir. They loved music but they weren't professional musicians.
Your absolute earliest memory of hearing music? My mother singing me lullabies.
And making music yourself? I started to play the piano when I was five because my parents figured that I had some musical talent. Then from the age of 11, I not only did music at my grammar school, but on Saturday mornings I would take the Tube to the Royal Academy of Music for four hours of music lessons (piano, ear training). I did that for about six years. And when I was about 12 I started playing regularly with a cellist classmate. I was also a boy soprano and sang in the local church choir. I particularly remember singing Hear My Prayer by Mendelssohn. There was one night I sang the solo in church on Sunday evening. I came out afterwards and someone had stolen my bicycle. I remember saying to my parents, "The godless have come fast and stolen my bicycle!"
What can you remember about a first music teacher? We moved when I was ten, and I don't think I had a teacher until I was ten, then I studied [piano] with a lady called Ivy Weston, who was kind of vicious with the ruler if you didn't play with your hands in the correct position. She never used it on me but my poor sister got it!
Do you remember an event at which you first performed for an audience (other than your family or a teacher)? They used to have these competitive music festivals. I started entering these and I usually won. I played with this cellist and we'd do little concerts for an audience.
Where did you attend high school? Watford Boys Grammar School.
Do you remember when you first thought of conducting as something you'd like to try? I hadn't thought about it and then there was a string orchestra of teachers and former students at my grammar school. They put on a little concert and there was a piece that was tricky for them to play by themselves. They asked me to conduct to help keep them together. On another occasion I conducted Haydn's Divertimento, and then I thought, "Oh, I kind of like this." Then I attended a two-week program where George Hurst, who was a very good teacher, basically taught me stick technique.
And right after high school, what happened next? I auditioned for the position of Organ Scholar at King's College Cambridge. In the year between winning the position and starting, I stayed a few extra weeks at high school to do advanced examinations in ancient Greek. Then for about two months I was the music teacher at a school in a slightly rough neighborhood where I tried out several different composers on them, like Bach, Beethoven, Mozart and Tchaikovsky, but didn't get a real hit with them until I played them some Bartók! And then I went for two months to Holland to study organ improvisation with a very good friend and colleague of my main organ teacher whose name is Peter Hurtford, the organist of the Cathedral of St Albans. He then handed the running of the music of St Albans Cathedral to me for a month, while he did a recital tour of Australia. Then I came back and started my four years at Cambridge, which involved playing for all the almost-daily services and getting up at the crack of dawn to go to the choir school and teach the boy choristers the music for the day's services.
Can you suggest experiences from your childhood or teen years that significantly helped to form your adult musical preferences? Well, I suppose before I started studying at Royal Academy I didn't know about any composers after Brahms. There was a man called Graham Treacher who was himself a young conductor. He taught us ear training and history of music. It was through him that I heard my first note of 20th-century music, in this case Stravinsky. It was a transformative moment in my life. I remember thinking, "I need to get to know more 20th-century music." I went to my local record store and bought a recording, a 10-inch LP, of a violin concerto by a composer I'd never heard of – Alban Berg. I instantly fell in love with it and Berg became my favourite composer of the 20th century.
Do you remember when you began to think of yourself as a career musician? When I thought about going to university, I went at the instigation of my Latin and Greek professor to take an entrance exam for New College Oxford (which was new in about 1370). I think I did slightly disappointingly in my exam and it became clear that music was the way I should go.
AND TODAY …
Are there musical children in your extended family? My son is a composer.
How does making and/or hearing music fit into your current personal home life, and among your extended family? It wreaks havoc with it! I travel a lot. But, my only child is grown up and living somewhere else, and my wife is very understanding having been a professional musician herself. She understands the pressures that come with the job.
Suppose a friendly child asks what work you do? As a matter of fact, I have a story where this happened to me. I was about to conduct Last Night of the Proms in Royal Albert Hall and was staying in a flat at an apartment of a friend of mine. I went to go get something to eat at a fish and chips restaurant. They basically had lots of big tables and benches. This mother and child came up to sit next to me – the kid must have been 12 or something – and he said, "What do you do?" And I said, "I'm a musician." And he said, "Well, what do you play?" And I said, "I'm the guy with the stick that conducts the orchestra and tonight I'm conducting Last Night of the Proms in Royal Albert Hall." And the boy said, "Well, you must not be very famous…" And I laughed and said, "What makes you say that?" And he said, "Well if you were famous you wouldn't be eating fish and chips!"
What would you say to young parents hoping their young children will grow up to love and make music? I would say to them, "Give them as much exposure to classical music as you can, especially by taking them to live concerts and opera performances. You can't start them too young."