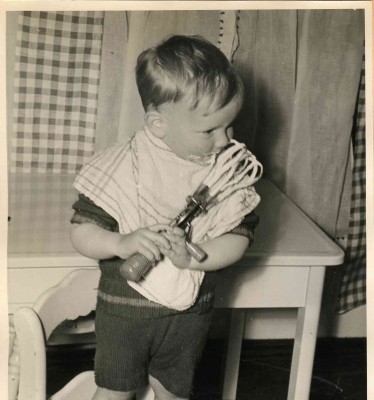 We launched this contest in September 2004 (VOL 10 No.1) in an article called Music Education: Choosing a Path. We ran this photo of four-year-old Robert Aitken and the clue "An early taste for his instrument." Aitken was in fact licking whipped cream off an egg-beater but holding it just exactly how a little kid might hold a flute, with the kind of focused pleasure we hope to see when children first experience music-making.
It's kind of amazing, but that was nearly 15 years ago, and here we are in April 2019. Since then in almost every issue we've tempted readers to identify a member of the music community from a childhood photo with a chance to win concert tickets and/or recordings. We follow up with a profile that looks at music in that artist's childhood, and announce the contest winners.
Where we all win is in better understanding the many things that can make a difference in their early years if people are to have musical lives. Some simple examples follow.
In April 2006, conductor David Fallis talked about Lloyd Bradshaw, the choirmaster of St. George's United Church Boy Choristers. "Through him I became a founding member of the Canadian Children's Opera Chorus, and had such fun in the O'Keefe Centre in La Bohème, Carmen, Turandot etc. A very outgoing charismatic musician, great with kids and youth, he was the first to suggest I should consider conducting."
In April 2010, pianist Serouj Kradjan described his earliest musical memory: " … my father ceremoniously taking the vinyl disc out of its sleeve, putting it on the disc player, the sound of the needle falling and suddenly, music filling the room. My excitement related to this process had no boundaries."
In April 2012, conductor Lydia Adams said, "CBC was a musical lifeline to us in Cape Breton, as well as in most parts of the country, I suspect. We listened to everything: Elmer Iseler conducting Handel's Messiah each Christmas; the Christmas Eve service from King's College, Cambridge, with David Willcocks conducting; the marvellous voices of Lois Marshall and Maureen Forrester, people I later knew and worked with …"
In April 2016, soprano Mireille Asselin said, "My own strongest memory is my father picking me up and dancing me around our living room to the Temptations: "I've got sunshine on a cloudy day. When it's cold outside I've got the month of May …"
NEW CONTEST
Let's check back in on a few of APRIL'S MYSTERY CHILDREN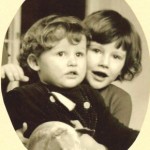 Siblings: operatic baritone and singer/songwrite. Him: Cosi fan tutte at COC in Feb 2019. Upcoming with Soundstreams' Hell's Fury in June! His sister: currently in Germany touring her show MODERNE FRAU. Catch this musical tribute to the women of 1920's Berlin when she returns at The Jazz Bistro, April 28.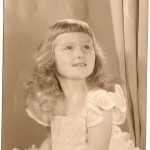 Versatile pianist with a special affinity for music of the 20th and 21st centuries, and a true "Friend of Canadian Music." Upcoming with Kindred Spirits Orchestra, May 11 and June 29, performing André Mathieu's Fourth Piano Concerto.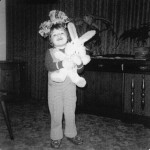 Mezzo soprano, equally at home in any outfit. If you missed Barbara Croall's Miziwe …(Everywhere…) with Pax Christie you can hear her upcoming in Against the Grain Theatre's Kopernikus, April 4 to 13.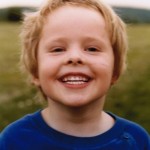 A high tenor with astounding diction. In Idomeneo with Opera Atelier, April 4 to 13; Bach's Magnificat with Tafelmusik in May, and Beethoven's Mass in C, May 25, with the Bach-Elgar Choir (Hamilton).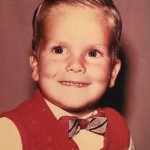 Violist, busy chamber musician, educator and arts administrator. Six years with Toronto Summer Music. He's at Georgian Music (Barrie) April 7, Scotia Festival (Halifax) in May and June.
Think you know who they all are? WIN PRIZES!
Send your best guess by April 20 to musicschildren@thewholenote.com
Previous artist profiles and full-length interviews can be read online below. Or – you can view them in their original magazine format by visiting our online back issues at kiosk.thewholenote.com