New Music Concerts' third concert of the season is "Serious Smile" directed by Brian Current, on Thursday February 13, 8pm (with an introductory chat at 7:15pm) at Harbourfront Centre Theatre. "We showcase the future of NMC by celebrating talented young composers and the latest in mind-blowing technology. We top it off with the stellar Chamber Concerto (1970) by Gyorgy Ligeti. If you have not heard this piece live, this is your chance!" MARY LOUIS and CHRISTIAN MUELLER each win a pair of tickets.
But meanwhile, you can hear the RCM Glenn Gould School's New Music Ensemble concert "For Michael Colgrass" on Sunday, January 19, at 1pm in Mazzoleni Concert Hall, curated and conducted by Brian Current. In honour of Colgrass they will play a world premiere of Bestiary I & II by Bekah Simms for soprano, ensemble and electronics; Gabriel Dharmoo's the fog in our poise; and the North American premiere of Aguas Marinhas by Miguel Azguime. The tickets to this concert are FREE, 
but will go quickly. Get yours starting Monday January 13!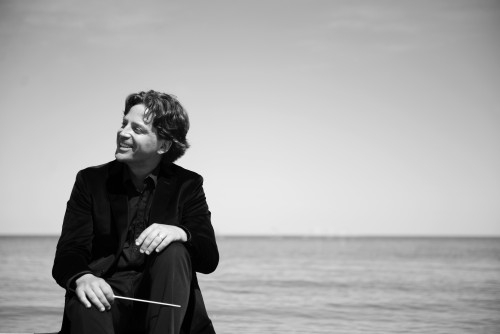 Composer and conductor Brian Current is co-artistic director, along with Robert Aitken, of New Music Concerts and has been composer adviser for the RCM's 21C Music Festival. He's the director of the New Music Ensemble at the RCM Glenn Gould School, and the main conductor for Continuum Contemporary Music.
As a conductor he leads a wide range of 20th/21st century repertoire, and is the champion of close to a hundred works by Canadian composers including commissioned premieres by Linda Catlin Smith, Brian Harman, Christopher Mayo, Bekah Simms, So Jeong Ahn, Andrew Staniland, Alice Ho and many others.
Current's compositions are programmed frequently by major professional orchestras, opera companies and ensembles across Canada and internationally. The Naxos recording of his opera Airline Icarus won the 2015 Juno Award, Classical Composition of the Year. He was the inaugural winner of the Azrieli Commissioning Competition in 2016. Current's 2017 opera, Missing, with Métis playwright Marie Clements, is about Canada's missing and murdered Indigenous women. Missing has just completed a tour of Victoria, Regina, and Prince George and was featured on our November 2019 cover.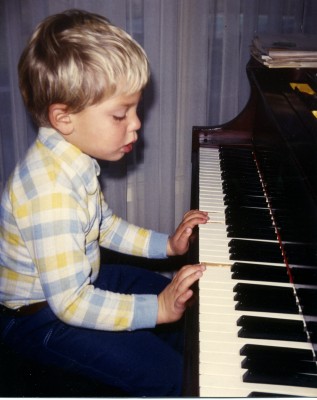 Current was born in London Ontario, and grew up in Ottawa with his older brother Grant and younger sister Catherine. "Both my parents and siblings are very musical. My parents still sing in the Ottawa Choral Society. They may be its longest-serving members. My Dad played Gershwin and Chopin at our living-room piano, and my Mom still plays piano in retirement homes around Ottawa."
If a friendly child asks what your job is? I draw the music so people know what to play. I also wave my arms so people know when and how to play it.
Where did hearing music fit into your life, growing up? In the car with my parents. Listening to my 80s cassette Walkman while delivering The Globe and Mail (before 7am! Ottawa winter!) as a teenager.
Your very first recollection of making up music yourself? Trying to fake out my mom by pretending to practise Mozart and Beethoven, but rather attempting (poorly) to improvise in that style. She knew.
First instruments other than your own voice? Piano, guitar and euphonium.
A first music teacher? I'd go to the home of Karen Sutherland who was a fantastic local teacher with a half-dozen children of her own.
Early collaborative experiences? My first ensemble experience was as a choirboy at Christchurch Cathedral where the starting salary was $2.10 per week.
After high school? I didn't know that formal composition as an art form was a thing, but I nevertheless somehow convinced my parents that I should study piano and composition, rather than commerce, at McGill.
When did composing music arise? I knew before high school that I wanted to compose but didn't know about any existing practices until John Rea inspiringly introduced the composition world to us in a third year undergrad introduction class at McGill.
When did you first conduct? I wrote a piece for tenor, bassoon, overtone singing, bowed banjo and piano and needed to put it together for a concert, and just did it. The first time conducting professional musicians was the National Arts Centre Orchestra in my 20s and it was terrifying but a huge learning experience.
Experiences that formed your adult musical appetites? When I was in the Ottawa Youth Choir, we performed Michael Colgrass' The Earth's A Baked Apple which was like music from another planet at the time, and in retrospect was a fantastic introduction to contemporary music.
When did you began to think of yourself as a career musician? 
I still don't know about this. It remains a struggle. We should all ask ourselves every five years if this life is for us.
Ever think you would do something else? My secret other fantasy job is to be a political journalist in foreign countries for Harpers, The Atlantic, NPR.
Music-making in your own family today? My three kids take piano and violin, but I don't push them to be professional musicians. More, I would just like them to get a glimpse of the world that I work in daily and love. When the kids were little – one still is – we would listen to Bach's Well-Tempered Clavier, or the Goldberg Variations every night as they went to sleep. We would listen to the same pieces for years and not get tired of them.
What should we say to parents/grandparents hoping their young children will grow up to love and make music? They won't regret it if they take music lessons, or if they are introduced to great works.