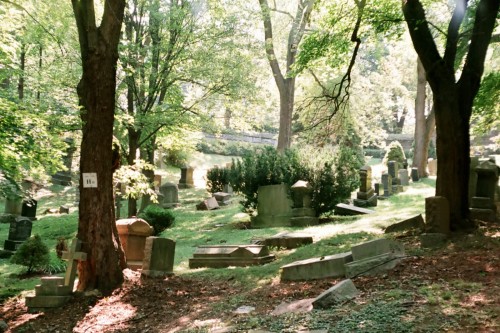 I stay sane these days by walking industrial wastelands, edges of construction fields, less travelled ravine trails and the dead-quiet side streets of Toronto's east and north. Last time I clocked in just over 9.5km – it was raining, then overcast with nasty winds – while listening to This Jungian Life, a podcast in which three Jungian psychoanalysts talk amongst themselves. The recent shows have all been about the current situation, with titles like Facing the Fear, and When Everything Changes: Is There Opportunity in Crisis, and Nigredo: Finding Light Out of Darkness. As I was rounding the final stretch of Rosedale Valley Road where it joins Bayview Avenue, past the outlier graves on the slopes of the St James Cemetery, I could hear the analysts in my earphones saying, When the darkness descends, when the Nigredo is upon us, we will have to sit in it for a time. We can't deny it away. We will have to stay in it, and then survive it. But the only way is through.
It's been impossible to read fiction these last few weeks. I've been searching for something escapist and plotted, precisely the books I don't enjoy in ordinary circumstances. My own library doesn't contain anything carefully plotted and neatly resolved, so I call Book City on the Danforth and bike over for a curbside pickup. I'm now nursing what turned out to be the least-plotted thing Patricia Highsmith ever wrote, Found in the Street. Jenny Offill's Weather was pointless; Jean Frémon's Now, Now, Louison non-immersive and even self-indulgent. It's been impossible to listen to recorded music too because you can't give over to it. Seconds in, you're besieged by thoughts about the future of live performance. I'm not a techno-optimist on the topic of performing arts. Every now and then a few singers start the conversation online with "how we can change and improve our profession for the future," presumably by adding an aspect of digital distancing to it. You can't. We can't. Things are either live, or they're not performing arts. Anything consumed on a screen at home is a different shebang.
We'd already begun self-isolating too much before the pandemic lockdown forced us to go full hermit. We as a society have already started preferring screens to live performance, digital communication to people in the flesh. Maintaining friendships outside the family unit was already made hard. Ticket sales for opera and song recitals have already been slowly but steadily declining in Toronto. We've already been living as citizens weary of other fellow citizens, not bothering to abstract out of our own condition to the life of the commons, in the public square. The end of the lockdown won't reverse this trend.
Despite the cheerful mantra that "we're all in this together," the pandemic has exacerbated the effects of the difference in income and property ownership, and has brought open authoritarianism to many countries in the world. To ours it has brought snitch lines, closed borders, and corona-shaming on social media. (What business do you have passing through this park today, citizen?) It has strengthened nationalism just about everywhere, and pride in narrow, visible, concrete belonging. There are already thinkers welcoming this new development, like the always globalization-suspicious John Gray in his compelling recent essay in the New Statesman where he wonders with crossed fingers if we're nearing the end of over-optimistic internationalism.

But hold on a moment. My life, that of a fairly integrated immigrant to Canada, has been made possible by that very same over-optimistic internationalism. As have the lives of many musicians whose careers are made possible by the existence of unfettered travel and open and curious (and solvent) audiences. How do our migrant narratives fit in? At the moment – the moment of closed borders, two million unemployment claims in Canada alone, a halted airline industry, newspapers shedding thousands of staff and the entirely disappeared performing arts – they don't. Our narratives are currently impossible, I'm afraid. This is our Nigredo – our sojourn in the deep shade.
To borrow from another writer's recent lockdown essay (Stephen Marche in the Los Angeles Review of Books), everything I usually do involves me going somewhere, seeing something, then writing about it. Moreover, maintaining family connections for me always involved cross-Atlantic travel. This coming June, I was supposed to visit two very aged aunts who live in two different cities in the Balkans so I could see them one last time before they are gone. That will not happen. Nor will my stop in London, UK for a sisterly visit: my sister's husband is just about to start chemotherapy and I, the traveller and potential corona-carrier, could literally kill him with my visit.
Those of us who survive (and survive sane), will meet again and work again, after a period of mending. As the three Jungians point out in one of their episodes, this crisis has sharpened the lingering questions each one of us has avoided dealing with – or thought would solve themselves – during normal times full of distractions and complacency. Questions like, where am I really at home? Why am I in this relationship or marriage? Who are my real friends? Why do I do what I do for a living? Is it meaningful to me, to the world? How would I live the rest of my life if death is nearer than I thought? The Nigredo, say the Jungians, is the first phase of an alchemic process: it is the burning away of the dross. And the only way, as the darkness deepens, the blackening begins, is through. Not over, not around it. Right through.
Lydia Perović is a writer in Toronto. Send her your art-of-song news to artofsong@thewholenote.com.