Not a lot of people in Canada know a whole lot about Colombia, the third largest country in South America, and what we manage to gather usually comes from American television shows and media reports on drug wars. The November 5 Toronto edition of Crossing Borders, the recital series founded by the Halifax-based soprano Maureen Batt, which pairs up Canadian composers with foreign ones in creatively themed evenings, may just change things on this score. Batt's key partner in programming this time is Colombia-born, Ontario-based tenor Fabián Arciniegas, whom Toronto audiences may remember from the productions with Essential Opera and Opera in Concert. He left the Republic of Colombia in 2010 to complete a master's at U of T, and stayed. "If any Latin American music is presented here in Canada," he tells me on the phone from Coburg, where he now lives, "it's usually a zarzuela – and that's rare enough. When people think of music from Hispanic places, Spain included, they think either dance, or zarzuela, or de Falla. Composers from South America that are being performed outside South America are few. Carlos Guastavino is one – and he died in 2000. Piazzolla is another. And that's where it ends."
One day not so long ago, Batt and Arciniegas were chatting over instant messenger when the tenor mentioned in passing that he really wanted to put on a recital of songs by living composers from Colombia. Batt liked the idea and offered to produce it as a half-half evening, Canadian and Colombian/Latin American, and soon enough they were posting public calls for scores. Arciniegas urged the Colombian composers that he knew or knew of to submit, but nobody's placement in the program was guaranteed. It was, unusually, a blind submission process, which upon completion of the first round, Batt, Arciniegas and pianist Claire Harris tweaked here and there for diversity of themes and musical approaches.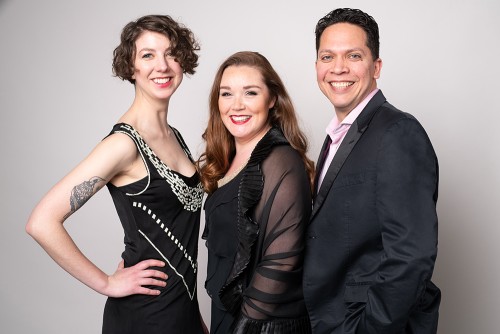 The result is an eclectic program which, beside the classical art song, showcases electronic, improvised and popular songs. Juan Pablo Carreño is the composer of a mass, incorporating the testimonies by the victims of the 2002 Bojayá massacre in Colombia, and in this recital the piano-and-soprano piece from the Mass, In Conspectu Tuo, will be heard. Another Colombian composer, Leo Herrera, came to art song from the popular song tradition and acoustic guitar-playing – Arciniegas will sing his Noche. Words by Sor Juana Inés de la Cruz and Jorge Luis Borges will be heard thanks to the Colombian composers Pedro Ramirez and Alba L. Potes who use them in their work. Stephen Bachicha employed a text by American Navajo poet Elizabeth Woody in an unaccompanied piece that has echoes of Hildegard von Bingen. Scottish composer Chris Hutchings' I was listening to a pogrom, for speaking chorus and piano, deals with immigration and border crossings, and uses text by children's author and BBC 4 radio presenter Michael Rosen. Many of the Canadians on the program have a direct link with Latin America, like the Cuban-born, Toronto-based Alondra Vega-Zaldivar.
"I've always admired Alondra's work," says Batt on the phone from Halifax. I first saw her perform in Halifax, in a program called Opera from Scratch – she went as a singer and composer, both. It was brilliant; really lovely work. I wrote and asked her what else she had and she ended up sending me an opera for chamber orchestra that she wrote for her MA dissertation. So we're premiering a couple of scenes from that opera in the version for the piano. It's an opera about an actress going through many stages of her life, and it's solo soprano for about 25 minutes or so, which I'm hoping to produce in full eventually." Monica Pearce is also in the program. Pearce's chamber opera, December, for three sopranos and string quartet, set in an airport departure lounge, will premiere in Toronto later next year, as a partly crowd-funded commission from Batt and Erin Bardua's jointly run company Essential Opera.
When he asked the Colombian composers how they preferred to be paid, says Arciniegas, some were surprised that in addition to their work being performed, a payment would be forthcoming. "We in Colombia don't have that tradition where you publish your music. So lot of things we'll perform will be the first performance." He tells me he's been printing scores directly from the composers' files, and we spend some minutes comparing the copyright and author royalties situation in the non-EU part of Eastern Europe, which I know well, and Latin America (it's not great on either side). "And I'm not talking about composers who are just starting out – I'm talking about those who are mid-career," he says. "If you do a concert in Colombia, it's very hard for you to sell contemporary music. It's the same here in Canada, but I still think there's much more support for the composer in Canada and North America than South America."
What is Colombian folk music like and is there, in fact, such a thing, I ask him. "We don't have one folk music, but multiple. On the Pacific coast, folk and popular music are heavily influenced by African music. There is a huge population of Colombians of African origin who came to the country as slaves. But if you go toward the centre of the country, you have more traditional European influence, except it's mixed with aboriginal music." Have Americans been influential? "Of course. I grew up listening to, say, Michael Jackson, Elton John … Even if I didn't speak English, I connected with the songs. I treated the music and the voice as one, and listened to the voice as an instrument."
The classically trained tenor did not grow up in a musical family ("My parents had absolutely no interest in classical music") and at first dreamed of being a rock singer. "The household listened to whatever happened to be on the radio. But slowly, I started seeking out different kinds of music. I became interested in opera because of The Three Tenors. People sometimes complain about these things, oh but they're too popular etc. But that's how classical music lovers are created. The very first classical thing that I've heard was probably Richard Clayderman. I was little, and that was the kind of classical music that you can easily find on LP. As I started studying music, my interest in the genre became more in-depth."
As a towering figure in the development of his musical tastes, he mentions Leonard Bernstein. "I love that he's capable of mixing love of a very classical tradition (he was a great Mahler conductor) with creating things like Trouble in Tahiti. He was not afraid to take on the more contemporary pop music and incorporate it into classical and make it all organic." Arciniegas cites the "uptightness" of the classical music world as something that puts many potential music lovers off, him included. "I'm more and more going back to salsa, which I love dancing. And I like jazz musicians, who are less concerned with precision of delivery and more with the question of 'How am I connecting to this, what am I saying with this?'"
What would he recommend to people who want to learn more about Colombia? "Two books. First, the obvious choice: Gabriel Garcia Marquez' One Hundred Years of Solitude." But he was writing magical realism, which is not exactly documentarian, I protest. "Yes, but when you go to Colombia, you understand where all that comes from," he says. "Magical realism is not as crazy as it looks. Crazy things happen in Colombia." And the second one? "It's a book translated into English as Oblivion, by Hector Abad. It's a memorial to his father. His father was a doctor and the first doctor in Colombia who applied medicine as prevention – he went to poor areas, told people to boil water etc. Because he was doing that, he was suspected of having Communist sympathies. And he was murdered. Abad writes about their relationship, and what was happening in Colombia at that time. It's the saddest book ever. So deep, and it reflects a lot of what we are: the worst and the best of Colombia."
Crossing Borders: Travesía Latinoamericana – November 5, 7:30pm, Heliconian Hall, Toronto; then touring Colombia, including Bogotá, Pereira, Medellín and Cali. Full Colombian tour schedule on maureenbatt.com.
ART OF SONG QUICK PICKS
NOV 8, 8:PM: Tongue in Cheek Productions and Opera 5 present a night of "Eight Singers Drinking." Works by Handel, Porter, Montsalvatge, Berlioz, Viardot and others. Aaron Durand, Beste Kalender, Catherine Daniel, Michael Nyby, Rachel Krehm, River Guard, Ryan Downey and Trevor Chartrand. Gallery 345.
NOV 11, 7:30PM: University of Toronto Faculty of Music. Chamber Music Concert Series: "Of War and Peace." Works of remembrance from Handel to Sting. Monica Whicher, soprano; Steven Philcox, piano; Marie Bérard; violin. Walter Hall.
NOV 14, 1:30PM: Women's Musical Club of Toronto. Music in the Afternoon. Works by Purcell, Mozart, Debussy, Schubert. Jane Archibald, soprano; Liz Upchurch, piano. Walter Hall, U of T.
NOV 20, 12:30PM: University of Waterloo Department of Music. Noon Hour Concerts: "The Birds & the Bees." Works for female singers. Eviole (Corey Linforth, soprano; Laura Pudwell, mezzo; Miriam Stewart-Kroeker, cello; Borys Medicky, harpsichord). Great Hall, Conrad Grebel University COllege. Free. Never miss a chance to hear Laura Pudwell.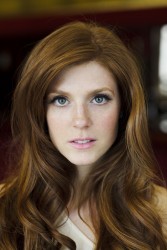 NOV 24, 3:15PM: Mooredale Concerts. Wallis Giunta, mezzo-soprano. Songs by Barber, Britten, de Falla, Schumann, Sondheim, etc. Steven Philcox, piano. Walter Hall, U of T. Giunta is now more likely to be found in Leipzig and Northern England than in Toronto, so mark your calendars.
Lydia Perović is an arts journalist in Toronto. Send her your art-of-song news to artofsong@thewholenote.com.