From both a local jazz and personal perspective, I didn't think it could get any worse than 2019 where, as I wrote here previously, in rapid succession the deaths of Ed Bickert, Gary Williamson and John Sumner robbed the Toronto scene of three of its best musicians, and for many of us, of three long-standing and treasured friends. Norma Thompson and Rochelle Koskie, two great ladies who had adorned the Toronto scene for decades, also passed. In the middle of all of this I fell and tore up my shoulder pretty badly – very small potatoes compared to dying – but for a time the injury called into question my future as a bass player. And about a month later, my good friend Patti Loach had a bad cycling accident and tore up her clavicle. Pianist Norman Amadio made it through 2019, but just barely, dying on January 21, 2020 after a long decline. But his death, coming before the pandemic hit us, seems like last year, too. Several times back then I said out loud that on a close-to-home level, it was the worst year I could remember, ever. How wrong I was.
Cortege
2020 has seen more deaths of jazz musicians than any other year in memory. Not all of these were COVID-related, but many were. Here's a partial list – the ones I can remember off the top of my head – and it's not even Halloween yet: Lee Konitz, Ellis Marsalis, McCoy Tyner, Annie Ross, Holli Ross, (no relation but also a wonderful singer), Steve Grossman, Henry Grimes and Giuseppi Logan (days apart in April), Johnny Mandel, Jimmy Cobb, Lennie Niehaus, Eddie Gale, Helen Jones Woods, Robert Northern, Cleveland Eaton, Keith Tippett, Gary Peacock, Ira Sullivan, and two men who were not musicians but who each had a major impact on jazz for many years – Chicago-based promoter Joe Segal and writer/critic Stanley Crouch.
And this doesn't include musicians in other fields – Bill Withers, Peter Green (for my money the best British blues guitarist of them all), Charlie Daniels, John Prine (broke my heart), Eddie Van Halen and many others I've no doubt forgotten. Like the ballpark hawker says, "Get yer program, folks, you can't tell the (dead) players without a program!" There have been more jazz obit notices in my email than nuisance promotions lately. The virus taketh away and then it taketh away more.
Back to the Drawing Board
The recent and ominous uptick in COVID numbers in Toronto has also taken away any attempts at presenting live jazz in clubs, which I touched upon, too optimistically, in my last column. We've now returned to a partial Phase 2 lockdown – I think it's Phase 2, but frankly I've lost track – limiting indoor drinking and eating in bars and restaurants. So much for going out to hear jazz in a club, and the worrying thing is that even when (and if) these measures are lifted, the delay in reopening live jazz represents another nail in the coffin, particularly with winter weather approaching. With so much of the jazz demographic being older, the fear that by the spring when things may have improved, the habit of not going to hear live jazz will have become entrenched, keeps me awake nights. What if after a year, people simply decide they can live without live jazz?
Jazz in the Kitchen
So, increasingly, presenting live – or semi-live – jazz to an audience has turned to online, remote methods, which have flourished. For a backward-looking Luddite such as myself, though – a good friend once generously described me as a "techno-peasant" – the nuts and bolts of this are both confusing and daunting, so it helps to have friends who are gifted along these lines. And I'm happy to say I have one such friend in John Loach, who is a genius of technology and design, an outside-the-box thinker par excellence.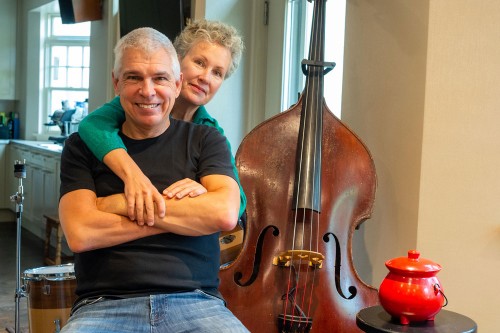 Some readers will know of John, but for those who don't, here's a brief rundown: he's a mechanical and industrial engineer as well as a gifted recording engineer and trumpeter. He invented some heavy-duty industrial machinery which was very successful, allowing him to pursue his many musical interests, which include being a serious enabler and patron of jazz. He and his wife, the afore-mentioned Patti, a gifted pianist, have opened their lovely and spacious Beaches home to various jazz endeavours over the years.
These began with impromptu jams among friends and then John began offering certain musicians the opportunity to record free of charge in the house, which boasts a great Steinway, warm acoustics and a very relaxed atmosphere, with him acting as engineer, mixer and congenial host. Apart from the piano, one would never guess that the room opposite the kitchen was designed for musical purposes, but tucked out of sight in various large closets are a mixing board/computer, microphones, baffles, cables and music stands. Although not a professional, he's one of the finest recording engineers I've encountered because, being a good musician himself, he understands the music – and the overall requirements of musicians – as well as the technology involved. The Loaches has become my favourite place to record – good results with the likes of Warren Vaché, John Alcorn, Arlene Smith, Chase Sanborn, the Mike Murley trio including Renee Rosnes as a guest – mainly because it's so relaxed that it doesn't feel like you're recording there, but rather just making music, which is invaluable and the general idea.
The Loaches expanded all this when they started a series of monthly salon concerts at their house known as Jazz in the Kitchen, which became an instant success. This idea was largely John's typically outside-the-box response to Mark Eisenman and me simply wanting to do more playing with John because we enjoyed it so much. The next thing we knew, John and Patti came up with the idea of creating an online site and selling tickets for these concerts to 35 or 40 people who came to love the close intimacy and unique informality of the setting. No noise, no waiters, no bar tabs, no yakking customers, just real jazz presented to people who want to listen to it. What a concept, and seven years and some 60 concerts later, JITK has become a treasured and integral part of the local scene.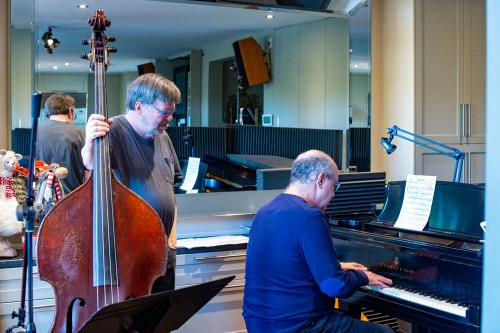 The Sessions
Of course, the pandemic interrupted all of this. Mark Eisenman, drummer Mark Micklethwaite and I (the house trio at JITK) kicked around the idea of trying to do some future recording and possible other projects, but we decided the first order of business was to get together at Eisenman's and just play, to see if we still had it. As soon as John and Patti got wind of this after our first get-together, they invited us to play at their place; so were "The COVID-19 Sessions" born.
Because the trio has played there so often, the Loaches' house seemed like a natural place to record in the future, and John wanted to experiment with the challenge of recording drums in such a small space, which he has mastered. When we arrived for the first session on July 29, John had the "studio" all ready to go – mics and some minimal baffling in place, the house drum kit set up, the house bass on a stand. He'd also placed some small video cameras on boom stands to introduce a visual element. We just went about playing, doing seven takes altogether of six different tunes. According to John, that first day had spotty audio and minimal video, but things have improved a lot since then. In subsequent sessions on August 6, 17 and 26, September 3 and 11, and October 17, we've recorded a whopping 54 tunes in 59 takes, with the music and audio/visual recording getting better each time.
(There was also a solo piano session on October 6, which Mark Eisenman asked me to join, but I couldn't due to a teaching commitment. You'll notice some gaps in there – we took a break in mid-September for various cautionary reasons, including the uptick and the uncertainly of schools reopening – Mark Micklethwaite has two young daughters who might have been affected.)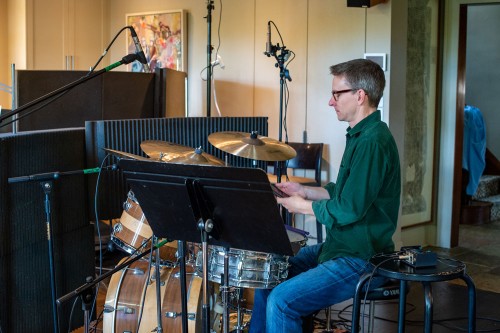 John posted some of the earliest efforts on YouTube but as the technical aspects improved, he had something else in mind. We all agreed that we missed the JITK concerts, and the Loaches had heard from many attendees that were missing them too. So John decided to post our videos on the JITK site and invited people to subscribe for a one-time fee of $20, a kind of JITK 2.0, online. The response has been very encouraging and many have not only subscribed but offered help in spreading the word. We're not in it for the money – nobody in their right mind is – but we actually had our first "payday" from these efforts recently. It's not the money in itself that's important, but rather the indication that people are still willing to spend money to hear jazz, which warms the heart. I leave the sessions both uplifted and exhausted – it's amazing how tiring playing jazz is when you're out of shape – but the notion of an audience, even an unseen one – ups the musical ante, as always.
A heartfelt thanks from the musicians in the trio and from many jazz fans to John and Patti Loach for once again providing us with such a generous outlet. There will be more music from future sessions including some jazz Christmas offerings. Those who wish to subscribe may do so at jazzinthekitchen.ca.
Toronto bassist Steve Wallace writes a blog called "Steve Wallace jazz, baseball, life and other ephemera" which can be accessed at wallacebass.com. Aside from the topics mentioned, he sometimes writes about movies and food.