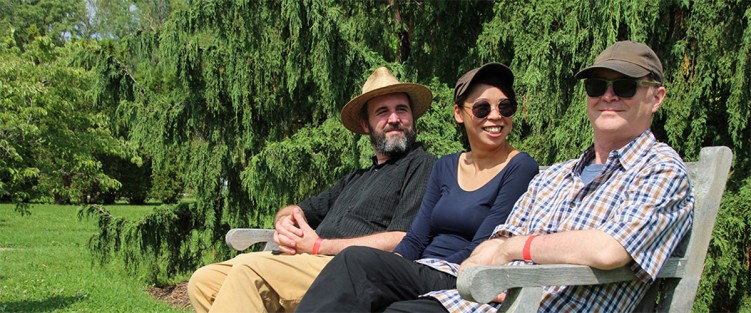 First launched in 1994, the Guelph Jazz Festival has defined itself as a champion for the music's creative edges, whether artistic or social, over the years, having presenting major international artists such as Randy Weston and Anthony Braxton. For its 2021 edition, running from September 14 to 19, the festival is rising to new challenges, shifting its programming to include new venues and more free events and presenting varied music throughout the day and throughout the city of Guelph, creatively and socially engaging within the limitations imposed by the ongoing COVID-19 pandemic.
This year, the festival has shifted its usual downtown outdoor presentation of continuous bands to an innovative set of park concerts: three programs of three bands each, with each program presented daily from September 16 to 18, at different parks throughout Guelph. The concerts include a program of groups exploring "Old Jazz Made New" (see details below); "Percussion International," with Amadeo Ventura's Spoken Rhythms, Aline Morales Baque de Bamba and Ensemble Jeng Yi exploring different rhythms from around the world; and "Pops said All Music is Folk Music," with Turkish Music Ensemble, Boxcar Boys and Abebe Fikade's ETHIO AZMARI.
There's also a traditional series of ticketed evening concerts focusing on distinguished Canadian performers. On September 16, turntablist SlowPitchSound presents "Bending Things We Know So Well," a project which includes field recordings from the Guelph area; longstanding duo of trumpeter Jim Lewis and drummer Jean Martin employ live electronics as part of an improvised music set on September 17; the Rob Clutton Trio performs on September 18 (see below); and, closing the series on September 19, Montreal's distinguished Quatuor Bozzini performs works by Toronto composer Martin Arnold.
Other festival programming this year showcases a remarkably varied range of music, including reinvented instruments, a sound installation and witty street art. Three distinguished pianists explore Andrew Wedman's radically retuned pianos in Bass Piano XII (September 17 to 19, see below). At the Goldie Mill Ruins, Guelph sound artist Lisa Conway presents SOUND MILL, using underwater recordings, analog synthesizers and light sensors to create a shifting soundscape based on river flow and changing light (September 14 to 16). For "The Birds of Marsville", Oakville-based composer Friendly Rich Marsella plays his mechanical street organ at three different outdoor sites, exploring the songs of 80 different (and imaginary) species (various times and locales, September 16 to 18).
Old Jazz Made New
September 16 (Mollison Park, 4:30pm), September 17 (Brant Park, 4:30pm), September 18 (York Road Park, 2:30pm)
This program, presented daily from September 16 to 18 at parks throughout Guelph, showcases three different bands as they explore a late Ellington masterwork, a fiery movement that escaped apartheid South Africa to settle in England, and the music of two brilliant but neglected women musicians from different eras.
Duke Ellington demonstrated his continuing creativity with his 1967 Far East Suite, the last act in his collaboration with Billy Strayhorn celebrating the band's far (and near) Eastern travels. Ted Crosby's arrangement for the Revival Ensemble gives fresh dimension to the work, with more idiomatic middle-Eastern elements and the contributions of contemporary soloists, including saxophonist Brodie West, trumpeters Kevin Turcotte and Rebecca Hennessy, and vibraphonist Michael Davidson. In the second set, Montreal trumpeter Ellwood Epps' Togetherness!, with the heady reed pairing of Jean Derome and Lori Freedman, mines the potent mix of Township rhythms and tunes with the urgent improvisations of hard bop and free jazz created in apartheid South Africa by pianist Chris McGregor, saxophonist Dudu Pukwana and others, a mixed-race underground idiom that had to emigrate to England to reach above-ground audiences. Closing out the program, Teri Parker's all-female quintet Free Spirits plays music composed by two significant figures: Kansas City pianist Mary-Lou Williams, a key swing-era figure who wrote arrangements for Duke Ellington, mentored bop pioneer Thelonious Monk and created a large body of work stretching from the late 1920s to 1980; and Geri Allen, a brilliant Detroit musician whose work crossed the lines between post-bop and free jazz.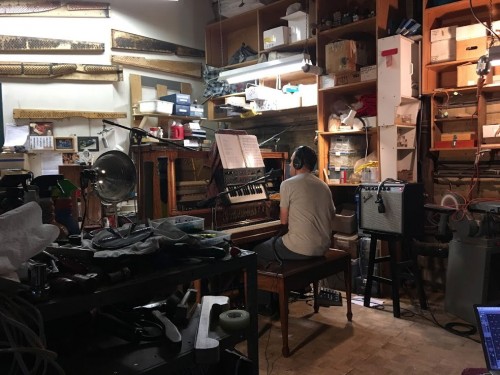 Andrew Wedman: Bass Piano XII
September 17 to 19
Canada Company Hall, River Run Centre, 1pm daily
Andrew Wedman is a classically trained pianist, an experimental musician and a certified piano tuner. Those combined interests led him to develop the bass piano, a conventional upright piano tuned down a full octave, creating novel harmonics and other unpredictable sonic effects. The bass piano will feature in a series of concerts with eminent Toronto keyboard improvisers spontaneously exploring its possibilities: Casey Sokol (September 17); Tania Gill (September 18); and Ryan Driver, plus voice and synth (September 19).
Rob Clutton Trio
September 18
Royal City Mission, 8:30pm
Bassist Rob Clutton is among Canada's most creative bassists and jazz composers, whether creating chamber music textures with his long-running group Cluttertones or playing in a recent duo with New York tenor saxophonist Tony Malaby. His trio explores another dimension of his sonic imagination. Some music suggests painterly or narrative art, but Clutton's pieces for the trio likelier suggest sculpture or architecture: tensile structures arrayed in space, strong patterns demarcated by Clutton and drummer Nick Fraser, with alto saxophonist Karen Ng sometimes joining in the spatial arrangement or creating dancing lines ‒ lyric, feathery or contorted ‒ in the connecting spaces between.
The Guelph Jazz Festival runs from September 14 to 19, 2021, at various venues in Guelph, Ontario. For details of times, dates, venues and addresses, visit https://guelphjazzfestival.com.
Stuart Broomer writes frequently on music (mostly improvised) and is the author of Time and Anthony Braxton. His column "Ezz-thetics" appears regularly at pointofdeparture.org.