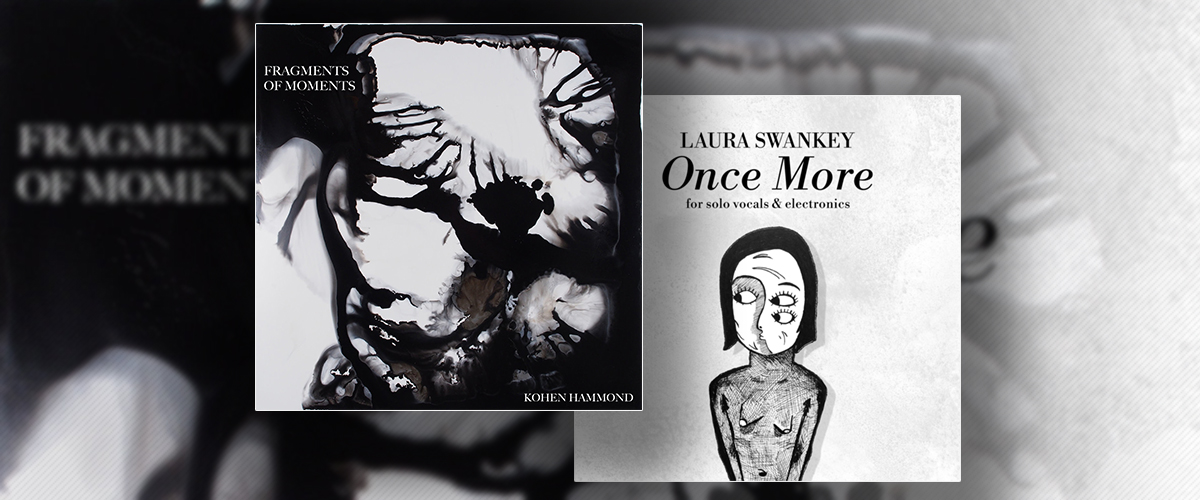 Volume 1 of The WholeNote EP Review covers guitarist/composer Kohen Hammond's Fragments of Moments, and vocalist Laura Swankey's Once More.
(For details on what this series will cover, and how to submit an EP for consideration for review, read an introduction to this project here.)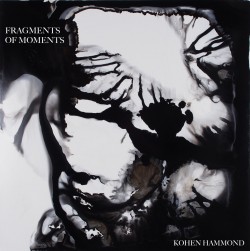 Fragments of Moments – Kohen Hammond
Fragments of Moments, the debut release from guitarist/composer Kohen Hammond, is another impressive recording to come out of the Humber College Studios in recent months. Fragments is similar, in a variety of ways, to Mingjia Chen's recently released EP Feel Seen: both recordings are composition-led chamber-jazz outings that use a number of the same players. But, where Feel Seen is expansive and cinematic, Fragments is dark, introspective, and, well, also cinematic, albeit from a very different movie.
Fragments of Moments begins with "Serious Distance," a contemplative, haunting piece, punctuated by dense chords and melodic cells, which are played in both the lower and upper registers (by reeds and strings, respectively). "Serious Distance" – with which Hammond won the Serge Garant 2017 SOCAN Young Composers Award – effectively sets the tone for Fragments' six subsequent tracks, both in terms of mood and in terms of Hammond's role throughout the proceedings. While Hammond is an accomplished instrumentalist, he only plays guitar on "Serious Distance" and "Haven't Seen the Sunrise." (On the latter, Hammond plays a lovely, ethereal introduction over a field recording of birdsong.) On the remaining five songs – the five-part suite "Used to Rhyme," which uses text from the Toronto-based poet Nawi Moreno, whose words are spoken and sung by vocalist Mingjia Chen – Hammond contributes field recordings and electronics, though he doesn't play guitar. The five sections of "Used to Rhyme" – "Play," "Bridge," "Language," "Love," and "Story" – are, like the first two tracks, assembled with a deft minimalist touch, eerily underscoring Chen's evocative vocal delivery.
It takes remarkable restraint, as an instrumentalist newly graduated from a post-secondary music program, not to fill your debut release with all of the technical pyrotechnics you can muster; it takes something else entirely (maturity, confidence, a dedication to the craft of arranging) to allow your compositional convictions to dictate how much you will play, and not the other way around. (In this regard, a comparison can be made between Fragments of Moments and American guitarist Rafiq Bhatia's recent release Breaking English, which affords a similar primacy to texture, orchestration, and composition over individual technical prowess.) On Fragments of Moments, Hammond has succeeded in creating a beautiful, cohesive artistic statement, by turns both ominous and comforting.
Fragments of Moments was released on August 23, 2018, and can be purchased at www.kohenhammond.bandcamp.com. To learn more about Kohen Hammond, visit www.kohenhammond.com.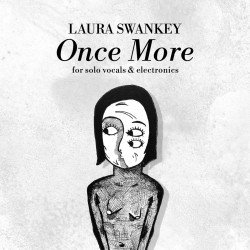 Once More: for solo voice and electronics – Laura Swankey
Where Fragments draws on the capabilities of a chamber orchestra to create unexpected textural effects, vocalist Laura Swankey's new EP – Once More: for solo voice and electronics – is, as the title suggests, an exploration of the depth and range of a single voice, and the expressionistic possibilities afforded by the various effects employed by Swankey over this EP's 15-minute running time. Once More was recorded live-off-the-floor, which, for an improvising musician such as Swankey, who operates within an open, creative musical model, is perhaps not a surprise. What is notable about Once More, however, is that all of the sounds that the listener hears are being sung, looped, and otherwise triggered by Swankey in one continuous performance, rather than being overdubbed. This is significant for two reasons. The first: in much the same way that a straight-ahead jazz group might record live-off-the-floor, Swankey's decision mirrors her live performance practice, giving a prominent place to spontaneity and improvisational subtlety. The second: it requires a high degree of technical sophistication – which Swankey has in no small supply, in both as a singer and as an effects operator – to pull off a performance of this type in a live setting; anyone who has spent any time with time-based effects knows how jarring it can be when a loop goes awry.
Once More's first track, "You Need/ She Had A Garden," begins with Swankey's voice, reverb-soaked and on its own, singing a simple melody; the last note of the melody is then frozen, becoming a drone, as percussive elements are added in and the melody is restated. The song builds to a climax before quick, delayed sounds and ominous lower-pitched notes transition the listener to the next section, a rumbling, droning section featuring parallel vocal harmony over a lush harmonic backdrop. "Alone Now (liar)," the EP's second track (but its third song – the first track really is two songs with an interesting transition) starts off with another percussive vocal part, before Swankey artfully layers in the melody and a variety of textural cells on top of the song's stuttering 3/4 heartbeat. Although Once More is a project for solo voice and electronics, one of the EP's most interesting features is that Swankey's arranging choices are actually fairly traditional: melodies are stated and developed, harmony gradually becomes more complex, textures get denser, activity is balanced with passivity, and so on. What makes Once More special is that all of its musical features are being generated by one person – in a format that is both new and surprisingly accessible.
Once More: for solo voice and electronics was released on October 4, 2018, and can be purchased at https://lauraswankey.bandcamp.com. To learn more about Laura Swankey, visit https://soundcloud.com/lauraswankey.
Colin Story is a jazz guitarist, writer, and teacher based in Toronto. He can be reached through his website, on Instagram and on Twitter. For EP-related pitches, email him at epreview@thewholenote.com.