As we sit in anticipation of small white crystals on our lawns, rather than those colourful bright leaves, we have to realize that our community music is going to be very different this year than the rehearsals and concerts we have been accustomed to. While the social aspects of community music have almost entirely disappeared, along with the leaves, with so many advances in digital technology we are seeing amazing adaptations across the musical spectrum.
Tech Talk
In last month's issue of this column I mentioned that New Horizons Band of Toronto, in collaboration with Resa's Pieces, would be working with Long and McQuade Music for a "Tech Talk Workshop." Other than the fact that the venture was to consist of a few online Zoom sessions of advice from specialists at L & M, details were rather sketchy at the time. Since I was not able to participate in the first of these in order to find out more for myself, I asked Randy Kligerman from New Horizons what sparked the idea and how the first session worked out.
Here's his answer to my question on how it all started: "With the advent of many new music software programs and Zoom-type communication services available, the need to better understand the benefits of external computer components like mics and speakers has never been greater. After doing some research online, two things became apparent: 1) using a better mic, speaker and headphones makes a measurable difference in the quality and enjoyment of every computer program; 2) choosing from one of the many brands and determining which would work on a desktop, laptop, iPad or phone is a daunting task."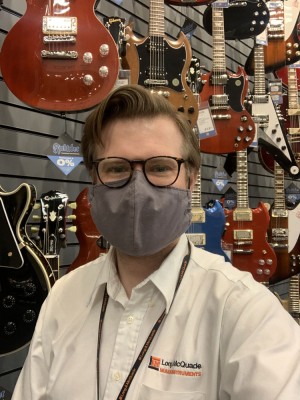 Over time, and having exhausted far too many research options, Randy spoke with Neil Guise from Long and McQuade's Danforth Avenue store in Toronto, and asked if he would be able to provide help in explaining the basic technology, how the many devices hook up to a computer and the cost/benefit ratios of each option. Armed with his own laptop, Randy visited Guise and hooked up his laptop so that he could hook everything up and take it for a musical test drive!
After that meeting, Randy, with the New Horizons Band of Toronto, got together with Resa's Pieces and asked Neil to do a one-hour Zoom tech talk for their members. So in early September, they held a zoom lecture, where for 40 minutes, Neil explained the differences between dynamic and condenser microphones, whether you needed an audio interface and how to choose one, and what cabling was needed to connect the external pieces to your devices. This was followed by a Q&A for the remaining 20 minutes.
The feedback from the band members was excellent. Many commented on how their new knowledge enabled them to have better access to their own computer needs. They also gained added confidence when they learned that they could buy and use the equipment for a limited amount of time and return it, or try something else if not satisfied. Due to demand, they ran a second Talk about Tech and included information on metronome/tuner options as well as on various types of headphones.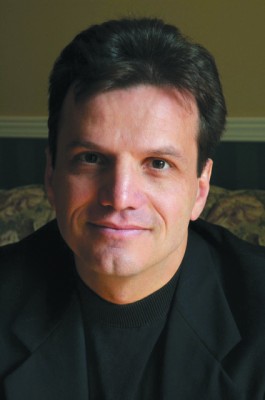 Music for Life Conversations
As if that was not enough, these folks came up with the idea of what they called Music for Life Conversations. "With COVID-19 restricting our ability to play in person," Kligerman explained, "never has the need to engage in conversation with fellow musicians been more important." So to help ensure that this happens, New Horizons Band of Toronto (NHBT), together with Resa's Pieces created Music for Life, a series of stimulating conversations about many aspects of a musician's life. To date they have featured Dr. Marshall Chasin, a researcher, musician and audiologist who specializes in the prevention of hearing loss for musicians, and Vince Gassi, a composer, musician and teacher, who talked about how he approaches the challenge of turning poems and stories into musical compositions. Coming up will be conversations with conductor Mélanie Léonard, who will share some of her experiences, challenges and rewards in her career, and TSO violinist Jim Wallenberg, who will speak about his experiences and challenges in music performances under several different conductors.
These Music for Life Conversations are presented through Zoom, and last approximately 50 minutes, with registration facilitated through the NHBT website. As of this writing, they are at full capacity, but I was fortunate enough to be able watch and listen to the first of these conversations with Vince Gassi.
Chase the Shouting Wind
Gassi is a composer, conductor and clinician, whose compositions grace the libraries of most Canadian bands. With a bachelor of music degree from Western University in London, he later studied composing and arranging at the Dick Grove School of Music in Los Angeles, California. More recently he completed his PhD at York University in Toronto. With over 100 published titles to his credit, his compositions have been published by Alfred Publishing since 2006. For 25 years he has taught instrumental music at the elementary and secondary school levels and is in frequent demand as a guest conductor, adjudicator and clinician throughout the United States and Canada.
Chase the Shouting Wind was the title of the Music for Life conversations I "attended" where Gassi explained the genesis of a composition from his first ideas to the writing of the complete score with all of the parts. His inspiration for the composition was a poem, High Flight, that I personally remember well since first reading it many years ago. This poem was written by Pilot Officer John Gillespie Magee, Jr. an American serving in the RCAF in Britain during W.W.II. After a high altitude test flight one day, John wrote his parents a letter and enclosed a poem, High Flight, that his test flight had inspired. A few months later, in 1941, he was killed in an accidental mid-air collision over England.
As he read the poem (which I am including here), Gassi, sitting at his computer, explained how every image that he envisaged from the poem would then be translated into a unique musical phrase. As viewers, we were able to see the music manuscript with each phrase highlighted in red, hear the music and hear Gassi's explanations. It was excellent, and one of the most professional sessions that I have even seen on the Internet.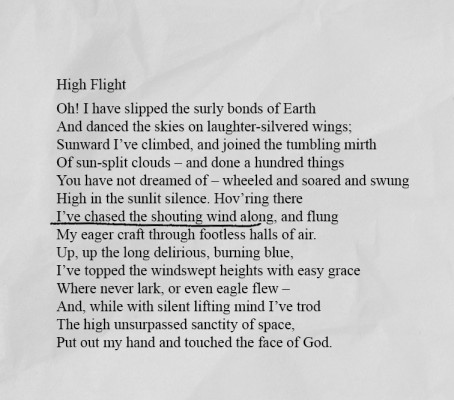 Remembrance Day
Along with many concerts on the theme, early in this month, on November 11, we would normally have many bands playing at outdoor ceremonies with all of the appropriate bugle calls. As my regular readers know, I have over the course of months made many comments in this column about my dislike for bugle calls being played on a trumpet. I even campaigned for the local Legion to acquire a proper bugle. I was successful, and the Legion now has an excellent custom-made silver bugle with an inscription dedicating it to a former Legion member who landed on Juno Beach on June 6, 1944. I had been hoping to attend a ceremony this year and hear that bugle, but as far as I know, there will be no such outdoor ceremonies at cenotaphs anywhere in Ontario this year.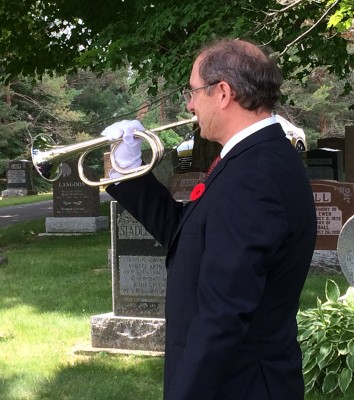 And speaking of remembrance, as a former Navy member, this is not the official Naval Prayer, but it is a short one that is used regularly at naval dinners, particularly worth noting at a time when "fields where poppies grow" are how most of us choose to remember.
On all the oceans whitecaps flow.
There are no crosses row on row
For those that sleep beneath the sea
They sleep in peace
Our country's free
Band Activities
Usually this would be the place to report on recent and future band activities. So far, we only have news from a couple of other bands. The Hannaford Street Silver Band is trying a different method of entertaining their audience. In a message to their subscribers, they said: "This fall, you can get your Hannaford fix from the comfort of your home!" Subscribers can sign up and then enjoy a different kind of performance. On Sunday, October 25, in "You Can't Keep a Good Band Down" they featured a ten-piece virtuoso ensemble conducted by Daniel Warren. In the case of the Markham Concert band, they tell us that the Flato Markham Theatre has extended its closure until at least the end of 2020. This, of course, means that the previously announced Markham Concert Band's October 18 and November 29 concerts are cancelled.
Incidents at the Bandstand
As I mentioned last month, over the years I have observed many incidents at bandstands during concerts, and keep a note of incidents, some disruptive, some of no great consequence, and others that were humorous. This month's incident was one that the audience would never have noticed, but I sure did! Some years ago I was playing a concert in a local concert hall. We were in the middle of a large work when the French horn player sitting directly ahead of me put down her horn, picked up her cell phone and proceeded to send, and/or read, a text message. So much for diligent attention to the conductor. As the saying goes, the devil makes work for idle hands.
Jack MacQuarrie plays several brass instruments and has performed in many community ensembles. He can be contacted at bandstand@thewholenote.com.