Here we are; fall has begun. Normally, by now we would have heard of all of the plans for the coming season including concerts, rehearsals and maybe some new member recruitment. This fall the focus is on closures. The most drastic one that we have heard of so far is the notice from the Toronto District School Board. Since the pandemic problems began, the board has locked the doors for all outside organizations. Now, the board has sent notices to outside organizations like bands, choirs and other renters of board facilities that they will remain locked out for the balance of the calendar year, and perhaps longer.
So how are community music groups coping? Most are actively seeking alternative rehearsal spaces; some have given up temporarily. A few are trying to maintain some form of Zoom rehearsal, or at least social gatherings. One of the more interesting activities I heard about is that Resa's Pieces in cooperation with New Horizons Band Toronto (two ensembles I have written about frequently in the past) were in discussions with Long & McQuade Music to plan a few online Zoom sessions of advice from specialists at L & M. Stay tuned on that one!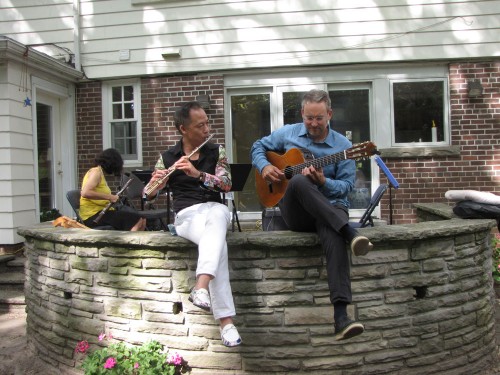 How are groups adapting?
While concert bands and similar large groups are basically shut down, smaller groups are adapting and new small groups are being formed. While most are simply rehearsing to maintain their skills and their social contacts, some are exploring small ensemble work for the first time. Rather than restrict their playing to in-house rehearsals, some have expanded their horizons and are performing on porches, on lawns, in driveways and even in cul-de-sacs where available. While some are simply impromptu events for the enjoyment of the players, others have been well organized to raise funds to assist professional musicians who have few, it any, paid gigs during the pandemic. In some cases, listeners are charged an admission fee, in others, donations are collected.
I had the privilege of attending a few such events. The first of my visits was to a back porch performance. A wind quintet was performing to assist a musical duo who also performed (Christopher Lee on flute and his partner James Brown on guitar). The photograph shows the well-spaced, backyard audience sitting under giant oak trees listening to the Encore Take Five Quintet (donating their time were quintet members Len Graf, flute; Helen Graham, oboe; Bill Krangle, clarinet; Tom Fleming, horn; and Dorothy Ward, bassoon).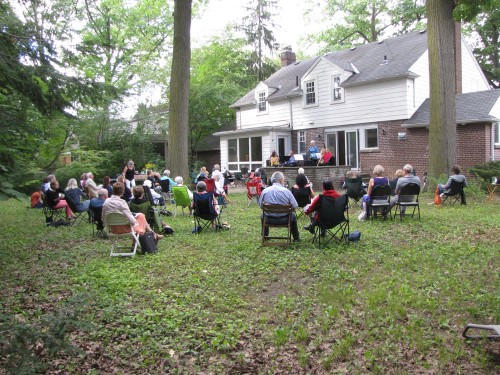 In another concert, at the same location, we were treated to a performance by Kelly Zimba, principal flute of the TSO and Clare Semes, a TSO violinist. This duo, with the very clever name, the Sonority Sisters, entertained the backyard audience with a wide range of music from pop to classical. Two Mozart selections, which I enjoyed most, reminded me of silly jazz versions which I had in my record collection years ago.
In my jazz collection, the first of these, the "updated" Eine Kleine Nachtmusik, had the name Annie Kleine's Night Music. The second was a version of Rondo Alla Turca with the title Moe Zart's Turkey Trot. Now I feel compelled to dig these out and listen to them again.
In a departure from normal concert routine, during a break in the program, members of the audience were invited to ask questions. While there was a wide variety of questions, the one which received most attention, was addressed to Kelly Zimba. She was asked if she used circular breathing while playing the flute. Her answer was no. She said that she had tried, but not been able to accomplish that yet. As for her Sonority "sister" Clare, she is not likely to derive any benefit from circular breathing while playing her violin. Maybe Zimba hasn't learned how to circular breathe yet, but she and her partner Clare Semes certainly convinced the audience that the Sonority Sisters could be a highlight on the Toronto music scene.
Circular Breathing
Having heard all of this between Kelly and the audience about circular breathing, I thought that the technique might be worth exploring. For those not familiar with this, circular breathing is defined as a technique used by players of some wind instruments to produce a continuous tone without interruption. It is accomplished by breathing in through the nose while simultaneously pushing air out through the mouth using air stored in the cheeks. I personally have attempted to master circular breathing, but have never come close to success. In attempts to research how to develop this skill, I have consulted various websites, without success.
Brass players in particular, find that the ability to employ circular breathing to play long passages without taking a breath is almost essential. The tuba parts for many of Wagner's works are notorious for this requirement. The most amazing example of a performer employing this technique was Arnold Jacobs, an American tubist who spent 44 years with the Chicago Symphony Orchestra. In recognition of his outstanding career, in 2001, three years after his retirement in 1998, the Chicago Symphony tuba choir was dedicated as the Arnold Jacobs Principal Tuba.
Closer to home, we have just learned of a young tuba player who has already developed such a skill. A grade 11 student (Matt Marzano) at Twin Lakes Secondary School in Orillia, Ontario, has developed the rare ability to sustain a single note for five minutes without a break in sound.
So! Circular breathing seems to be here to stay. How does one develop the skill? So far I haven't been able to find a source. The technique seems to have originated in the dim and distant past. Some people have suggested that circular breathing developed with the didgeridoo (the origin of which is itself the subject of much speculation). Most agree that this instrument was developed by Aboriginal peoples of Northern Australia. It is sometimes referred to as a "wooden brass instrument." Many researchers suggest that it may be the world's oldest musical instrument, over 40,000 years old. In other words, stay tuned.
Incidents at the Bandstand
Over the years I have observed many incidents at bandstands during concerts. In some cases the incidents were disruptive, some were of no consequence and others were humorous. Since there are a number of such incidents stored in the back of my mind, I have decided to add this section to the column, and recount one such item in each column.
The incident for this month refers to a silly event during a concert in the park. For some 15 years I acted as MC for concerts in Toronto parks sponsored by the city's Department of Parks and Recreation. At an afternoon concert in St. James Park in downtown Toronto, there was a small jazz ensemble performing. Suddenly, in the middle of a number, the clarinet player jumped up, left the bandstand and ran off. At the end of the number I asked the leader of the group why this had happened.
He told me not to worry. The player lived near by, had run home, and would be back soon. The reason? The player wore dentures, and after his lunch he forgot to change teeth. He had arrived at the park with his "eating teeth" and had to go home for his "clarinet-playing teeth."
Jack MacQuarrie plays several brass instruments and has performed in many community ensembles. He can be contacted at bandstand@thewholenote.com.